Cruise Trivia: Name this chicken-friendly American city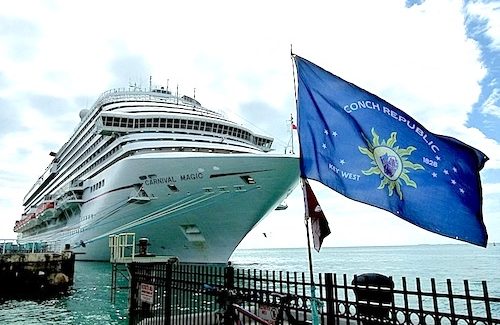 He strutted down the street like he was cock of the walk.
"He's beautiful and he knows it," a woman said, watching me try to take a photo of the confident rooster.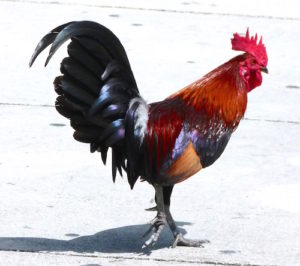 I think she was right. Perhaps this preening critter knew that he was a popular sight and that he could come and go as he pleased – protected by the laws of this American city.
So, the question is where is this unusual destination that is a popular stop for cruise ships? When I visited on a Carnival Magic cruise, a young girl on our ship was so excited about seeing the freely roaming chickens and roosters.
Forget about the museums and other attractions, this girl had her heart set on seeing fowl. And she certainly did. Almost as soon as we stepped off the ship.
A hint: Known as "The Conch Republic," this city is the southernmost point in the continental United States.
Don't look at the answer below until you have formulated your reply. If you know the name of this place, maybe you have visited and seen the critters yourself.
If you don't know, maybe it is time to book a Carnival cruise which is certainly the easiest way to visit this fascinating destination.
*
*
*
(Answer)
Where else do chickens have such legal jurisdiction? Among its many idiosyncrasies, Key West takes care of its feral fowl or Gypsy Chickens as they are sometimes called.
A bartender along Duval Street told me that the scrappy little birds wandering the streets, yards, taverns, restaurants and everywhere else in Key West are descendants of ferocious fighters.
When Cubans came to Key West to escape troubles in their country in the 1860s, they brought their chickens with them. The birds were raised for meat and eggs. The roosters also were prized for their beauty and cockfighting prowess.
Even more chickens came when thousands of Cubans fled to Key West in the 1950s because of Fidel Castro and the revolution. However, cock fighting was outlawed in the 1970s and many of the no-longer-wanted birds were turned loose. With easy access to meat and eggs in supermarkets, the backyard "grocery stores" were no longer necessary so those chickens also hit the road.
With few predators on the island (except hawks and feral cats), the "wild" chickens thrive on a diet of native insects and lizards. Several generations later, it is estimated that between 2,000 to 3,000 of these birds still roam freely throughout the island.
Not everyone appreciates the wild birds
Although tourists like the colorful birds – and local artists have capitalized on that with chicken paintings, T-shirts, ceramics and even chicken jewelry – many locals are weary of the marauding creatures. Whoever thought roosters only crow loudly at the break of dawn is sadly mistaken.
Passing headlights, flashing porch lights or any disturbance can set off a rooster on a loud concert long before daylight. Warnings from awakened sleepers to "shut up" only seem to increase the crowing even louder.
The birds annoy homeowners by scratching up yards, flowerbeds and vegetable gardens and by leaving "little gifts" on cars and lawn furniture. Territorial mother hens can seem a bit scary to unaware strollers. The chickens are regarded by some as a nuisance and a danger to public health.
But efforts to control the "invasive species" have met with strong opposition in notorious live-and-let-live Key West. To me, the scurrying chickens and preening roosters are a colorful part of the fabric of this popular Carnival Magic cruise stop. Of course, I don't have to live with the omnipresent critters.
Photos by Jackie Sheckler Finch
---
To learn more about myriad offerings of cruises and land vacations, too, please contact the cruise specialists at Crown Cruise Vacations – open 7 days a week and most holidays – offering guaranteed lowest rates on cruises and finding the best cruise deals around the world. To book a trip call 1-877-283-1114 (toll-free USA/Canada), +1-609-945-9801 or visit http://www.crowncruisevacations.com.
Crown Cruise Vacations – Follow us on Instagram, Facebook, Twitter