Dispatch: Club Med Sandpiper Bay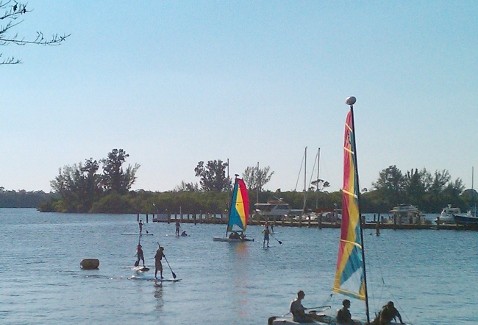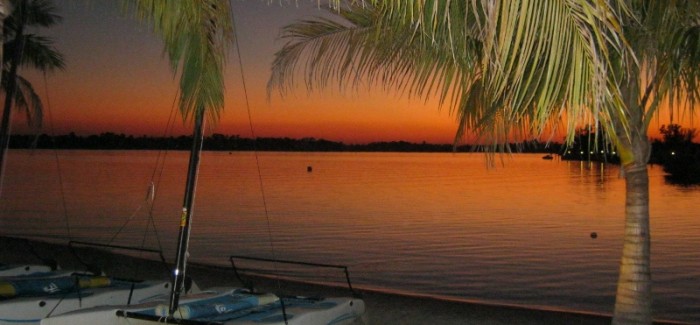 I was a bit skeptical of it at first. Definitely something I wouldn't like, I thought when the idea was presented to me at lunch. But as I pondered over my pasta, I decided to take the plunge. After all, we aren't talking about Trapeze School here, one of those Club Med activities that gives me agita at the mere thought of. No, we were talking paddleboarding on Sandpiper Bay.
The concept is pretty simple. Surfboard plus paddle. It's almost an extreme kayak, but without the white waters. So the group of us – I think there were six – went to our rooms to change after lunch and made a beeline for the beach. The paddleboards are free to use which is nice, and after suiting up in a life jacket, we were fresh out on the water. Ryan, Jeff and Ross were quick to stand up and paddle. They've done this a lot before.
Marsha, decided to try it sitting down – and Kristin and I were somewhere in between. Kristin tried, but never quite made it all the way up. She had a great time though and really started to get the hang of it after a few minutes. I had a similar learning curve. Getting on the board was pretty easy, and paddling was simple enough… as long as I was kneeling. See, it turns out that I have a low center of gravity – I think it was somewhere in the water a foot away from my board because every time I tried to stand up, I took a header into the bay. On my knees, I did very well though – scooting around the bay quickly.
At some point, on the water, I was able to really look around myself. It was quiet. Warm. Beautiful. It was everything that I wanted and hoped it would be. Turns out this Club Med thing is pretty good after all. I look to my left and most of my friends are back ashore. I paddle out for a few more minutes, really enjoying this peace and quiet on a calm bay, mid-afternoon. "This just feels right," I thought to myself. "I could definitely come back here again."
Club Med is a great family destination and with over 80 locations around the world, there's a lot to choose from. Call your Crown Cruise Vacations agent today, and you'll enjoy a very special offer for each room reserved. You can talk to your agent by dialing 877-283-1114.