An Old World Christmas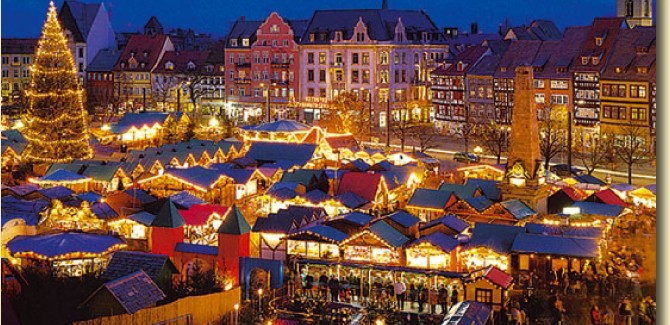 Summer may be coming, but this morning we've got the holidays on the brain. Christmas is always a magical time of year, and its a holiday that truly comes alive in Europe, especially at the Christmas Markets in Germany, Switzerland and Austria. And there are lots of great ways that travelers can catch the Christmas spirit all across the continent this December.
The markets which are traditionally open from the end of November through the four weeks of Advent offer lots of traditional Christmas cheer with stall after stall of traditional holiday fare, including decorations, nutcrackers and of course the famous Zwetschgenmännle – figures made out of dried plums. One of the most famous and largest market is in Nuremberg, where the smells of the Gluhwein mix well with their famous bratwursts as you wander across the market in the evening and wait for the Christmas angel to appear.
Nuremberg, one of dozens of markets around the region is a featured destination for touring the Christmas markets of Europe, by land or river. Our partners Viking River Cruises and Trafalgar offer lots of different options that let you truly appreciate an old European tradition in a relaxed, unhurried atmosphere. It's definitely a must-do.
Enjoy this video about the Christmas markets from Deutsche Welle TV, and share with us! We'd love to know where you want to travel this holiday season.
Viking River Cruises has a lot of different Christmas Market cruises to enjoy this holiday season. Click here to get started!
Our friends at Trafalgar have great Christmas Market guided vacations to enjoy as part of their Autumn and Winter Europe program. Click here to find out more!