Elkhart Lake: Home of 'sacred' water and Road America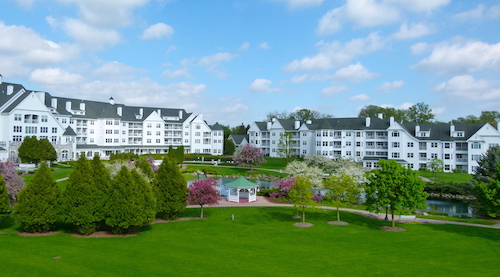 Once upon a time, Otto Osthoff brought his sick wife Paulina to Elkhart Lake in hopes that the peaceful place and rejuvenating waters might restore her health. They did.
So Otto did what any smart loving husband would do. In 1886, he opened a resort with room for 120 guests near the Wisconsin lake. Now his wife and family and guests could relax and enjoy to their heart's content.
That's the tale I was told on a tour of Aspira Spa at Osthoff Resort. Sounds true to me. And when I had the signature spa treatment at Aspira – which means "infused with spirit" – I became even more of a believer.
Of course, Elkhart Lake has a long and fascinating history and it started long before the Osthoffs.  The legendary name is said to have come from the Potawatomi Indians who referred to the area as "the chosen spot" and named it Elkhart Lake because the sacred lake was shaped like an elk's heart.
Spring-fed, crystal clear and 120 feet deep, the unique blue-green water soon became a mecca for the well-to-do from Milwaukee, Chicago, Green Bay, St. Louis and other hot spots. Visitors would often stay for a month or more during the summer to escape the big city heat. Incorporated as a village in 1894, Elkhart Lake soon had a half-dozen resorts clustered around the lake.
Elkhart Lake's early growth as a resort destination was given a major boost when the Milwaukee & Northern Railroad began chugging into the village in 1873. The train no longer runs but the Elkhart Lake Historic Depot and Museum recounts those railroad days.
The original railroad depot is now Off the Rail Café which offers a great breakfast and lunch menu with names like the Freight Train – turkey, Havarti, bacon, sprouts, onion, tomato and horseradish sauce on nine-grain bread or the delicious sandwich I chose, the Silver Streak – bacon, lettuce, tomato and Poblano aioli on sourdough.                                                  
Elkhart Lake also became a popular place for gangsters and gamblers. The Roaring Twenties brought an influx of roulette and poker at four Elkhart Lake gambling halls. That all came to an end when the Wisconsin legislature passed an anti-gambling bill forcing local police to shut down the casinos.
Sports car racing comes to Elkhart Lake
In the early 1950s another type of excitement came to the quiet village streets of Elkhart Lake. Motor racing breathed new life into the region with speedy cars zipping around the lake's byways, often right through the middle of town with only skimpy fences and hay bales to protect spectators from the high-revved race cars.
When dangerous open road racing was banned in 1953, race enthusiasts soon welcomed the world-famous Road America motorsports venue. Opened in 1955, Road America is situated on 640 grassy acres in the wooded hills of Kettle Moraine and has come to be known as "America's National Park of Speed."
The fastest permanent road racing circuit in the world, Road America has a track length of 4.048 miles including 14 turns and multiple elevation changes. When I was visiting, we tried our skills at go-karting and off-road vehicles. We also heard the roars and got glimpses of powerful cars opening up their engines on the fast track.
Today, Road America offers year-round activities such as motorcycle driving school, sunset cruising in participant's slow-moving vehicles and geocaching using golf carts to find treasures.
Just two miles from Road America is another great motoring place named Throttlestop, a combo museum, seller of luxury automobiles and top-tier detailing service provider. Throttlestop was founded by Jim Balestrieri and Tom Kostrivas, lifelong friends who competed against each other as kids by racing "anything with wheels."
Showing me around, Tom stopped at my dream car – a red 1957 Jaguar XK140. Costs about $1 million, he says. Guess it will keep being a dream.
Very walkable village
One of the things I like best about Elkhart Lake is being able to walk to so many places. With a population of about 1,000, Elkhart Lake is a very small community with very large amenities. Early one morning, I took a stroll to see how many of the 14 historical race circuit markets I could find around town. The markers are placed around the corners and over the hills once traveled at high speed by the world's top sports car drivers.
Located in front of my accommodations at Siebkens Resort is The Hard Left sign commemorating the first sharp corner on the 1951-52 circuit. Here the road sloped away from the apex making it one of the most dangerous and challenging turns.
I also could saunter to the Lake Street Café where owner Lynn Shovan introduced her new restaurant staff. For newbies, these chefs, servers and bartenders sure know how to prepare and present delicious cuisine. Serving creative California Bistro style fare, Lake Street Café has the state's third largest wine list, receiving the Wine Spectator Award of Excellence since 2003.
As for resorts, the last three are Siebkens Resort, Osthoff Resort and Shore Club. All three are beautiful with plenty of reasons to stay at each one. Owned by Kristin Pagel and Thomas Shortt, Shore Club was originally known as Lakeview House. Built in 1872, Lakeview House was destroyed by fire in 1890 and rebuilt in 1891.
After a property-wide renovation, Shore Club now offers a fresh contemporary decor and stunning views from its restaurant, the Cottonwood Social. The pizza I had there was exceptional.
Owned by Wendy and Rob Orth, turn-of-the-century Siebkens Resort seems an ideal place for the couple who were living in Houston but wanted to return to Wisconsin. Wendy's father raced at Road America for more than three decades from the 1960s to the 1990s. "I think the 1975 June Sprints would have been my first visit to Elkhart Lake and Road America. I was seven months old," Wendy says. "Our children have been swimming in the lake since they were babies."
Osthoff Resort, the historic grand dame of Elkhart Lake, was originally built in 1885 and completely rebuilt 110 years later. Set on more than 500 feet of pristine lake shoreline, the AAA Four-Diamond resort is home to Aspira Spa where I experienced the signature massage.
"We gather water from Elkhart Lake because it is said to have healing properties," spa director Elizabeth Rumpff explains. "We put the water in leather pouches that are placed like hot stones on various chakra points on the body. Fresh cedar is also gathered from down by the lake."
The massage concludes with a fresh cedar-sprig filled weighted blanket placed on top of me while the therapist provides a relaxing head and neck massage. Ninety minutes of bliss. I can see why generations of people considered Elkhart Lake a magical and sacred place.