Astronaut, aquanaut godmother christens new Viking Neptune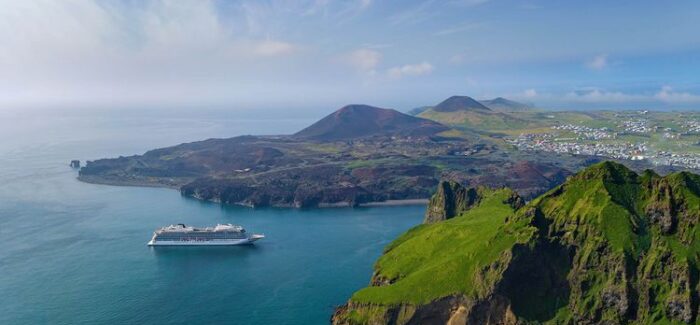 What an appropriate name for a beautiful new ocean ship. The Viking Neptune. And what a perfect godmother, retired NASA astronaut, aquanaut and artist Nicole Stott.
"The Viking Neptune is a ship named for both the furthest planet in our solar system and the god of the sea," Torstein Hagen, chairman of Viking, said in a news release. "And our newest Viking godmother, Nicole Stott, as a NASA astronaut and aquanaut, also has connections to space and the sea."
In a maritime tradition that dates back thousands of years, Stott offered a blessing of good fortune and safe sailing for the ship in Los Angeles. "Today is a proud day for the entire Viking family as we name our newest ocean ship in Los Angeles, the home of Viking's U.S. office for more than 20 years," Hagen said.
In keeping with the naming tradition, during the ceremony Stott used an historic Viking broad axe to cut a ribbon that allowed a bottle of Norwegian aquavit to break on the ship's hull.
"It is an honor and privilege to be the godmother of the new Viking Neptune," Stott said in a news release. "As someone who has been blessed to explore space, the ocean and some of the otherworldly places on our planet, I understand the importance of broadening one's horizons through travel. I am very excited for all those who journey around the world on this elegant vessel."
Prior to the ribbon cutting, the axe was presented to Stott by Sissel Kyrkjebø, one of the world's leading crossover sopranos and godmother of the Viking Jupiter. Kyrkjebø had used the axe when naming her ship in January 2020.
The Viking Neptune is the newest ship in Viking's award-winning ocean fleet of identical sister ships, which also includes the Viking Star, Viking Sea, Viking Sky, Viking Orion, Viking Jupiter, Viking Venus and Viking Mars.
In April, Viking will also welcome another new ocean ship, the Viking Saturn. The ocean vessels offer 465 staterooms that can host 930 guests. The ships also feature all veranda staterooms, Scandinavian design, light-filled public spaces and abundant al fresco dining options.
Although identical to Viking's other ocean ship, the Viking Neptune is uniquely equipped with a small hydrogen fuel system, making it the cruise industry's first ship to test the use of hydrogen power for onboard operations. Viking is using the small system as a test to determine how hydrogen fuel could be used at a larger scale in future rebuilds.
Photos courtesy of Viking
Viking Neptune godmother accepts a Viking broad axe for the christening ceremony.
Torstein Hagen welcomes Viking's newest ocean ship.
Viking Neptune
---
Ed. Note: Please contact us for more information and to book a cruise Crown Cruise Vacations | Cruise Getaways You Can Afford!
Celebrity Cruises recognized the company's top partners with its 2022 Top Travel Agency Advisor Awards. The 2022 travel partner award winners include:
Online Partner of the Year: Crown Cruise Vacations
Since 2008, Crown Cruise Vacations has had a singular focus: Provide excellent value and excellent service on Cruises, Tours and all forms of Vacation Travel. Based in Princeton, New Jersey, and a proud member of Ensemble Travel Group, we have been able to offer the benefits of working with the largest agencies while maintaining a family atmosphere. We've won many different awards including the 2011 World Travel Award for Leading North American Cruise Agent, and 2018 Partner of the Year for Royal Caribbean. We use our agency connections, relationships and influence to provide you and your family the best values and offers in the travel industry led by travel counselors with hundreds of years of combined travel experience.
Contact Us – Open Seven Days a Week: 9 a.m. to 8 p.m. Mon-Fri, 9 a.m. to 5 p.m. Sat-Sun
Call us toll free: 877-283-1114, direct-dial Locally: 609-945-9801
Address: 120 Village Boulevard, Princeton, NJ 08540
Email us: support@crowncruisevacations.com