MSC Cruises named official cruise line partner of New York Knicks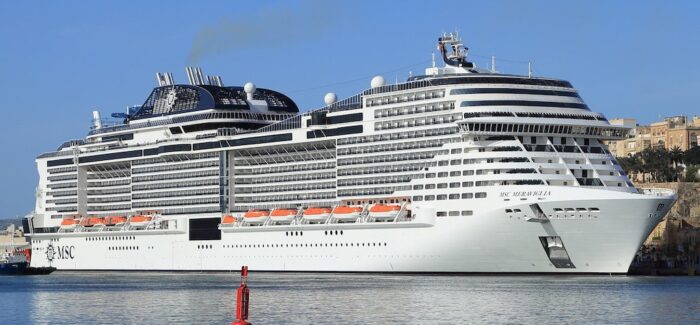 When the New York Knicks make a three-point basket this season, an Ocean Conservation Cause will receive a donation as the result of a partnership between MSC Cruises and the New York Knicks.
Throughout the year, GraceVision and Knicks Digital Channels also will run features about the program and provide updates on the amount donated to that point in time.
"This partnership will also make MSC Cruises our first-ever global rights marketing partner," David Hopkinson, president & COO, Madison Square Garden Sports Corp. said in a news release.
"MSC Cruises is one of the world's top-rated contemporary cruise lines with a long history of putting their customers first, a value that MSG Sports lives by every day, making them a fantastic addition to our illustrious group of marketing partners," Hopkinson said.
Through the partnership, MSC Cruises will receive significant brand promotion during all Knicks games at The Garden including LED Signage and Virtual On-Court Signage. MSC Cruises also will serve as the Presenting Partner of the Knicks in-game T-Shirt Toss.
"Our partnership with MSG and the New York Knicks is symbolic of our overall commitment to New York City with the upcoming launch of year-round cruises from the Brooklyn Cruise Terminal onboard MSC Meraviglia," said Ruben A. Rodriguez, president, MSC Cruises USA.
"At MSC Cruises, we're focused on improving the communities we serve by supporting families and furthering sustainability efforts," Rodriguez said. "MSC and the Knicks share those priorities, and we're thrilled to be combing our efforts right here in New York City, as well as throughout the more than 40 countries that make up our global itineraries.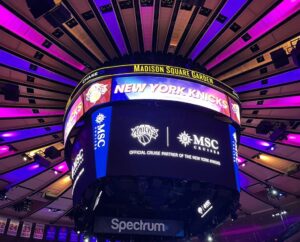 Together, the Knicks and MSC Cruises will partner on a sustainability initiative which will provide a donation to an Ocean Conservation Cause for every three-pointer made by the Knicks this season.
"MSC Cruises will be involved within the Knicks organization across digital channels and fan activations and will provide once-in-a-lifetime experiences for our incredible Jr. Knicks program," Hopkinson said.
This spring, the Knicks will host a Jr. Knicks clinic at the basketball court aboard MSC Meraviglia during her inaugural call at the Brooklyn Cruise Terminal. Participants in the clinic will take part in basketball drills, skills and training as well as play games by the Jr. Knicks coaching staff.
Participants also will have the opportunity to meet with Knicks alumni and receive branded giveaways from the Knicks and MSC Cruises.
In addition to the partnership with the Knicks, MSC Cruises also will come on board as the Official Cruise Line Partner for the Westchester Knicks and Knicks Gaming, which includes LED signage for all Westchester Knicks home games and virtual on-court signage for all Knicks Gaming home games.
Finally, MSC Cruises will be displayed on the digital boards outside of Madison Square Garden, which are visible to the millions of people who walk by The Garden every day.
Photos courtesy of MSC Cruises
---
Ed. Note: Please contact us for more information and to book a cruise Crown Cruise Vacations | Cruise Getaways You Can Afford!
Celebrity Cruises recognized the company's top partners with its 2022 Top Travel Agency Advisor Awards. The 2022 travel partner award winners include:
Online Partner of the Year: Crown Cruise Vacations
Since 2008, Crown Cruise Vacations has had a singular focus: Provide excellent value and excellent service on Cruises, Tours and all forms of Vacation Travel. Based in Princeton, New Jersey, and a proud member of Ensemble Travel Group, we have been able to offer the benefits of working with the largest agencies while maintaining a family atmosphere. We've won many different awards including the 2011 World Travel Award for Leading North American Cruise Agent, and 2018 Partner of the Year for Royal Caribbean. We use our agency connections, relationships and influence to provide you and your family the best values and offers in the travel industry led by travel counselors with hundreds of years of combined travel experience.
Contact Us – Open Seven Days a Week: 9 a.m. to 8 p.m. Mon-Fri, 9 a.m. to 5 p.m. Sat-Sun
Call us toll free: 877-283-1114, direct-dial Locally: 609-945-9801
Address: 120 Village Boulevard, Princeton, NJ 08540
Email us: support@crowncruisevacations.com