Rock & Roll Hall of Fame honors great musicians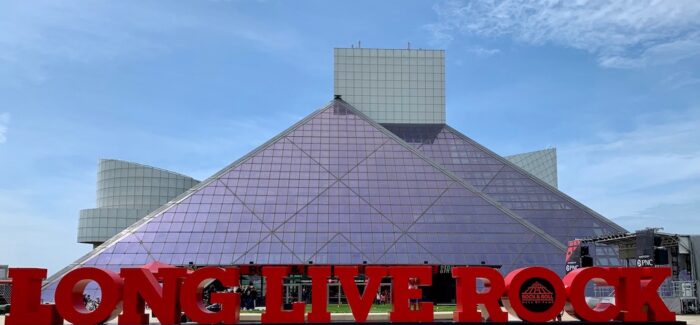 Several teens sitting in the audience began to chuckle when the film narrator said, "Imagine there was a time in America when there was no rock and roll."
For these youngsters, there never was such a time.
Rock and roll has always been a part of their lives. So the Rock & Roll Hall of Fame and Museum must have been a real eye opener for them. After the short film ended, I saw the young people avidly reading information in the exhibits and commenting on how much music has changed.
They even giggled at Elvis' flamboyant jumpsuits and the video of a Baptist preacher denouncing Elvis as an evil influence in a 1956 sermon.
But, then again, I couldn't help smiling at the ridiculous (to me) skimpy outfits and flashy makeup of newer performers. To each his own. And the Rock & Roll Hall of Fame and Museum does seem to have something to interest everyone.
I also learned something about shoes on this trip. Not my shoes. I wear black slip-on shoes almost everywhere I go. The shoes this time were worn by my grandson Logan. For going through airport security, Logan has the perfect shoes. Until he got them, I had never seen anything like them.
When I go through airport security, it is a simple procedure. I have TSA PreCheck and don't have to remove my shoes. Logan, however, does have to take off his footwear at security checkpoints. Then we usually wait while he sits down to put his shoes back on and to tie them.
That is, until he discovered a new hands-free sneaker, the Kizik Roamer that features a patented heel design so you can put on sneakers without bending over or touching them with your hands. The heel collapses, lets your foot slide in the shoe, then springs back into place.
I figured the shoes sounded good but probably wouldn't work or would collapse permanently after a few uses. Nope. Logan has been wearing them for a couple of months now and they still look brand new and work as advertised.
In my home, people don't wear shoes. Shoes are left at the door. So now Logan just slips the shoes on when he goes out, slips them off when coming back in the house. Logan wears his shoes to work and, since they are in black, travels with them for dinner dress-up nights.
Some folks watched how the shoes worked going through security and suggested other helpful uses for them. Maybe a mother carrying her baby would like the ease of slipping on the shoes without having to bend over to tie them. Or someone with a back problem could find them handy to wear without having to tie shoelaces. Or my sister when she had knee replacement surgery or my friend with hip replacement. Or someone doing yard work and not wanting to go through the hassle of removing and tying shoes when coming in the house for a quick drink of water. Looks like the list could go on and on.
Logan is young and wants any of his shoes to serve two important needs – must be comfortable and must be good looking. He says his Kiziks are both. Maybe I should buy a pair for myself.
Back to the Rock & Roll Hall of Fame and Museum in Cleveland, Ohio, a guide told me that it is the city's biggest attraction.  "We have from 5,000 to 8,000 visitors a day and 85 percent of them are from out of town," the tour guide said.
Which leads to the question – why Cleveland?
As a Buckeye myself, I never particularly thought of Cleveland as a hot bed of rock and roll. But the museum does a good job of explaining why Cleveland is a natural choice for the world's definitive collection of the history of rock and roll.
Alan Freed was a Cleveland DJ who coined the term "rock & roll" and hosted the first rock and roll concert here in 1952. Cleveland also was the first place north of the Mason-Dixon Line where Elvis played.
Of course, Cleveland also was mighty supportive of hosting such an attraction. It was financially, emotionally and spiritually supported by Cleveland people.
BIRTH OF HALL OF FAME
When the idea for a Rock & Roll Hall of Fame initially came about, Cleveland leaders were among the first and most enthusiastic in lobbying Hall of Fame officials to bring the museum to their fair city. Cleveland overwhelmingly beat all rivals in a USA Today poll, earning more than 100,000 votes over its nearest rival.
In addition, 660,000 people signed petitions to bring the museum to Cleveland. The city's civic and business leaders worked together to provide the necessary financial support to make the museum not only a reality but also a stunning showcase for rock and roll's history.
On May 5, 1986, Cleveland was selected as the site for the Rock & Roll Hall of Fame and Museum. Groundbreaking for the building took place on June 7, 1993, and the building was opened to the public on Sept. 2, 1995.
Located on the shores of Lake Erie, the I.M. Pei-designed museum is a real beauty. A futuristic composition of bold geometric forms and dynamic cantilevered spaces, it is anchored by a 162-foot tower. The tower supports a dual-triangular-shaped glass "tent" that extends at its base onto a 65,000-square-foot plaza, making a dramatic main entry facade. Pei died May 16, 2019, at the age of 102.
"In designing this building," Pei has said," it was my intention to echo the energy of rock and roll. I have consciously used an architectural vocabulary that is bold and new."
The $92 million glass-paneled pyramid and tower-type structure was funded through a public-private partnership that included the State of Ohio, City of Cleveland, Cuyahoga County, Cleveland-Cuyahoga County Port Authority and Cleveland area and music industry corporations and foundations.
The original concept for the museum and archive dedicated to rock and roll was initiated in 1983 when several music industry leaders created the Rock & Roll Hall of Fame Foundation. Their goal was to honor the men and women who made significant contributions to this musical style.
In 1986, they began inducting individuals. The museum was built to house the Hall of Fame, so they are actually two distinct entities.
The first-year Hall of Fame roster included Chuck Berry, James Brown, Ray Charles, Sam Cooke, Fats Domino, Everly Brothers, Buddy Holly, Jerry Lee Lewis, Elvis Presley and Little Richard.
Artists become eligible for the Rock & Roll Hall of Fame 25 years after the release of their first commercial recording.
The process of nominating inductees each year is based on the artist's "influence and significance to the development and perpetuation of rock and roll." Ballots are then sent to about 900 performers, historians and music industry professionals. Those nominees who receive the most votes are inducted. The Hall of Fame typically welcomes five to seven artists each year.
Nominees for 2023 are Kate Bush, Sheryl Crow, Missy Elliott, Iron Maiden, Joy Division/New Order, Cyndi Lauper, George Michael, Willie Nelson, Rage Against the Machine, Soundgarden, The Spinners, A Tribe Called Quest, The White Stripes, and Warren Zevon. The 2023 inductees will be announced in May.
LEAVE PLENTY OF TIME TO VISIT
For the museum itself, leave plenty of time to visit. The constantly changing museum has so much to see, read and hear. For starters, there's the fashion of Sgt. Pepper, Jimi Hendrix's handwritten lyrics, Janis Joplin's psychedelic wardrobe, a dazzling Tina Turner costume designed by Gianna Versace and more.
Other specials are John Lennon's grammar school report card, Buddy Holly's high school diploma, David Bowie's "Ziggy Stardust" jumpsuit, Bruce Springsteen's outfit from the cover of "Born in the U.S.A.," Jim Morrison's Cub Scout uniform, John Lennon's gaudy jacket he wore to rehearsals for his "All You Need is Love" performance, Jimi Hendrix's patchwork jacket from his final concert appearance in Germany on Sept. 6, 1970, a shirt John Mellencamp wore on his "Scarecrow" tour and autographed drumsticks from Kenny Aronoff.
Then there are the musical instruments – enough to delight any music lover. You can see Duane Eddy's Gretsch guitar, Eddie Cochran's 1955 Gretsch, Duane Allman's 1959 Gibson Les Paul, Dickey Betts' 1954 Les Paul gold top, Lead Belly's 12-string acoustic guitar, Louis Jordan's tenor saxophone and Robbie Robertson's 1958 Fender Stratocaster, among others.
Exhibited items change so many visitors return often to see and hear what is new.
Several theaters take visitors on a cinematic journey through rock and roll history, including Dick Clark's American Bandstand in the RMS Theater and a 14-minute film in the Elvis exhibit.
An unusual exhibit called Part of the Machine: Rock & Pinball showcases rocked-out pinball machines with popular performers and bands.
As expected, the museum is alive with music and film and interviews.  At the Rock & Roll Radio exhibit, you can hear sound clips from famous rock and roll DJs from different eras and regions. Rapper's Delight shares the history of hip-hop.
Before the museum opened, experts predicted fans would need about two and a-half-hours to wander through the musical lesson. They were sure wrong.
"We've found that most people stay closer to four hours or even the entire day," a guide told me before I left. "Once they get here, people are often surprised at all there is to see and they stay longer than they expected."
Photos by Jackie Sheckler Finch
Designed by I.M. Pei, the Rock & Roll Hall of Fame and Museum is an eye-catching attraction on the shore of Lake Erie.
Guitars used by music legends are displayed in the museum.
A special section honors Elvis Presley.
My grandson's shoes can be slipped on and off to go through airport security.
Logan's shoes are both dressy and casual.
The back side of the I.M. Pei designed building is as impressive as the front.
---
Ed. Note: Please contact us for more information and to book a cruise Crown Cruise Vacations | Cruise Getaways You Can Afford!
Celebrity Cruises recognized the company's top partners with its 2022 Top Travel Agency Advisor Awards. The 2022 travel partner award winners include:
Online Partner of the Year: Crown Cruise Vacations
Since 2008, Crown Cruise Vacations has had a singular focus: Provide excellent value and excellent service on Cruises, Tours and all forms of Vacation Travel. Based in Princeton, New Jersey, and a proud member of Ensemble Travel Group, we have been able to offer the benefits of working with the largest agencies while maintaining a family atmosphere. We've won many different awards including the 2011 World Travel Award for Leading North American Cruise Agent, and 2018 Partner of the Year for Royal Caribbean. We use our agency connections, relationships and influence to provide you and your family the best values and offers in the travel industry led by travel counselors with hundreds of years of combined travel experience.
Contact Us – Open Seven Days a Week: 9 a.m. to 8 p.m. Mon-Fri, 9 a.m. to 5 p.m. Sat-Sun
Call us toll free: 877-283-1114, direct-dial Locally: 609-945-9801
Address: 120 Village Boulevard, Princeton, NJ 08540
Email us: support@crowncruisevacations.com