Repositioning American Jazz riverboat to West Coast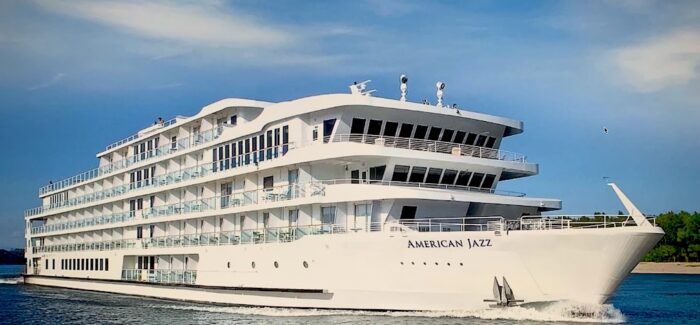 Ever wonder what it's like to move a riverboat from the Mississippi River to San Francisco Bay? Sure can't pack the vessel aboard an airplane or box it up for Fed-Ex delivery.
In fact, the repositioning of a riverboat from the lower Mississippi River to San Francisco is a journey that travels 4,806 nautical miles and takes several weeks of cruising.
For those intrigued by such a massive undertaking, the friendly folks at American Cruise Lines are sharing what it takes to make the move via the Panama Canal for the popular American Jazz riverboat.
"All onboard equipment had to be inspected to ensure that it was functioning property, and the travel route had to be clearly mapped out. There were many regulatory documents that had to be completed and submitted to the Canal Authority," Andrew VanMeter, fleet operations analyst, said in a news release.
"We also had to make sure the ship was prepared for all the inspections that are required upon arrival at the Canal," VanMeter said.
Along the journey, long hours and incredible expertise are required to maneuver the vessel through locks of the Canal and along the waterways of the Atlantic and Pacific Ocean.
"We take all responsibility to advance our skills when it comes to ship handling, anchor watch, plotting and using the radar," said onboard mate Matt Carpenter. "But we also make sure there is time for fun, including sitting down for a meal together every day."
The expert nautical team is supported each day of the voyage by the company's shore side operations team. Throughout the journey, the shore side team communicates with the crew several times a day for updates on position of the boat, speed, weather conditions and any issues concerning personnel, system and/or machinery.
"We were as hard wired into the ship as possible without physically being on board," said Eric Dussault, director of port operations.
During a voyage of this length, the crew can face many obstacles, including high winds and fast currents. To ensure a safe journey, the onshore team has to stay one step ahead of the onboard crew through state-of-the-art satellite communications equipment.
"When American Jazz encountered a strong weather system in the Southwest Caribbean, we were able to alternate the ship's course and avoid the storm," said Max Taber, director of fleet operations.
Upon arriving in San Francisco, American Jazz will start its inaugural season along San Francisco Bay and the California Delta, followed by its first season on the Columbia and Snake rivers. A very busy time for the 190-passenger riverboat.
Photos courtesy of American Cruise Lines
---
Ed. Note: Please contact us for more information and to book a cruise Crown Cruise Vacations | Cruise Getaways You Can Afford!
Celebrity Cruises recognized the company's top partners with its 2022 Top Travel Agency Advisor Awards. The 2022 travel partner award winners include:
Online Partner of the Year: Crown Cruise Vacations
Since 2008, Crown Cruise Vacations has had a singular focus: Provide excellent value and excellent service on Cruises, Tours and all forms of Vacation Travel. Based in Princeton, New Jersey, and a proud member of Ensemble Travel Group, we have been able to offer the benefits of working with the largest agencies while maintaining a family atmosphere. We've won many different awards including the 2011 World Travel Award for Leading North American Cruise Agent, and 2018 Partner of the Year for Royal Caribbean. We use our agency connections, relationships and influence to provide you and your family the best values and offers in the travel industry led by travel counselors with hundreds of years of combined travel experience.
Contact Us – Open Seven Days a Week: 9 a.m. to 8 p.m. Mon-Fri, 9 a.m. to 5 p.m. Sat-Sun
Call us toll free: 877-283-1114, direct-dial Locally: 609-945-9801
Address: 120 Village Boulevard, Princeton, NJ 08540
Email us: support@crowncruisevacations.com