No Comments
Princess Cruises Unveils 'The Catch by Rudy'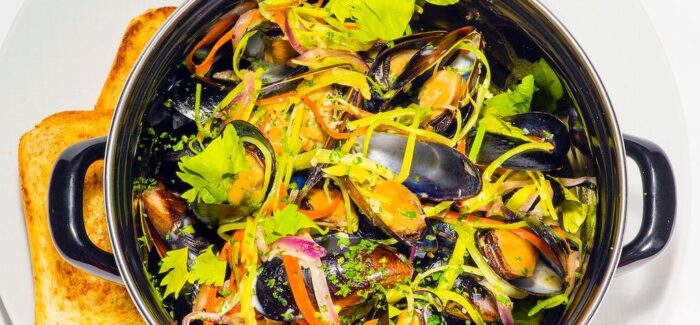 The first Princess Cruises restaurant primarily devoted to seafood has been unveiled in the new restaurant The Catch by Rudi, designed in partnership with culinary icon Chef Rudi Sodamin.
"The Catch by Rudi is my way of combining my love of food, seafood and people with my incredible culinary journey at sea and my lifelong history of cooking seafood across the globe to delight Princess guests," Sodamin said.
"I want to deliver a new way to enjoy seafood and a fresh perspective on something they thought they knew," he said. "Everything we are doing with The Catch is about 'catching' that gracious moment we call 'now' – and doing it in such a memorable and unexpected way that makes you say 'wow!'"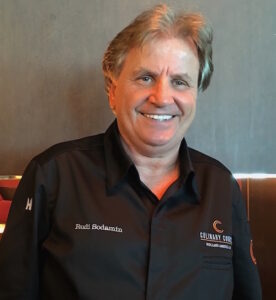 Debuting on Enchanted Princess and coming soon to more of the line's newest ships, The Catch by Rudi replaces Bistro Sur la Mer and is expected to make a tremendous splash with a menu that will appeal to both seafood aficionados and guests who simply prefer some great surf and turf.
Priced at just $39 per person and available as a specialty dining option within the Princess Premier premium add-on package, the restaurant's menu features The Daily Catch – the freshest, sustainable sourced seafood from local ports of call.
"Chef Rudi is the foremost cruise culinary artist in the world with more than four decades of experience spanning the world's best cruise lines – Princess Cruises, Cunard Line, Holland America Line and Carnival Cruise Line, as well as Royal Caribbean and Norwegian American Cruise Line," said John Padgett, president of Princess Cruises.
"Chef Rudy's creativity, passion and leadership in delivering exceptional experiences down to the finest details that consider guests' preferences and tastes will surely make The Catch another 'must do,'" Padgett said.
Guests will notice as soon as they pick up their menus that they are experiencing something unexpected and novel as they read headings like "Beauty on the Plate" and "Tower of Taste." The place settings are equally distinctive. Guests are greeted at their table by a special cocktail created by mixologist Rob Floyd.
The new specialty dining location also includes playful takes on seafood go-to dishes like Asian-fried calamari; modern twists on comforting seafood classics such as lobsters with garlic butter crust; and stunningly presented signature seafood inventions from the chef's personal repertoire including a Towering Trio and Whole Dover Sole.
The Seafood Trolly is a feast for the eyes with fresh lobster tail, shrimp, oysters and mussels piled high along with other tastes from the sea.
While the menu focuses primarily on seafood dishes, The Catch by Rudi also features offerings to appeal to every taste and appetite, along with vegetarian dishes and signature beef dishes all presented with the creativity that is distinctively Chef Rudi.
All wines will be hand-picked to pair with seafood and wait staff will make knowledgeable recommendations for white, red, rose and sparkling wines from the great wine-growing regions located near coastal areas across the world.
"Guests who experience The Catch by Rudi are in for something truly special," said Sami Kohen, vice president of food and beverage for Princess Cruises. "The meal will offer a number of surprises – from before the meal starts, through the unparalleled desserts that are as fanciful as they are delicious and come with a special gift at the end of the meal."
Onboard Enchanted Princess, The Catch by Rudi is located across from the guest services desk on Deck 5 as Sabatini's moves to Deck 7 in the piazza where Bistro Sur la Mer was previously located.
The new restaurant concept will be added aboard several other Princess ships including Majestic Princess, Sky Princess and Discovery Princess.
Photos courtesy of Princess Cruises
---
Ed. Note: Please contact us for more information and to book a cruise Crown Cruise Vacations | Cruise Getaways You Can Afford!
Celebrity Cruises recognized the company's top partners with its 2022 Top Travel Agency Advisor Awards. The 2022 travel partner award winners include:
Online Partner of the Year: Crown Cruise Vacations
Since 2008, Crown Cruise Vacations has had a singular focus: Provide excellent value and excellent service on Cruises, Tours and all forms of Vacation Travel. Based in Princeton, New Jersey, and a proud member of Ensemble Travel Group, we have been able to offer the benefits of working with the largest agencies while maintaining a family atmosphere. We've won many different awards including the 2011 World Travel Award for Leading North American Cruise Agent, and 2018 Partner of the Year for Royal Caribbean. We use our agency connections, relationships and influence to provide you and your family the best values and offers in the travel industry led by travel counselors with hundreds of years of combined travel experience.
Contact Us – Open Seven Days a Week: 9 a.m. to 8 p.m. Mon-Fri, 9 a.m. to 5 p.m. Sat-Sun
Call us toll free: 877-283-1114, direct-dial Locally: 609-945-9801
Address: 120 Village Boulevard, Princeton, NJ 08540
Email us: support@crowncruisevacations.com