Visiting Polynesian Paradise of Bora Bora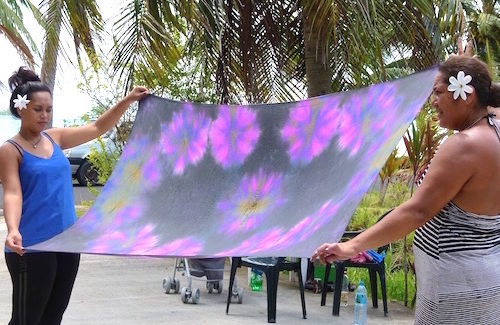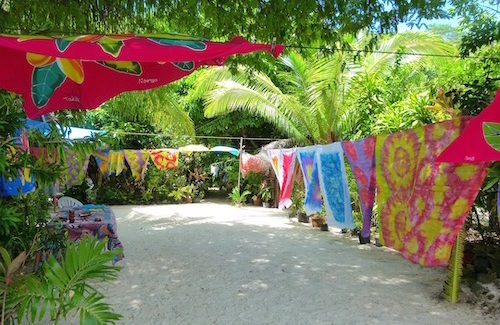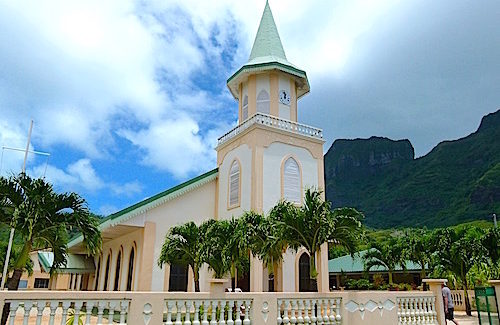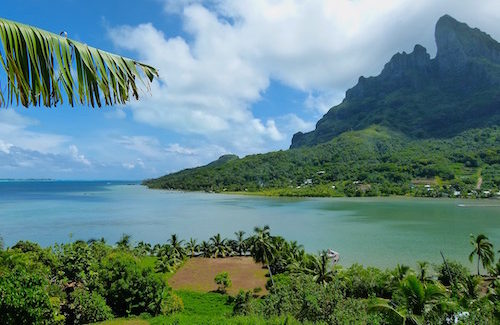 She made it look so easy. A few knots here, some stylish tucks there, a loop around the neck. And viola. A beautiful pareo, the sarong-like clothing worn by Polynesian men and women.
Asking for volunteers from our group of cruise ship passengers, the Mama Ruta designer created four different sarong styles. That was quite impressive but what I found even more interesting was how the artists at Mama Ruta's hand craft the colorful fabrics used to make the pareos.
For our last cruise day, we visited Bora Bora, said to be French Polynesia's most popular international tourist destination. Our ship offered a long list of shore excursions, the most of any island on our cruise. It was a difficult choice but I chose the Le Truck Island Tour because it seemed like it would give the best island overview.
On our tour, guide Sandra would take us to see Mama Ruta's, a marae, a beach, some sand crabs, a World War II military installation and a Protestant church.
Le Truck itself is an experience. The body of the vehicle in which we would ride is attached to a cab where the driver and our guide rode. Windows opened from the top down almost halfway down. The truck was not air conditioned so those half-open windows came in handy.
I don't think Le Truck had any road-cushioning shocks. The shore excursion description warned that "you should be prepared for a bumpy ride." It was.
The bus was decorated inside with fragrant just-picked flowers and ferns. Those later would be used for snacks at one of our stops, Sandra said.
 Bora Bora Overview
Known as "Romantic Island," Bora Bora was originally named Pora Pora which means "First Born." Legend says this was the first island to rise when the supreme god Taaroa fished it out of the waters.
"When Captain Cook came here, he thought the Polynesians were calling it Bora Bora," Sandra said. "The letter 'B' does not exist in the Tahitian language so he mistook the softened sound of the Tahitian 'P' for a 'B.' They were really saying Pora Pora."
Bora Bora consists of three main villages with a population of about 9,500, most of whom live on the coast. The main road skirts around the island shore line and is about 19 miles long. In the center of Bora Bora are the remnants of an extinct volcano, which has two peaks, Mount Pahia and Mount Otemanu.
Today, the Island of Bora Bora relies largely on tourism and boasts several luxurious resorts with very expensive prices. "Bora Bora was the first to build bungalows that stand over the water using stilts," Sandra said. "These are so popular with tourists that other places started building them."
As we bumped along the road, Sandra pointed out some of the water bungalows, saying this one was where Leonardo DiCaprio stayed and that one was Marlon Brando's until he bought his own private island.
The main languages on Bora Bora are French and Tahitian but English is also spoken in hotels, markets and other tourist locations. The pace is laid back and relaxing with the philosophy being "aita pea pea" which means "not to worry."
We didn't stop but drove by a ramshackle old World War II military base where the bunkers are slowly fading into the jungle. When Pearl Harbor was attacked, the U.S. military used Bora Bora as a supply base and built defenses along the coast to protect the island against a possible surprise attack by Japan.
Seven huge cannons are scattered across the landscape, quietly rusting in the island sun. Each of the guns is over 20 feet long and mounted on a swivel base.
"The military also built the coastal road on the island and Bora Bora's first airport in 1943," Sandra said, adding that the Motu Mute airport is still used today.
Luckily, no combat took place on Bora Bora. The U.S. military base officially closed on June 2, 1946, although it is said that some American soldiers decided to stay on the island rather than return to their homeland.
Mama Ruta's
Stopping at Mama Ruta's outdoor studio and shop, we walked down an artistic fabric-lined lane on a sandy path and were greeted with cold fruit drinks and fresh fruit. Then we watched as a designer explained how she takes quality white cotton and, with Mother Nature's help, turns it into colorful designs.
The cotton is wet in water, then folded and twisted and dabbed with natural hues from plants and berries. The cloth is then placed on corrugated metal tables where ferns and other stencils are placed on the colored cotton for designs. The sun does the rest for a unique finished product.
One woman on my trip bought one for a casual tablecloth. Another woman plans to hang hers on the wall. Several women said they hope to wear theirs if they can figure out the styling technique Mama Ruta showed us.
Sand Crabs
Le Truck slowed down when we approached a section of dirt dotted with holes. Sandra then told us to toss the lovely hibiscus flowers and other greenery out the window and wait to see what happened. Almost as soon as our gifts hit the ground, sand crabs crawled out of the holes to grab the fast food, dragging their snacks back into their burrows.
As we climbed back aboard Le Truck, the Rogers and Hammerstein song from "South Pacific" – "Some Enchanted Evening" – kept running through my mind.
This whole cruise has been enchanted. And it has passed so quickly. To me, it was the best possible way to visit French Polynesia.
Story and photos by Jackie Sheckler Finch