Viking Takes Delivery of Newest Ocean Ship – Viking Mars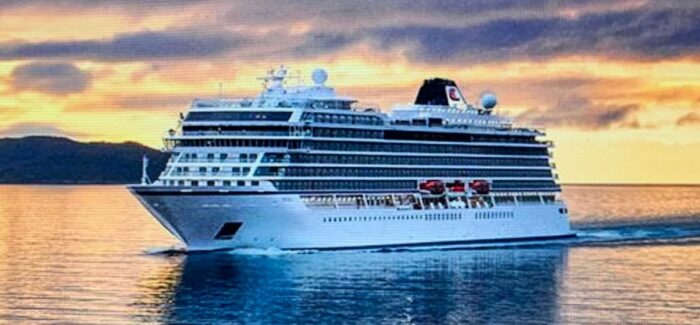 Ready to visit beautiful Mars? Nope, not the planet named after the Roman god of war. This Mars is the newest cruise ship in the Viking fleet.
The new Viking Mars was officially named by her ceremonial godmother, Lady Fiona Carnarvon, the Countess of Carnarvon. The ship will sail itineraries in the Mediterranean, Scandinavia and Northern Europe before repositioning at the end of the year for voyages around Australia and New Zealand.
"As we celebrate our 25th anniversary and a year of important milestones for Viking, today we are very proud to welcome the newest ocean ship to our award-winning fleet," Torstein Hagen, chairman of Viking, said in a news release.
"Lady Carnarvon has honored us by serving as godmother to the Viking Mars, and we look forward to welcoming guests on board this beautiful new sister ship in the coming weeks," Hagen said.
For years, Viking has offered a variety of ways for guests to experience life at Highclere Castle, which is home of the Earl and Countess of Carnarvon. Highclere Castle is known as the filming location of Downtown Abbey, and Viking became a household name during its sponsorship of the celebrated Masterpiece series through the years Downtown Abbey aired on PBS.
Viking executive vice president Karine Hagen worked closely with the Carnarvon family to develop Privileged Access Pre/Post Extensions that feature the estate, including the highly-rated Oxford & Highclere Castle and "Great Homes, Gardens & Gin" extensions, both of which are available for guests on select river and ocean voyages.
Also, for guests on the popular Pharaohs & Pyramids Nile River itinerary, Viking offers the five-day British Collections of Ancient Egypt Pre-Extension, which gives guests an introduction to Egyptian antiquities in preparation for their Nile experience and includes retracing the steps of the world's most famous Egyptologist, Howard Carter, and his benefactor, the 5th Earl of Carnarvon.
Guests experience Privileged Access to archives and museum exhibits not normally accessible to the public, and at Highclere Castle, can view the Earl's magnificent private collection of Egyptian artifacts.
Lady Carnarvon also has welcomed viewers to Highclere Castle on Viking's award-winning enrichment channel, Viking.TV (www.viking.tv) In her ongoing series, At Home at Highclere, Lady Carnarvon offers virtual Privileged Access to the historic home and its grounds.
In the past two years, she has led more than 20 virtual tours and offered glimpses of life at her home. Additionally, Lady Carnarvon has served as godmother to a Viking Longship, the Viking Skadi, which sails Viking's popular itinerates on the Rhine, Main and Danube rivers.
Viking's ocean vessels offer 465 staterooms that can host 930 guests. The ships feature all veranda staterooms, Scandinavian design, light-filled public spaces and abundant al fresco dining options.
Viking was founded in 1997. By the end of 2022, Viking will have welcomed a second identical expedition ship, another identical ocean ship and new purpose-built vessels for the Nile, Mekong and Mississippi rivers.
Photo courtesy of Viking
---
Crown Cruise Vacations | See Cruise Getaways You Can Afford!
Since 2008, Crown Cruise Vacations has had a singular focus: Provide excellent value and excellent service on Cruises, Tours and all forms of Vacation Travel. Based in Princeton, New Jersey, and a proud member of Ensemble Travel Group, we have been able to offer the benefits of working with the largest agencies while maintaining a family atmosphere. We've won a number of different awards including the 2011 World Travel Award for Leading North American Cruise Agent, and 2018 Partner of the Year for Royal Caribbean . We use our agency connections, relationships and influence to provide you and your family the best values and offers in the travel industry led by travel counselors with hundreds of years of combined travel experience. 
Contact Us – Open Seven Days A Week: 9a-8p Mon-Fri, 9a-5p Sat-Sun
Call us toll free: 877-283-1114, direct-dial Locally: 609-945-9801
Address: 120 Village Boulevard, Princeton, NJ 08540
Email us: support@crowncruisevacations.com