Holland America Celebrates One Year Back to Cruising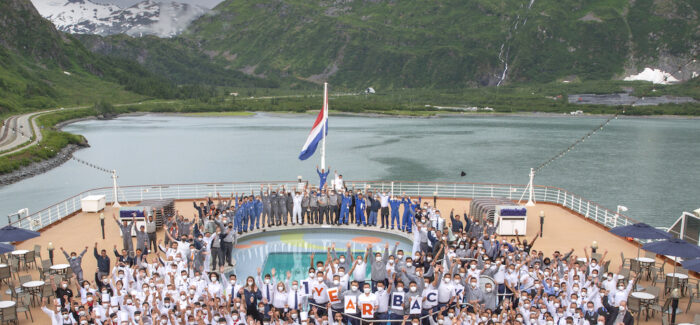 What a long strange trip it's been. After the industry-wide pause in cruising because of COVID-19, Holland America Line is celebrating its one year back to sailing the world's waters.
"The emotions and excitement from a year ago still resonate today as destinations around the world open and we persist in fully getting back to cruising," Gus Antorcha, president of Holland America Line, said in a July news release.
"We are grateful to our guests who returned to sail with us, to our team members who came back to sea, to the ports that welcomed us, to our partners who stood by us and to all of our shoreside employees who got us back in the water," Antorcha said.
Nieuw Amsterdam was the line's first ship back, resuming cruising July 21, 2021, in Seattle, Washington. "Over the past year, we have operated more than 240 cruises, and we look forward to continuing to offer more memorable vacations," Antorcha said.
Holland America Line's 10 remaining ship restarted in a variety of destinations as ports opened to visitors. The Westerdam was the last ship back into service on June 12, 2022.
Fun facts and figures since the return to service in July 2021:
Cruises sailed: 242
Different ports visited: 169
Nautical miles sailed: 502,565 (577,950 miles), enough to travel to the moon and back two-and-a-half times
Glacier visits in Alaska: 122
Team members welcomed back on board to serve guests: 12,287 (98 different nationalities)
Unique shore excursions operated: more than 2,000
Funds raised for On Deck for a Cause: $210,000
Meals served: more than 6,500,000
Specialty coffee drinks served: 700,000
Beers consumed: 1,117,306
Soda, water and juice consumed: 3,235,855
Entertainment: more than 25,000 performances
Trivia questions asked: 76,000
Photos courtesy of Holland America Line
Nieuw Amsterdam crew celebrates one year back in July. (Cover photo)
Nieuw Amsterdam in Seattle.
Fun facts.
Crown Cruise Vacations | See Cruise Getaways You Can Afford!
Since 2008, Crown Cruise Vacations has had a singular focus: Provide excellent value and excellent service on Cruises, Tours and all forms of Vacation Travel. Based in Princeton, New Jersey, and a proud member of Ensemble Travel Group, we have been able to offer the benefits of working with the largest agencies while maintaining a family atmosphere. We've won a number of different awards including the 2011 World Travel Award for Leading North American Cruise Agent, and 2018 Partner of the Year for Royal Caribbean . We use our agency connections, relationships and influence to provide you and your family the best values and offers in the travel industry led by travel counselors with hundreds of years of combined travel experience. 
Contact Us – Open Seven Days A Week: 9a-8p Mon-Fri, 9a-5p Sat-Sun
Call us toll free: 877-283-1114, direct-dial Locally: 609-945-9801
Address: 120 Village Boulevard, Princeton, NJ 08540
Email us: support@crowncruisevacations.com