Spanish Island Honors Little Girl Who Became Saint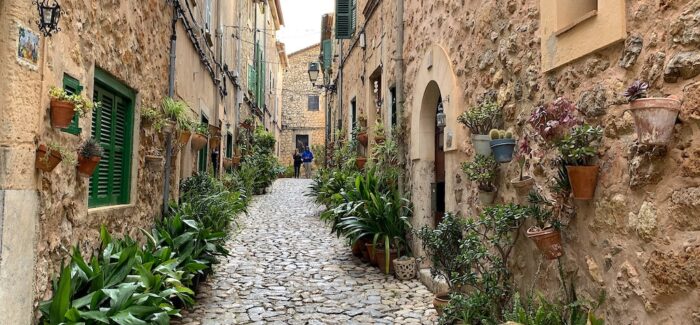 At only 3 years old, the little girl could recite parts of the Bible which she practiced in her "special" corner of the family's simple home. Where might life had gone for this peasant child?
At only 7 years old, the little girl became an orphan when both her parents died. She was sent to live with her uncle outside the family's village. The story goes that her uncle was cruel and not fit to raise a child.
"Her life was very hard. Her uncle made her do the worst tasks," tour guide Inma says. "She couldn't go to church anymore so she built her own very small chapels underneath olive trees."
Walking the cobblestone streets of Valldemossa in Mallorca, Spain, we are hearing the story of the little girl who grew up to become a saint. Decorative tiles on the outsides of homes and buildings recall the tale of Santa Catalina Tomas or Saint Catherine Thomas as she is also known.
"This is where Catalina was born on May 1, 1531," Inma says as we stopped in front of a small house which is now a shrine. In the 18th century, a chapel was built on the site and is open to the public.
"The chapel has no regular hours but it is almost always open," Inma says. The tiny chapel has an altar and candles that visitors can light. Fresh flowers adorn the narrow church.
Led to a Religious Life   
At age 15, Catherine began having visions and felt led to a religious life. Not wanting to lose his mistreated slave, her uncle would not hear of it. Instead, Catherine confided her hopes to a holy hermit, Father Anthony Castagneda. Wanting to be sure that was her true vocation, Father Castagneda told Catherine to pray upon her request and her prayers would be answered.
"No convent would take her because she had no money, no dowry, to give them," Inma says, adding that at this time being a nun in a cloister was not for everyone, especially not for poor children.
So time passed and Catherine's relatives increased her arduous tasks and mistreatment. Finally, with the help of Father Castagneda, Catherine left her uncle's home and became a maid for a pious family.
When she was 20 years old, Catherine finally was accepted by a local Augustinian convent, Santa Magdalena in Palma. There her mystical experiences became even more frequent and terrifying. Fellow nuns witnessed assaults said to be committed by Satan in which the young nun would be thrown across the room and left with frightful wounds by unseen forces.
One day, while Catherine was crossing the refectory, it is said that a demon threw her into the air.  She was then found in a cistern full of mud from which she was pulled out with much difficulty.
"But she never stopped praying or lost her sweet nature," Inma says. "She told the other nuns that she was consoled by holy spirits."
Catherine would sometimes fall into deep traces like comas that would last for several days. Other times she would seem to float around the convent without her feet moving and her eyes closed as she conversed with angels and other heavenly beings.
"She was deeply admired by the other sisters because of her sanctity, humility and willingness to serve others," Inma says.
Near the end of her life, Catherine was given a prophetic forwarding of her death. She died peacefully of natural causes on April 5, 1572, at age 41, and is buried under the convent of Santa Magdalena in Palma.
Catherine was celebrated locally as a saint and remarkable favors and cures were reported at her tomb. Local folks wanted Catherine to be officially declared a saint.
In 1792, Catherine was beatified by Pope Pius VI. Catherine was canonized on June 22, 1930, by Pope Pius XI. An annual feast day in her honor is celebrated each July 28 in Palma de Mallorca.
"It is a way of honoring her," Inma says. "A way to thank and remember the little girl who went through so much."
For more information: Contact the Tourist Office of Spain in Chicago at (312) 642-1992 or www.Spain.info/en
Photos by Jackie Sheckler Finch
The street where Saint Catherine Thomas was born. (cover photo)
Decorative tiles on houses in Mallorca, Spain, honor Saint Catherine Thomas.
Decorative tile on a house.
Statue of Saint Catherine Thomas as a young girl.
Decorative tile on a house.
Shrine in Saint Catherine Thomas' birthplace.
Shrine in Saint Catherine Thomas' birthplace.
---
Crown Cruise Vacations | See Cruise Getaways You Can Afford!
Since 2008, Crown Cruise Vacations has had a singular focus: Provide excellent value and excellent service on Cruises, Tours and all forms of Vacation Travel. Based in Princeton, New Jersey, and a proud member of Ensemble Travel Group, we have been able to offer the benefits of working with the largest agencies while maintaining a family atmosphere. We've won a number of different awards including the 2011 World Travel Award for Leading North American Cruise Agent, and 2018 Partner of the Year for Royal Caribbean . We use our agency connections, relationships and influence to provide you and your family the best values and offers in the travel industry led by travel counselors with hundreds of years of combined travel experience. 
Contact Us – Open Seven Days A Week: 9a-8p Mon-Fri, 9a-5p Sat-Sun
Call us toll free: 877-283-1114, direct-dial Locally: 609-945-9801
Address: 120 Village Boulevard, Princeton, NJ 08540
Email us: support@crowncruisevacations.com