Bottleworks Hotel honors Art Deco history of former 1931 Coca-Cola plant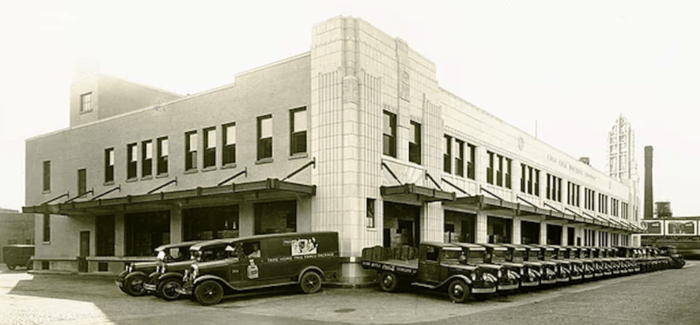 The message greeting me as I walked into the white terra-cotta Bottleworks Hotel was an accurate description. "This must be the place," were the words printed in welcome on the entry carpet.
Yes, this is definitely the place. Formerly the largest Coca-Cola bottling plant in the world, the historic structure might have been demolished years ago when the glass bottling business went flat.
But here it is, the grand anchor of a $300 million development known as the Bottleworks District in trendy Mass Ave in Indianapolis. The name, of course, is a nod to the old Coca-Cola history where the plant under the direction of brothers Lee and James Yuncker produced 2 million bottles of Coke per week.
"Bottleworks is a fusion of past and present in the heart of historic neighborhoods, robust arts, industrial architecture and good spots galore," says RoseAnn Haedt, director of public relations for Geronimo Hospitality Group and Hendricks Commercial Properties.
The five-block Bottleworks District features an eight-screen movie theater, restaurants, food hall,  brick-laid streets, bowling, high-end spa, yoga studio, barber shop, 275-car parking garage and more.
Opened Dec. 15, 2020, Bottleworks Hotel's history and beautiful art décor architecture has been painstakingly preserved to feature fascinating Coca-Cola touches.
"The hotel's white terra-cotta exterior and brightly tiled interior pay homage to Coca-Cola's rich history," RoseAnn says. "At the main entrance, guests will find a hand railing along the staircase of the hotel that winds up in an intricately decorated stairwell resembling vintage soda fountains, while the ceiling design resembles fizz."
Formerly the Coca-Cola Filler Machine Room is now the hotel's front desk area. Large glass lobby windows are the same ones where people could peer in to watch bottles being filled with Coke.
The luxurious check-in lobby's tiled walls and unusual red tile around the doors is said to be the shape of a bottle. Vertical green patterns are believed to resemble sugar cane used in the soft drink.
Old Coke plant has long Indy history
"The Coca-Cola Bottling Plant was founded by the Yuncker family, who maintained it throughout its tenure and cemented their family legacy in the city," RoseAnn says, adding that by 1950, the plant had 260 employees and 110 delivery trucks.
When cans replaced bottles for the popular soft drink, Indianapolis Motor Speedway owner Tony Hulman bought the Coca-Cola franchise and filled its last glass bottle in 1964. After a few years, he moved bottling operations to Speedway and used the Mass Ave building to store his collection of vintage automobiles.
In 1969, the building was sold to Indianapolis Public Schools to be used as the central prep kitchen, bus service center and woodworking studio. In 2016, Hendricks Commercial Properties was selected to redevelop the Coca-Cola Bottling Plant. Hendricks took ownership of the property in 2017 and began repurposing the site as Bottleworks District.
The 139-room boutique Bottleworks Hotel honors its past in delightful ways with a mix of history and modern luxury. Guest rooms on the top two floors feature glossy red doors to pay homage to the classic Coke brand. Black walls and ceilings feel like a museum setting for five-foot-tall portraits.
Art books and couches on the second floor invite guests to stay a while, read and admire the diverse black-and-white photos on the walls of people from construction workers to rock stars.
"Some of the photos are actual people who worked on the renovation of Bottleworks, showcasing them and their craftsmanship long after they have moved on to another job," RoseAnn says. "We wanted to honor their presence and talent. The rest represent people, all shapes, sizes, ages, careers. Everyone has a story to tell."
A wall with dozens of antique cameras also has an old-fashioned photo booth that actually works. Hop in the photo booth, insert $5 and get both a color and black-and-white series of photos.
"The cameras coincide with the art. Items that capture life and people," RoseAnn says. "The photo booth is a cool and fun way for guests to capture memories of their stay."
                                           Luxurious guest rooms
Guest rooms are spacious and plush with several room and suite options, including 14 queen rooms, 119 king rooms (13 with terraces), five junior penthouses and one luxurious penthouse.
Amenities include fully stocked mini bars, Keurig single serve coffee machines with Starbucks coffee pods, large flat-screen TVs, bedside clocks, fridge, hair dryer, safe and free high-speed WiFi. Stunning marble bathrooms feature tubs, walk-in showers, quality toiletries and hand-woven spa robes.
Bottleworks Hotel also offers nine meeting rooms/event spaces, a club room and a courtyard. The Library is the largest indoor event and banquet space on the hotel's second floor. Complete with the original terrazzo floor and book-lined shelves, the Library is perfect for parties, dinner and receptions.
Enjoy expresso and handcrafted coffee drinks from beans roasted by Wisconsin-based Ruby Coffee Roasts at the hotel's Blue Collar Coffee Co. Or stop by the hotel's Sundry and Vice for a modern take on classic cocktails, using syrups made in-house and freshly squeezed dishes.
The word "modita" means delight. And the hotel's Asian-inspired restaurant Modita does delight. A hydroponic plant wall provides décor as well as fresh herbs and toppings for dishes.
Using fresh local ingredients combined with spices and flavors from various Asian cuisines and regions, the 150-seat Modita offers sushi, dim sum, noodles and rice, along with robata-grilled specialties. Beer, wine, sake and creative cocktails such as the Woodford Reserve Bourbon "Season Ticket" are offered.
                                 Old Coke Garage is now Indy's first food hall
As Indy's first food hall, the 38,000-square-foot Garage Food Hall is where Coca-Cola trucks were once parked. Large roll-up doors allow for an open-air experience. "There are currently 22 vendors inside The Garage with plans to add at least six new additions in 2022," RoseAnn says.
Garage vendors include fish and chips, hamburgers, Hawaiian favorites, Pakistani-Indian fare, Latin America recipes, lobster, ice cream, Brown County's Hard Truth Distilling and much more.
Across the street, the eight-screen Living Room Theaters plays both mainstream and indie films where patrons can order food and beverages from their own comfy reclining seats.
Also across the street from the hotel is Pins Mechanical Company with both standard and duckpin bowling, arcade games, pinball, oversized Jenga and a bar.
One of the beauties of the Bottleworks District and staying at Bottleworks Hotel is its easy walkability. Give your car keys to the valet, check in the hotel and enjoy walking to attractions, dining, shopping and shows.
"All within footsteps of your hotel," RoseAnn says. "The District is a getaway/staycation in itself."
For more information: Contact Bottleworks Hotel at 317-556-1234,  www.bottleworkshotel.com
Photos by Jackie Sheckler Finch
The old Coca-Cola facility. (Cover photo)
The 1931 Coca-Cola plant was converted into the new Bottleworks Hotel.
Greeting upon entering Bottleworks Hotel.
The hotel lobby still has touches of its Coca-Cola history.
Antique cameras and an old-fashioned photo booth that really works in the hotel hallway.
---
Crown Cruise Vacations | See Cruise Getaways You Can Afford!
Since 2008, Crown Cruise Vacations has had a singular focus: Provide excellent value and excellent service on Cruises, Tours and all forms of Vacation Travel. Based in Princeton, New Jersey, and a proud member of Ensemble Travel Group, we have been able to offer the benefits of working with the largest agencies while maintaining a family atmosphere. We've won a number of different awards including the 2011 World Travel Award for Leading North American Cruise Agent, and 2018 Partner of the Year for Royal Caribbean . We use our agency connections, relationships and influence to provide you and your family the best values and offers in the travel industry led by travel counselors with hundreds of years of combined travel experience. 
Contact Us – Open Seven Days A Week: 9a-8p Mon-Fri, 9a-5p Sat-Sun
Call us toll free: 877-283-1114, direct-dial Locally: 609-945-9801
Address: 120 Village Boulevard, Princeton, NJ 08540
Email us: support@crowncruisevacations.com