Princess Cruises Unveils New Princess Perfect Weddings at Sea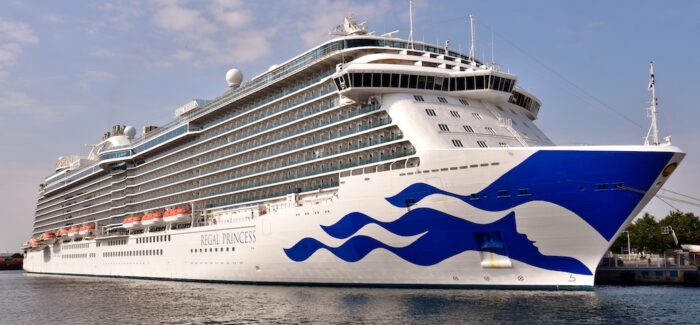 Twenty-five years after hosting the first modern wedding at sea, Princess Cruises has unveiled an exciting new line-up of wedding packages and announced TV and bridal designer Randy Fenoli as Brand Ambassador for Love and Romance.
Fenoli's role includes hosting a bridal fashion themed cruise in December 2023 and developing a signature wedding package exclusive to The Love Boat.  The seven-day Western Caribbean voyage on the Regal Princess will embark in Galveston on Dec. 3.
The Randy Fenoli Bridal Fashion Themed Cruise at Sea will offer meet and greets, signature events and even wedding gown consultations with the celebrity bridal designer.
"Being named Love and Romance Ambassador for Princess Cruises is an incredible honor, and I'm beyond excited to explore new ways to weave enchanting moments of romance that reinforce and expand The Love Boat legacy," Fenoli said in a news release.
"Our December Themed Cruise is going to be a celebration of all things bridal, and no matter their shape, their budget or type of wedding, we're going to help match all of our brides-to-be with the perfect dress."
New Princess Perfect Weddings create unforgettable moments by offering packages tailored for couples seeking unique and romantic ways to say, "I do." Features include grand ceremonies in The Love Boat's picturesque piazza as well as outside deck area that offer breathtaking venues with stunning ocean views, providing a perfect backdrop for a romantic ceremony, at a price significantly lower compared to land-based venues.
"Twenty-five years ago, Princess set the standard for weddings at sea, and with the help of Randy Fenoli, the most trusted source in the bridal industry, we're doing it again with our new Princess Perfect Weddings packages, evolving our offerings to create unparalleled experiences for couples and their loved ones, all at tremendous savings," John Padgett, president of Princess Cruises, said in a news release.
"These new packages let couples combine their dream wedding with an unforgettable voyage to picturesque destinations to celebrate their special day in the most extraordinary ways possible," Padgett said.
With all Princess Perfect Weddings performed at sea, ship captains serve as the ceremony officiant and all packages include a dedicated wedding specialist who works closely with couples pre-cruise and on board to tailor their wedding package according to their unique vision and requirements.
From selecting the perfect venue to arranging decorations, flowers and photography, every detail is handled to ensure a seamless and unforgettable event.
Photos courtesy of Princess Cruises
The Ruby Princess will host the Randy Fenoli Bridal Fashion Themed Cruise at Sea in December.
Randy Fenoli has been named Princess Cruises Brand Ambassador for Love and Romance.
Wedding photo spots abound on Princess Cruises.
---
Ed. Note: Please contact us for more information and to book a cruise Crown Cruise Vacations | Cruise Getaways You Can Afford!
Celebrity Cruises recognized the company's top partners with its 2022 Top Travel Agency Advisor Awards. The 2022 travel partner award winners include:
Online Partner of the Year: Crown Cruise Vacations
Since 2008, Crown Cruise Vacations has had a singular focus: Provide excellent value and excellent service on Cruises, Tours and all forms of Vacation Travel. Based in Princeton, New Jersey, and a proud member of Ensemble Travel Group, we have been able to offer the benefits of working with the largest agencies while maintaining a family atmosphere. We've won many different awards including the 2011 World Travel Award for Leading North American Cruise Agent, and 2018 Partner of the Year for Royal Caribbean. We use our agency connections, relationships and influence to provide you and your family the best values and offers in the travel industry led by travel counselors with hundreds of years of combined travel experience.
Contact Us – Open Seven Days a Week: 9 a.m. to 8 p.m. Mon-Fri, 9 a.m. to 5 p.m. Sat-Sun
Call us toll free: 877-283-1114, direct-dial Locally: 609-945-9801
Address: 120 Village Boulevard, Princeton, NJ 08540
Email us: support@crowncruisevacations.com