Man Spends Decades Building Memorial Wall for 'Woman With Dancing Eyes'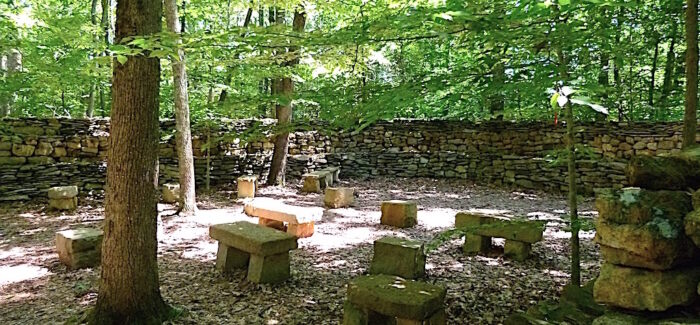 Rain was lightly falling when our tour bus pulled up at Tom's Wall. Rocks glistened with misty raindrops and the gentle shower seemed to whisper through the woods almost like a symphony created by Mother Nature.
Trace Hendrix pulled his raincoat tightly around him and pushed the wet hood back when he climbed aboard our bus. On this day, Trace was to show us around the unusual site in Florence, Alabama, and tell us the amazing story of what his father Tom had done.
Despite the rain, I got off the bus to walk Tom's spiritual site and take some photos to share. Since I had talked with Tom Hendrix eight years ago, I will let him tell you his story himself.
Photos by Jackie Sheckler Finch
Tom Hendrix created his memorial wall over more than three decades.
Tom Hendrix tells how and why he constructed the mile-long wall in a 2015 photo.
Trace Hendrix meets our tour bus on a rainy day.An unusual crystal was added to Tom's Wall by a visitor.
Tom Hendrix shows one of the fossils a visitor added to his wall in 2015.
Visitors are invited to sit and meditate. (cover photo)
Tom shares tale of his great-great grandmother
As a youngster, Tom would listen to his grandmother talk about her grandmother, a Native American who was forced as a teen to walk from her Alabama home to an Oklahoma Indian reservation.
Tagged around the neck like an animal, the young girl had her name taken away and was identified as No. 59.
Thousands of men, women and children during the 1830s died on that 1,000-mile Trail of Tears. Tom's great-great-grandmother survived. But that is only part of her miraculous tale.
As a grown man, Tom decided he wanted to do something to honor his ancestor whose real name was Te-lah-nay which in the Yuchi language means "Woman with Dancing Eyes."
Around 1985, Tom said, he began having a recurring dream about an Indian woman who repeatedly touched her hand to her mouth. Tom's wife, Doreen, suggested that it was Te-lah-nay, asking him to tell her story. That year at a Native American gathering in Lebanon, Tennessee, Tom met an old Yuchi woman.
When Tom told the woman about his great-great-grandmother and expressed his desire to commemorate her, the Yuchi woman responded, "We shall all pass this earth, Tom, but only the stones will remain."
That's when Tom knew what he had to do.
Creating a memorial
In 1988, Tom began constructing a commemorative stone wall on the property of his home outside Florence. Although Tom had worked with his hands at the Ford Motor Company as a die caster for decades, he had never built a stone wall.
He didn't draw up any blueprints. He didn't have any final plan in mind. He just started collecting rocks discarded along roadsides by farmers and pulling rocks from creek beds. Then he piled the rocks and improvised as he went along.
"I would put a stone somewhere and if it didn't stay, I'd know that it didn't belong there and I'd move on," Tom said. "If it stayed, it was meant to be there."
After more than three decades of construction, Tom estimated that his wall consisted of nine million pounds of stone. "This wall has worn out three trucks, 22 wheelbarrows, 2700 pairs of gloves, three dogs and one old man," Tom would say.
Built without mortar or cement, the 3-to-5-foot-high wall is the largest unmortared rock wall in the United States and the largest monument to an American woman.
"I lifted each of those rocks at least three times," Tom said, gesturing to the mile-long curving walls. "I picked each rock up to put in the truck. I picked it up to take it out of the truck. And I picked it up to put it on the wall."
Dangerous trip home to Alabama
For his ancestor, Tom said, living on the Indian reservation meant sure death. "When she got to Oklahoma, she said she searched for a river that sang to her. We call this the Tennessee River but all tribes called it the Singing River. They believed a young woman lived in this river, sang to them and protected them."
Then the displaced teen could find no singing river in Oklahoma, she determined to return home. "If she stayed in that dark place, she knew she would die."
So, Tom's great-great-grandmother ran away from the reservation and started the long trek home. It took her five years. From 1839 to 1844, the young woman struggled through the wilderness. "If she got caught, she would have been hung."
Tom's great-great-grandmother made it home. She married a man named Jonathan Levi Hipp, had three children and died at a young age. "Grandmother said she walked herself to death," Tom said.
The two walls symbolize his great-great-grandmother's trip to Oklahoma and her journey back.
A section of the wall is dedicated to all those on the Trail of Tears. It is 4 feet tall and starts out at about 25 feet wide. But, as you walk, the wall gets thinner and thinner until it is about 4 feet across at the end. "They're dying, all the way to Oklahoma," Tom said.
Nestled by the wall is a prayer circle where Tom would pray most every morning. It features four tiers that represent birth, life, death and rebirth. Through word of mouth, people from all over began coming to see the wall that Tom was building. They walked through the circles, they sat in silence, some knelt in prayer.
"This is a special place," Tom said. He tried to be at the wall every day to greet visitors. "It's a holy place."
Visitors and rocks come from all over
Over the years, people began bringing and sending rocks to add to the wall. "I have the heaviest mail in all of Lauderdale County," Tom would joke. "I have stones from all 50 states and rocks and fossils from 127 nations, territories and islands. Many of them have special stories to tell."
There's the heart-shaped rock left by a 94-year-old widow. "During the Great Depression, a man didn't have money to buy a ring for the woman he wanted to marry so he found a heart-shaped rock," Tom said. "He told her, 'I can't afford a ring but I can give you my heart.'"
In 2000, Tom published a book about his ancestor's journey, "If the Legends Fade."  "If the legends fade," he said, "who will teach the children?"
Knowing that his time on earth was coming to an end, Tom told me on my visit that he recently got a letter in the mail. "This is what it said: 'We are eagerly anticipating your arrival up here. You will immediately be set to work building us a stone wall.'"
Pausing for a moment, Tom smiled and concluded, "The letter was signed by St. Peter."
That was the last time I saw Tom. On Feb. 24, 2017, 10 days past his 83rd birthday, Tom left this earth to join Te-lah-nay in the Great Circle.
For more information: Tom Hendrix's family keep Tom's Wall open to visitors daily.
Contact Florence/Lauderdale Tourism at (256) 740-4141, www.visitflorenceal.com
---
Ed. Note: Please contact us for more information and to book a cruise Crown Cruise Vacations | Cruise Getaways You Can Afford!
Celebrity Cruises recognized the company's top partners with its 2022 Top Travel Agency Advisor Awards. The 2022 travel partner award winners include:
Online Partner of the Year: Crown Cruise Vacations
Since 2008, Crown Cruise Vacations has had a singular focus: Provide excellent value and excellent service on Cruises, Tours and all forms of Vacation Travel. Based in Princeton, New Jersey, and a proud member of Ensemble Travel Group, we have been able to offer the benefits of working with the largest agencies while maintaining a family atmosphere. We've won many different awards including the 2011 World Travel Award for Leading North American Cruise Agent, and 2018 Partner of the Year for Royal Caribbean. We use our agency connections, relationships and influence to provide you and your family the best values and offers in the travel industry led by travel counselors with hundreds of years of combined travel experience.
Contact Us – Open Seven Days a Week: 9 a.m. to 8 p.m. Mon-Fri, 9 a.m. to 5 p.m. Sat-Sun
Call us toll free: 877-283-1114, direct-dial Locally: 609-945-9801
Address: 120 Village Boulevard, Princeton, NJ 08540
Email us: support@crowncruisevacations.com