American Cruise Lines celebrates 50 years of cruising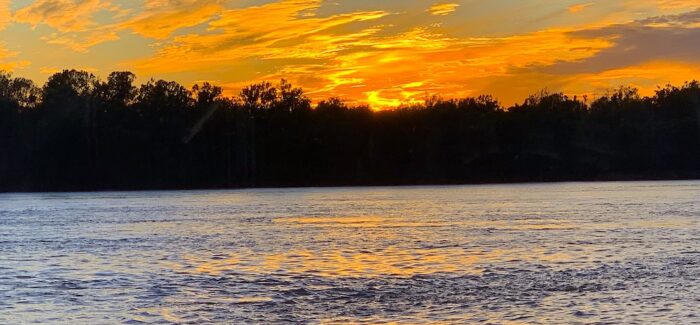 American Cruise Lines is now celebrating 50 years of cruising America's waterways. Looking back over half a century, the cruise line has compiled a list of "firsts." Take a look at the interesting list and wish American Cruise Lines a happy birthday.
Photos by Jackie Sheckler Finch
American Harmony
American Symphony
Catamaran
Photo courtesy of American Cruise Lines
American Cruise Lines cruise coach waits to pick up passengers in Memphis.
Sunset on the Mississippi River (cover photo)
American Cruise Lines is proud to be the first cruise line to:
Dock in Washington, D.C. in over 64 years. The stop provides guests with unobstructed and unparalleled views of the nation's capital during peak cherry blossom time each spring.
Offer overnight riverboat explorations of the San Francisco Bay in 84 years. The cruises include exclusive, private tastings of wine, honey, olives and more throughout Napa and Sacramento valleys.
Introduce modern riverboats in the USA. The riverboats allow guests to build their own preferred experience along the famed Lower Mississippi River as they choose between a modern riverboat or a traditional paddle wheeler.
Offer overnight cruises exploring the Hudson River from New York City. The cruises include the opportunity to be one of the first guests of the new Coastal Cats, a revolutionary new class of catamaran-inspired "go anywhere" small ships debuting in fall 2023.
American Cruise Lines is also the only cruise line:
That is 100 percent fully American family-owned and operated.
To offer 100 percent domestic cruises along both the U.S. East and West coasts.
To build, own and operate all its ships in the U.S.
That travels far enough into Maine's Penobscot Bay to see it turn into the beautiful Penobscot River.
That visits Idaho. Check out the brand-new National Parks & Legendary Rivers itinerary.
Looking forward to what the next 50 years brings for American Cruise Lines.
---
Ed. Note: Please contact us for more information and to book a cruise Crown Cruise Vacations | Cruise Getaways You Can Afford!
Celebrity Cruises recognized the company's top partners with its 2022 Top Travel Agency Advisor Awards. The 2022 travel partner award winners include:
Online Partner of the Year: Crown Cruise Vacations
Since 2008, Crown Cruise Vacations has had a singular focus: Provide excellent value and excellent service on Cruises, Tours and all forms of Vacation Travel. Based in Princeton, New Jersey, and a proud member of Ensemble Travel Group, we have been able to offer the benefits of working with the largest agencies while maintaining a family atmosphere. We've won many different awards including the 2011 World Travel Award for Leading North American Cruise Agent, and 2018 Partner of the Year for Royal Caribbean. We use our agency connections, relationships and influence to provide you and your family the best values and offers in the travel industry led by travel counselors with hundreds of years of combined travel experience.
Contact Us – Open Seven Days a Week: 9 a.m. to 8 p.m. Mon-Fri, 9 a.m. to 5 p.m. Sat-Sun
Call us toll free: 877-283-1114, direct-dial Locally: 609-945-9801
Address: 120 Village Boulevard, Princeton, NJ 08540
Email us: support@crowncruisevacations.com