Celebrity Edge Lives Up to Exciting Name With First-Ever Australian Cruises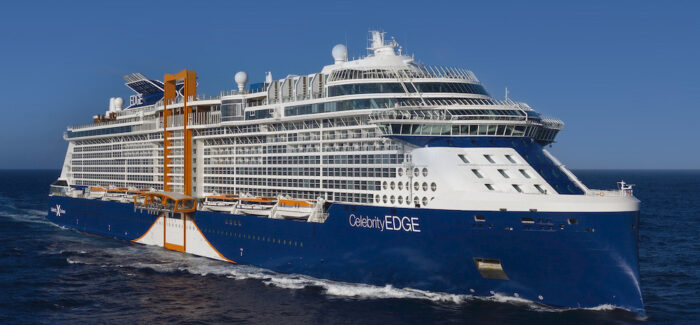 When I boarded the Celebrity Edge in Fort Lauderdale for my weeklong Caribbean cruise, a crew member greeted me with, "Welcome to paradise."
He was certainly right. The Celebrity Edge is a beauty and lives up to the exciting "Edge" name with its cutting-edge technology and trailblazing features. I was royally pampered as we sailed along the Florida coast to Key West, then on to Costa Maya in Mexico, and Grand Cayman island with its glorious Seven Mile Beach.
My Key West favorite was visiting the former home of writer Ernest Hemingway and seeing his menagerie of six-toed cats. The 50 or so cats are mostly descendants of an original polydactyl cat named Snow White given to Hemingway by a sea captain. Sailors felt the unusual cats brought good luck.
Heading to Australia
This winter, Australia will be welcoming Celebrity Edge for its first-ever "paradise" cruises in the southern hemisphere. Christened in December 2018, the 14-deck Edge can carry 2,918 passengers with a crew of 1,320. The ship will be sailing the captivating coastlines of Australia with additional new ports for its cruises, including Kangaroo Island in South Australia and Darwin in the Northern Territory.
"It's the great outdoors that makes this region truly exceptional and we can't wait to welcome an equally exceptional ship that's been uniquely designed to connect guests with their surroundings," said Tim Jones, Celebrity Cruises Vice President and Managing Director of Australia and APAC.
Among those unique designs, Jones pointed out the Edge's Infinite Verandas. Billed as a first for an ocean-going vessel, Infinite Verandas are designed to bring passengers closer to the ocean and to ports. Walking into my stateroom, it looked like the ocean wall had one big window that went from side to side and ceiling to floor.
With the push of a button, I could lower the top of the window to provide an unobstructed view of the ocean along with the sound of the waves. The wide-open indoor space was about 23 percent larger than traditional balcony cabins. Of the ship's 1,467 rooms, 916 are Infinite Verandas.
Multiple dining options
For dining, Celebrity Edge features nearly 15 venues with excellent service. The most talked-about dining experience on the Edge is Le Petit Chef. Sort of like a movie that you eat. The basic theme is that four teeny chefs are competing to create the best culinary treat for passengers.
It's all done in 4K technology showing adorable animated characters appearing beside passengers' dinner plates to prepare each course. Then a waiter serves the actual dish for diner enjoyment.
A memorable dessert was when Le Petit Chef went to the North Pole on a sleigh to roll a snowball and toss it on my plate. Then the cartoon chef sprayed chocolate sauce over the snowball with a firehose nozzle. A real-life server then delivered the ice cream treat for me to enjoy.
Another super high-tech feature is the Celebrity Edge theatre which does not have a stage curtain but the stage itself extends into the audience. The in-the-round design puts everyone closer to the entertainment.
Amazing 'Magic Carpet'
But it is the amazing "Magic Carpet" that seems to bring the most comments from passengers and onlookers.  About the size of a tennis court, the bright structure on the side of the Celebrity Edge is the world's first cantilevered floating platform.
The Magic Carpet moves up and down the exterior of the ship to reach heights of 13 stories above sea level. When it's up on Deck 5, the Magic Carpet is an unforgettable restaurant as the ship glides over glistening water below. When on Deck 14, it serves as a late-night bar.
When close to sea level on Deck 2, the structure shows its real magical function. Instead of the usual unpleasant experiences I've endured on other cruise ships to board a small "tender" boat for a shore excursion when the ship must anchor offshore, the Edge's Magic Carpet makes getting on and getting off the tender boat fun and comfortable.
The Magic Carpet becomes a luxurious lounge where I could relax, sip a cold cocktail, enjoy snacks, listen to music, and admire the beautiful scenery. Celebrity Edge tenders are large and comfy with upholstered chairs, TV screens, and big windows so I could watch the seascape coming and going.
After a 930-day absence from sailing Down Under, Jones said Celebrity Cruises is seeing increased interest in the beautiful region as travelers desire more unique and special experiences.
"So, Celebrity Cruises is debuting a new, larger ship, new destinations, and new onboard experiences," Jones said. "All designed to provide an even deeper immersion into this region's unique culture."
Photos courtesy of Celebrity Cruises
Celebrity Edge is known for its cutting-edge technology and design.
When Celebrity Edge is anchored, the 'Magic Carpet' on the ship's side provides an area to board a tender to shore.
Celebrity Edge staterooms are designed for maximum ocean viewing.
Art and garden spots are featured on Celebrity Edge.
Unusual Le Petit Chef is a popular dining experience.
Swimming pool and movie screen.
Ed. Note: Please contact us for more information and to book a cruise Crown Cruise Vacations | Cruise Getaways You Can Afford!
Celebrity Cruises recognized the company's top partners with its 2022 Top Travel Agency Advisor Awards. The 2022 travel partner award winners include:
Online Partner of the Year: Crown Cruise Vacations
Since 2008, Crown Cruise Vacations has had a singular focus: Provide excellent value and excellent service on Cruises, Tours and all forms of Vacation Travel. Based in Princeton, New Jersey, and a proud member of Ensemble Travel Group, we have been able to offer the benefits of working with the largest agencies while maintaining a family atmosphere. We've won many different awards including the 2011 World Travel Award for Leading North American Cruise Agent, and 2018 Partner of the Year for Royal Caribbean. We use our agency connections, relationships and influence to provide you and your family the best values and offers in the travel industry led by travel counselors with hundreds of years of combined travel experience.
Contact Us – Open Seven Days a Week: 9 a.m. to 8 p.m. Mon-Fri, 9 a.m. to 5 p.m. Sat-Sun
Call us toll free: 877-283-1114, direct-dial Locally: 609-945-9801
Address: 120 Village Boulevard, Princeton, NJ 08540
Email us: support@crowncruisevacations.com