VIVA Cruises Announces New VIVA ENJOY launching in 2024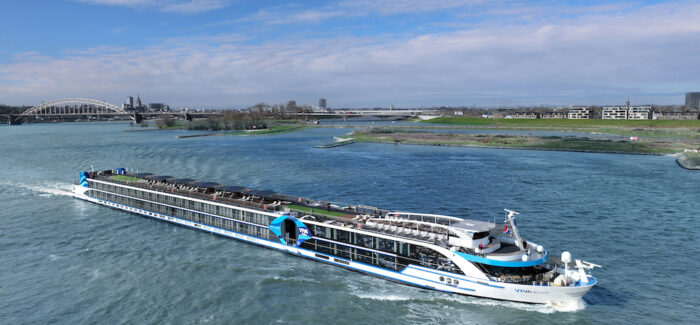 For travelers who enjoy cruising, VIVA Cruises will soon be offering a wonderful new ship with the appropriate name – VIVA ENJOY. The company's third new-build ship is set to launch in September 2024.
The river cruise line revealed that the name of its new ship is a special way to celebrate the company's motto, "Enjoy the Moment."
The new vessel will set off on its 12-night maiden voyage on Sept. 22, 2024, from Frankfurt to Vienna.
"We have grown very quickly in the last five years, as has our customer base and the demand for cruises on the Danube," Andrea Kruse, COO of VIVA Cruises said in a press release.
"Our third new-ship build will give us a wider range of options with more departures from Vienna to accommodate for our international audiences," Kruse said.
VIVA ENJOY will be the sister ship of the recently launched VIVA TWO and will be virtually identical in design. VIVA ENJOY will feature 95 cabins for 190 passengers, three restaurants, an open-plan lounge, a spacious sun deck and a fitness and wellness area.
The ship also will share VIVA Cruises' laid-back and feel-good atmosphere, perfect for an ENJOY ship.
All VIVA Cruises itineraries feature VIVA Cruises' signature VIVA All-Inclusive product, which includes snacks, full board, high-quality alcoholic and non-alcoholic beverages, minibar, beauty products from luxury cosmetic brand Rituals, Wi-Fi and all tips and gratuities.
After the introduction of its first and second new-build ships, VIVA ONE and VIVA TWO in 2022 and 2023 respectively, VIVA Cruises continues to expand its fleet with another significant milestone in its five-year history.
The river cruise brand launched sales to the North American travel market in 2022, backed by its-cruise pioneering parent Scylla that shares its tradition of excellence in river and expedition cruising since 1973.
VIVA ENJOY will perform a variety of four-, five-and seven-night itineraries on the Danube, including the seven-night Charming Danube from Vienna to Budapest (from $1,795) and the four-night Cityhopping Danube calling at Budapest and Bratislava (from $795).
Guests also will be able to join one of the five-night Advent and Christmas cruises that will visit some of the most beautiful Christmas markets in Bavaria and Austria (from $1,095).
Ed. Note: Please contact us for more information and to book a cruise Crown Cruise Vacations | Cruise Getaways You Can Afford!
Celebrity Cruises recognized the company's top partners with its 2022 Top Travel Agency Advisor Awards. The 2022 travel partner award winners include:
Online Partner of the Year: Crown Cruise Vacations
Since 2008, Crown Cruise Vacations has had a singular focus: Provide excellent value and excellent service on Cruises, Tours and all forms of Vacation Travel. Based in Princeton, New Jersey, and a proud member of Ensemble Travel Group, we have been able to offer the benefits of working with the largest agencies while maintaining a family atmosphere. We've won many different awards including the 2011 World Travel Award for Leading North American Cruise Agent, and 2018 Partner of the Year for Royal Caribbean. We use our agency connections, relationships and influence to provide you and your family the best values and offers in the travel industry led by travel counselors with hundreds of years of combined travel experience.
Contact Us – Open Seven Days a Week: 9 a.m. to 8 p.m. Mon-Fri, 9 a.m. to 5 p.m. Sat-Sun
Call us toll free: 877-283-1114, direct-dial Locally: 609-945-9801
Address: 120 Village Boulevard, Princeton, NJ 08540
Email us: support@crowncruisevacations.com
Photo courtesy of VIVA Cruises