Let's Golf!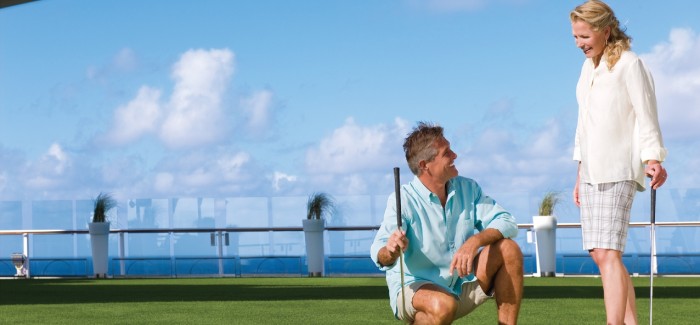 Golfing and cruising are two things that go pretty well together. Think about it, some of the best courses in the world are on islands, and accessible by ship – Bermuda, St. Martin, St. Thomas, to name just a few – and that's not even considering all the great golf available in the British Isles and elsewhere in the world. In 2014, Celebrity Cruises is teaming up with the TOURAcademy to bring golfers on the high seas with a series of cruises designed to offer guests a chance to play amazing courses, improve their game and have a lot of fun.
If the kickoff event at the Barclays PGA tournament last month was any indication, this will be a phenomenal event with a lot of fun and a lot of knowledge shared. On the entrance concourse, the booth featured a putting challenge – giving visitors a chance to sharpen their very short game. TOURAcademy instructor and professional golfer John Stahlschmidt was on site and giving tips, and his mini-lessons were having a lot of impact, with immediate improvement. It's something that he hopes to carry over when he'll be teaching aboard the two Celebrity Golf Classic Getaways next year.
Each of the two sail dates offer completely different experiences. January 25 is the inaugural getaway with a seven night sailing in the Eastern Caribbean aboard the Celebrity Reflection. One of our favorite ships in the fleet, the Reflection will offer that modern luxury atmosphere that Celebrity is known for as well as included rounds of golf at the world-renowned Mahogany Run course in St. Martin and Mullet Bay in St. Thomas. In June, the recently refurbished Celebrity Summit is headed to Bermuda from Bayonne, NJ with two rounds of golf included at some of the best courses on the island.
In addition to the time on the links, golfers will get special chances to get to know each other, time with professional golfers who are offering private classes and lectures as well as a whole lot more. Pricing is pretty reasonable as well, with rates as low as $1599 per person for a balcony cabin which offers some pretty phenomenal value, considering that the golf bill alone would be in the hundreds of dollars per person if booked separately.
Join the Celebrity Golf Cruise today! For more information, click here, or call 855-809-GOLF.