Cruise Trivia: Where do these unusual cats live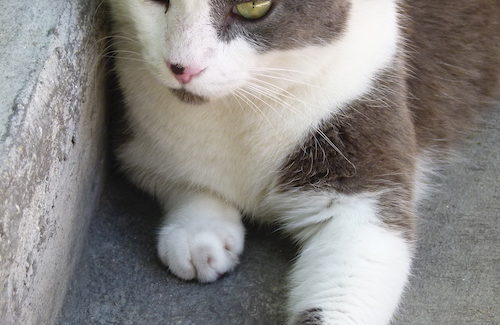 The words on the sign are very clear: "Please do not sit on furniture."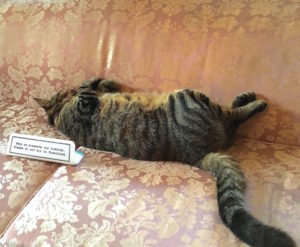 And yet there he was. Sprawled on his back with his feet propped against the brocaded fabric, he was snoozing away on the antique settee. Or maybe the offender was a she.
Whatever, the napping cat doesn't have to read the signs or pay attention to them. These cats are special and they are pretty much allowed to do what they want.
So, my question is where do these cats live and why are they unusual?
Hint: A man named "Papa" got his first cat because he considered her lucky. The brood just seemed to grow from there.
Don't look at the answer below until you have formulated your response. If you are correct, maybe you visited this popular destination. It was part of my Carnival Magic cruise.
If you don't know the answer, might want to book a Carnival cruise and hear the amazing story of these felines and the man who loved them.
*
*
*
(Answer)
The pampered cats live in the Ernest Hemingway Home & Museum in Key West, Florida. As for what makes them unusual is their six toes.
"They are special cats and as many people probably come to see them as to see the place where Ernest Hemingway used to live and write," says Dave Horowitz, museum tour guide.
Hemingway lived and wrote here for more than 10 years, the most prolific period of the Nobel Prize winner's writing career.
Among the works he wrote at his Key West home are "A Farewell to Arms," "To Have and Have Not," "The Snows of Kilimanjaro," "The Short Happy Life of Francis Macomber" and more.
His home is now a museum but looks as though he has just stepped out for a drink. The round wooden desk where Hemingway typed his famous works on an old typewriter seems awaiting his touch.
The swimming pool that he and his former wife Pauline built was not only an architectural marvel, it was also a major bone of contention between the spouses. Constructed in 1938, the in-ground pool was so expensive, tour guide Dave says, that Hemingway became more and more exasperated.
One day, Hemingway took a penny from his pocket and threw it on the half-built flagstone pool patio, bellowing, "Pauline, you've spent all but my last penny so you might as well have that."
The penny is now embedded in cement at the north end of the pool.
During my tour, I saw one of the cats sound asleep on Hemingway's bed. Another was curled up atop a rain gutter on the roof of Hemingway's writing studio, the cat's head resting against a light fixture. Seemingly unafraid of heights, the cat's legs were dangling over his high-up perch.
The 57 Hemingway cats are mostly descendants from an original ancestor named Snow White.  The unusual six-toed cat was given to Hemingway from ship captain Harold Dexter. Seafaring legend has it that polydactyl cats (those with extra toes) bring a bounty of good luck.
"Hemingway was a very superstitious man," Dave says. "He believed he needed all the good luck he could get. He was fascinated with the ship captain's six-toed cat named Snowball. So the captain gave him a six-toed cat from Snowball's litter."
And, as Hemingway wisely wrote, "One cat just leads to another."
                                       Hemingway cats live pampered lives
The Hemingway cats themselves seem to be quite lucky. "They have really good care here," Dave says. "The vet comes to check on them … Our cats have an average life span of 18 to 21 years."
The Hemingway tradition of naming cats after famous people has continued and the cats respond to their unique names. Some of the monikers include Marilyn Monroe, John Wayne, Errol Flynn, Jimmy Stewart, Mark Twain, Pablo Picasso, Sophia Loren, Joan Crawford and Mr. Bette Davis. This is Key West, after all.
Cats normally have five front toes and four back ones. Not all the cats at the Hemingway House have six toes but they all carry the physical polydactyl gene in their DNA which means they can father or mother six-toed kittens. Most of the cats have extra toes on their front feet and sometimes on their back feet as well.
"About half of our cats have six toes, 32 of them in total," Dave says. "But they all carry that gene."
Although the yard is fenced with a brick wall (Hemingway got tired of prying eyes when he became famous) and cat secure, the cats could come and go if they wanted.
"They have no reason to leave," Dave says. "They have everything they could want right here."
Cats are very territorial. Not only do they want to stay in their home, they also want to keep other non-Hemingway cats out. When a resident cat sounds the alarm that an intruder is on the premises, caretakers make sure the new cat is caught and escorted outside as soon as possible.
It's not that the cats are unfriendly, they just know who belongs here and who doesn't. As for friendliness, the cats have grown from birth being super socialized so they can deal with all the attention they get from visitors. The only house rule is "Don't pick up a cat."
Makes sense. The cuddly critters would probably be held all day long by visitors if caretakers didn't enforce that rule.
When their time on earth is done, the Hemingway cats have a forever home in a special cat cemetery on the property. Residents who have crossed the Rainbow Bridge are commemorated with a plot and name plaque so their memories live on.
For more information: Contact the Hemingway Home at (305) 294-1136, www.hemingwayhome.com
---
---
To learn more about myriad offerings of cruises and land vacations, too, please contact the cruise specialists at Crown Cruise Vacations – open 7 days a week and most holidays – offering guaranteed lowest rates on cruises and finding the best cruise deals around the world. To book a trip call 1-877-283-1114 (toll-free USA/Canada), +1-609-945-9801 or visit http://www.crowncruisevacations.com.
Crown Cruise Vacations – Follow us on Instagram, Facebook, Twitter