No Comments
Celebrating 'Platinum Mariner' Service Dog on Holland America Line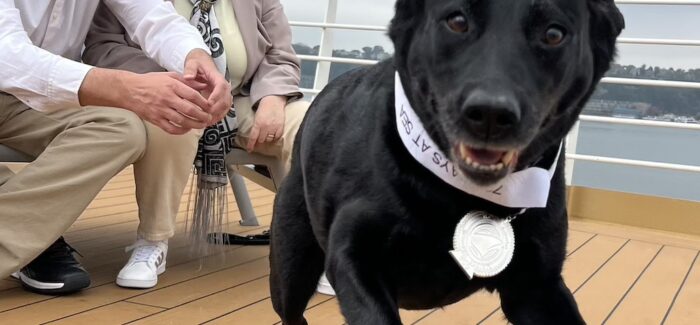 At 11 years old, Joska is heading for retirement and she is already training her replacement in 2023, a four-legged buddy named Wylou.
Joska also is a popular passenger on Holland America Line cruises and was honored in October 22, 2022, with a Platinum Mariner Medallion for reaching more than 700 cruising days with Holland America Line.
From Alaska, Hawaii and Canada to Europe, the Caribbean and the Mediterranean, Joska has sailed on more than 55 Holland America Line voyages. She sits among the most traveled dogs in the world.
That's right, Joska is a beautiful black Labrador Retriever, the service animal for Cornelia "Connie" and Cornelius Marinussen, both of whom are legally blind.
"Joska is the first service animal to achieve this lofty status and we wanted to honor her with an event that shows her how special she is to everyone in our company," Holland American Line President Gus Antorcha said in a press statement.
"Registered service animals are always welcome aboard Holland America Line ships, and Joska has become a member of our family," Antorcha said. "She not only brightens the spirits of everyone on board, but she also allows Connie to do what she loves most, which is to cruise and explore the world."
The Marinussens have been cruising with Holland America Line since 2013 and have taken more than 60 cruises. The couple previously earned their own Platinum Medallions.
Joska joined the Dutch couple to assist Cornelia, who is legally blind, in 2014. Cornelius was born blind. Cornelia, 58, lost her sight at age 24 due to complications from a procedure for spina bifida. She decided to get a service dog to help her get around more easily.
Not all dogs are allowed to cruise. Only service animals that are trained to provide assistance to an individual with a disability can set sail.
Joska will continue to cruise with her family as their secondary service dog helping the couple and working with Wylou to ensure her human parents have many more safe and enjoyable cruises.
Photos by Holland America Line
Joska is a registered service animal for Connie and Cornelius Marinussen.
The Marinussens walk the cruise ship deck with Joska and Wylou.
Joska and Wylou pose with their human parents.
Wylou is being trained to replace Joska who is heading for retirement.
---
Ed. Note: Please contact us for more information and to book a cruise Crown Cruise Vacations | Cruise Getaways You Can Afford!
Celebrity Cruises recognized the company's top partners with its 2022 Top Travel Agency Advisor Awards. The 2022 travel partner award winners include:
Online Partner of the Year: Crown Cruise Vacations
Since 2008, Crown Cruise Vacations has had a singular focus: Provide excellent value and excellent service on Cruises, Tours and all forms of Vacation Travel. Based in Princeton, New Jersey, and a proud member of Ensemble Travel Group, we have been able to offer the benefits of working with the largest agencies while maintaining a family atmosphere. We've won many different awards including the 2011 World Travel Award for Leading North American Cruise Agent, and 2018 Partner of the Year for Royal Caribbean. We use our agency connections, relationships and influence to provide you and your family the best values and offers in the travel industry led by travel counselors with hundreds of years of combined travel experience.
Contact Us – Open Seven Days a Week: 9 a.m. to 8 p.m. Mon-Fri, 9 a.m. to 5 p.m. Sat-Sun
Call us toll free: 877-283-1114, direct-dial Locally: 609-945-9801
Address: 120 Village Boulevard, Princeton, NJ 08540
Email us: support@crowncruisevacations.com