No Comments
Daddy Brown's Conch Stand a Landmark on Grand Bahama Island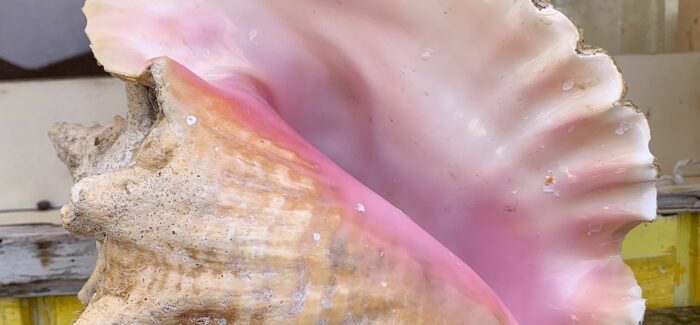 When he was a child, Edroy Brown would watch his neighbor make conch salad. The neighbor would finely dice conch, tomatoes, bell peppers and onions.
Then he would sprinkle some salt and pepper and squeeze a lime and an orange over the mix. For those who like spicy, he would add some hot peppers.
"That's how I learned," Brown says. "It's all fresh. The conch came right from the ocean this morning. Tastes good and good for you."
For decades, Brown has been making and sell his conch dishes. His small Daddy Brown's Conch Stand near Count Basie Square is a popular spot in the Lucaya Marketplace in Freeport on Grand Bahama Island.
"I used to dive for the conch myself. Now I mostly get it from family and friends but I do go out and get it sometimes myself," says Brown, famous as "Da Conch Man."
Wielding his large sharp knife like an artist, Brown quickly sliced and diced a fresh conch salad ($10) for my grandson Logan. In his bright yellow shack with pink fascia, Brown is friendly, polite and talkative.
Except for the shell, all parts of the conch are edible with a flavor said to be like both clams and salmon. "The conch is all white meat. No bones," Brown says. "Over here, conch is our chicken."
Daddy Brown's Conch Stand also serves fried conch, fried fish and fritters, fried lobster and fritters and fried shrimp and fritters.
Conch shells and symbols of the shellfish are everywhere on the island. In fact, a conch shell appears at the top of the national coat of arms. The key food species for the Bahamas, conch is a marine snail that reaches up to a foot in length and can live for 30 years.
Conical with multiple protruding spines, conch shells are popular Bahamian souvenirs as paperweights, lights, musical instruments and Christmas ornaments.
Named after the famous jazz entertainer, Count Basie Square is at the center of Port Lucaya Marketplace, just a short walk from our two-night accommodations at Pelican Bay Hotel. Our hotel visit is part of the new Margaritaville at Sea Cruise & Stay option.
Departing from West Palm Beach in Florida, Logan and I spent one night on the Margaritaville at Sea Paradise ship which was launched in 2021. But it is not actually a new ship. Sailing with the Italian line Costa Classica from 1991 to 2018, the ship was then acquired by Bahamas Paradise Cruise Line and named the Grand Classica.
After two nights at Pelican Bay Hotel, we will board Margaritaville at Sea Paradise again for a one night cruise back to West Palm Beach. The two nights in Freeport at Pelican Bay Hotel are a great way to see more of the wonderful island.
Our shuttle transportation from where Margaritaville at Sea was docked to Pelican Bay Hotel was about a 25-minute ride. Remember that in the Bahamas, motorists drive on the left side of the road. It was the shuttle driver who said that no visit to Freeport is complete without a taste of Daddy Brown's conch salad.
The beaches in Freeport are among the main reason cruise ship passengers choose to enjoy this city on Grand Bahama Island. Strikingly turquoise, the Bahamian ocean is beautiful with its white powder beach and lush tropical landscaping.
Since we arrived at Pelican Bay Hotel at about noon, Daddy Brown's Conch Stand was a great way to have lunch before we head to the beach to work up an appetite for dinner.
Photos by Jackie Sheckler Finch
Daddy Brown prepares fresh conch salad.
Conch is tenderized and diced finely.
Empty conch shells are popular souvenirs.
Customer places an order at Daddy Brown's Conch Stand.
Daddy Brown's Conch Stand boasts that it is the 'Best of the Bahamas.'
Fresh and simple conch salad.
A conch shell appears at the top of the Bahamian coat of arms.
---
Ed. Note: Please contact us for more information and to book a cruise Crown Cruise Vacations | Cruise Getaways You Can Afford!
Celebrity Cruises recognized the company's top partners with its 2022 Top Travel Agency Advisor Awards. The 2022 travel partner award winners include:
Online Partner of the Year: Crown Cruise Vacations
Since 2008, Crown Cruise Vacations has had a singular focus: Provide excellent value and excellent service on Cruises, Tours and all forms of Vacation Travel. Based in Princeton, New Jersey, and a proud member of Ensemble Travel Group, we have been able to offer the benefits of working with the largest agencies while maintaining a family atmosphere. We've won many different awards including the 2011 World Travel Award for Leading North American Cruise Agent, and 2018 Partner of the Year for Royal Caribbean. We use our agency connections, relationships and influence to provide you and your family the best values and offers in the travel industry led by travel counselors with hundreds of years of combined travel experience.
Contact Us – Open Seven Days a Week: 9 a.m. to 8 p.m. Mon-Fri, 9 a.m. to 5 p.m. Sat-Sun
Call us toll free: 877-283-1114, direct-dial Locally: 609-945-9801
Address: 120 Village Boulevard, Princeton, NJ 08540
Email us: support@crowncruisevacations.com