A Star is Born as Celestyal reveals its new Celestyal Journey ship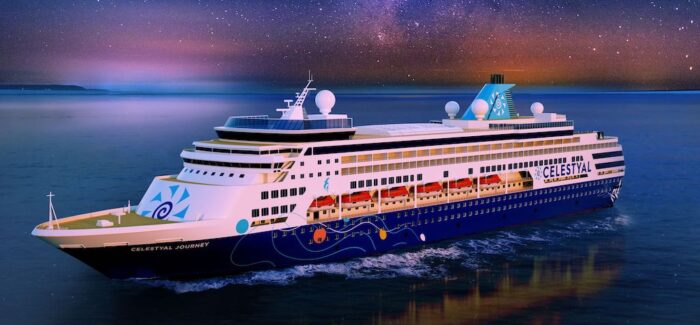 The new "North Star" of the Celestyal fleet is set to set sail Sept. 2, 2023. The Celestyal Journey recently completed an extensive multi-million-dollar refurbishment and technical overhaul.
"We are very excited to be able to share more details about our new enhanced sailing experience onboard the Celestyal Journey," said Chris Theophilides, Celestyal CEO. "We have used invaluable feedback from our guests as well as industry research to elevate our existing quality product and deliver a new premium stay-in-style experience for guests of our new ship."
The ship's name embodies the sense of wanderlust adventure and exploration of its passengers. Designers have mirrored that throughout onboard experiences of the Celestyal Journey with more balcony suites, seven dining venues, eight bars and lounges, expansive sun decks, two shimmering pools and an entire deck dedicated to wellness.
"By introducing special curated elements such as our penthouse, a mouthwatering range of Mediterranean cruising offerings, Chef's Table, wellness deck and expanded cultural adventures, we are hoping to meet our guests' desire for a sense of adventure, providing them with authentic memorable moments that fulfill their search for personal growth and improved quality of life," Theophilides said.
Celestyal's newest ship will take over the Celestyal Crystal's program initially on it is popular seven-night "Idyllic Aegean" itinerary visiting Athens, Thessaloniki, Kusadasi, Heraklion (Crete), Santorini, Mykonos and Milos.
Following the inaugural Idyllic Aegean sailings commencing on Sept. 2, the Celestyal Journey will continue in October with the unique "Steps of Paul" itinerary calling on Athens, Thessaloniki, Kavala, Istanbul, Kikili, Kusadasi and Patmos. Following that, the Celestyal Journey will offer the award-winning seven-night "Three Continents" itinerary, visiting Greece, Egypt, Israel, Cyprus and Turkey.
Celestyal Journey's 630 Dream Suites and Cosmos Cabins offer far more than just a place to sleep. They are designed as a sanctuary to unwind and relax as guests embark on their adventures.
The new ship sees the cruise line debut its first ever penthouse with private terrace, the Stargazer Suite, offering a premium luxury cruise experience. There are 120 Junior Dream Suites and 28 Grand Dream Suits, all with balconies, playing their part in the ship's ethos to get closer to the destinations the ship visits, enabling guests to enjoy them both land and sea.
Taking after its name, the ship guides guests on a curated culinary journey. Guests will be able to enjoy moonlight dining in Thalassa, daytime Greek grazing in Fig & Honey and sample fresh Mediterranean bites at the Smoked Olive restaurant.
Guests can head further afield with everything grilled at Grill Seekers and savor an Asian-inspired menu, designed to give taste buds the full Zen treatment at Pink Moon.
Passengers can even learn from Celesytal Journey's kitchen gods at the cooking demonstration area or go full star treatment with a private dining experience at the new Chef's Table. After a gastronomic adventure, guests can sip and stargaze with champagne and cosmic cocktails at the new Fizz Club, savor the old and new world at The Grapevine Wine Cellar and relax to mellow piano tunes at the Blue Bar & Lounge.
The Celestyal Journey is elevating the cruise line's Mediterranean style rest and relaxation offerings with The Sozo Experience, an entire deck inspired by the Greek custom of Sozo – an ancient Greek tradition of wellness of mind, body and spirit and a world of wellbeing – with stunning panoramic ocean views.
Guests can work out in the ship's fitness areas with a wide range of equipment from cardio to weights and a dedicated fitness instructor to enjoy open air exercise on the tennis and basketball courts and outdoor jogging track.
Guests also can unwind in the sauna, steam room and Jacuzzi, and chill out in the Dream Den relaxation area. Guests can be pampered at the new Sozo Spa and indulge in a beauty transformation at the new Glow Bar.
Photo courtesy of Celestyal Cruises
Ed. Note: Please contact us for more information and to book a cruise Crown Cruise Vacations | Cruise Getaways You Can Afford!
Celebrity Cruises recognized the company's top partners with its 2022 Top Travel Agency Advisor Awards. The 2022 travel partner award winners include:
Online Partner of the Year: Crown Cruise Vacations
Since 2008, Crown Cruise Vacations has had a singular focus: Provide excellent value and excellent service on Cruises, Tours and all forms of Vacation Travel. Based in Princeton, New Jersey, and a proud member of Ensemble Travel Group, we have been able to offer the benefits of working with the largest agencies while maintaining a family atmosphere. We've won many different awards including the 2011 World Travel Award for Leading North American Cruise Agent, and 2018 Partner of the Year for Royal Caribbean. We use our agency connections, relationships and influence to provide you and your family the best values and offers in the travel industry led by travel counselors with hundreds of years of combined travel experience.
Contact Us – Open Seven Days a Week: 9 a.m. to 8 p.m. Mon-Fri, 9 a.m. to 5 p.m. Sat-Sun
Call us toll free: 877-283-1114, direct-dial Locally: 609-945-9801
Address: 120 Village Boulevard, Princeton, NJ 08540
Email us: support@crowncruisevacations.com