American Jazz riverboat offers new California river cruises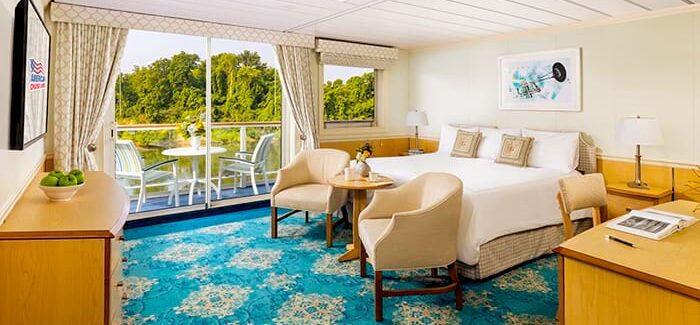 The new American Jazz riverboat is repositioning from the Mississippi River to the West Coast for new California river cruises beginning in February 2023. The cruises are the first of their kind since the 1940s.
"Exploring San Francisco Bay and the California Delta by U.S. riverboat is a momentous occasion for domestic river cruising and another first for American Cruise Lines," Charles B. Robertson, president and CEO of American Cruise Lines, said in a news release.
"American continues to expand the possibilities for exceptional domestic small ship cruises by introducing brand new U.S. flagged riverboats and small cruise ships each year," Robertson said.
American Jazz's repositioning voyage is following a similar route to the historic U.S. mail ships of the Gold Rush era that carried passengers, mail and gold between the East and West coasts.
American Jazz's arrival to San Francisco Bay heralds a historic development in U.S. river cruising as it is the first U.S. built riverboat to offer overnight cruises through the Bay and California Delta in over 80 years.
American Jazz will embark along the Line's first 8-Day San Francisco Bay cruise on Feb. 24, 2023. The new river cruises will sail San Francisco Bay and Wine Country – cruising the Napa River, Sacramento River and San Joaquin River.
The 8-Day San Francisco Bay itinerary, roundtrip from San Francisco, will be offered in February and March, and again in November and December 2023. America Cruise Lines guests will explore San Francisco and Wine Country while visiting vineyards and enjoying experiences from special tastings to becoming a winemaker for the day.
Cruises highlight the region's historical, cultural and geographic influences that gave rise to the stunning seaside city of San Francisco, as well as the lush vineyards and flourishing agricultural communities present throughout the Bay area and its surrounding valleys today.
American Cruise Lines' new 8-Day San Francisco Bay cruises dock in San Francisco, Stockton, Sacramento and Vallejo and sail San Francisco Bay, San Pablo Bay, the Napa River, the Sacramento River and the San Joaquin River.
In 2023, American Cruise Lines will operate 17 ships, each accommodating just 100-180 passengers, which cruise more than 50 domestic itineraries in 35 states.
Photos courtesy of American Cruise Lines
---
Ed. Note: Please contact us for more information and to book a cruise Crown Cruise Vacations | Cruise Getaways You Can Afford!
Celebrity Cruises recognized the company's top partners with its 2022 Top Travel Agency Advisor Awards. The 2022 travel partner award winners include:
Online Partner of the Year: Crown Cruise Vacations
Since 2008, Crown Cruise Vacations has had a singular focus: Provide excellent value and excellent service on Cruises, Tours and all forms of Vacation Travel. Based in Princeton, New Jersey, and a proud member of Ensemble Travel Group, we have been able to offer the benefits of working with the largest agencies while maintaining a family atmosphere. We've won many different awards including the 2011 World Travel Award for Leading North American Cruise Agent, and 2018 Partner of the Year for Royal Caribbean. We use our agency connections, relationships and influence to provide you and your family the best values and offers in the travel industry led by travel counselors with hundreds of years of combined travel experience.
Contact Us – Open Seven Days a Week: 9 a.m. to 8 p.m. Mon-Fri, 9 a.m. to 5 p.m. Sat-Sun
Call us toll free: 877-283-1114, direct-dial Locally: 609-945-9801
Address: 120 Village Boulevard, Princeton, NJ 08540
Email us: support@crowncruisevacations.com