Viking's First Expedition Ship Now Cruising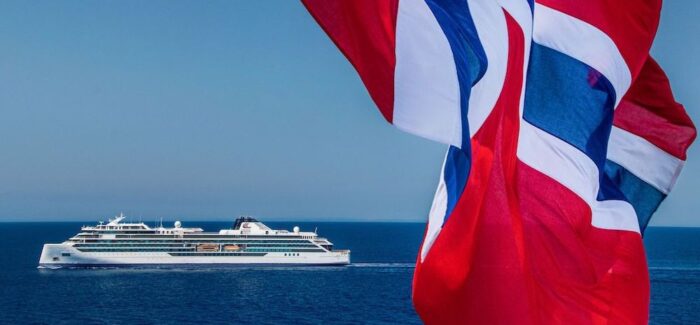 Viking Octantis is now cruising to Antarctica as the company's first of two new purpose-built expedition ships. Viking Octantis will be officially named in April in New York City by her ceremonial godmother, Liv Arnesen, the famed explorer and educator.
"Today is a proud day for the entire Viking family as we welcome our first expedition ship to the fleet and usher in a new era of exploration," Torstein Hagen, chairman of Viking, said in a news release.
"Our guests have asked us to build on our award-winning river and ocean voyages to take them further, and that is just what we have done," he said.
After the Octantis is named, the ship will make her way to the Great Lakes for a series of voyages during spring and summer. A second identical sister ship, Viking Polaris, will join the fleet in August for journeys to the Arctic and Antarctica.
"Leveraging our long history of destination-focused travel, enrichment and innovative ship design, we are now perfecting expedition voyages and offering curious travelers the opportunity to visit the world's most pristine destinations in the most responsible way possible," Hagen said.
The new Polar Class Viking Octantis and Viking Polaris host 378 guests in 189 staterooms. The new ships feature the company's signature Scandinavian design with public areas that are favorites on Viking's ocean ships as well as new spaces created specifically for expeditions.
Highlights include:
The Hangar
An industry first, The Hangar is an enclosed, in-ship marina that brings true comfort to expedition voyages with an innovative way to embark and disembark excursion craft. The Hangar's most innovative feature is an 85-foot slipway that allows guests to embark and disembark excursion craft from a flat stable surface inside the ship, shielded from wind and waves.
The Science Lab
The Viking Octantis and Viking Polaris are the first expedition ships with substantial onboard laboratories. Developed in partnership with the University of Cambridge and Akvaplan-Niva, the 380-square-foot Science Lab, is designed to support a broad range of research activities and is equipped with wet and dry laboratory facilities, a sample processing area, fume cupboard, freezer and cool storage, comprehensive microscopy optics and extensive bench space for analysis-specific instruments. Guests have supervised access to The Science Lab, which is located in a glass-enclosed mezzanine above The Hangar, to learn from and participate with scientists undertaking primary research, an experience unique to Viking.
Expedition Equipment
Viking will offer a variety of ways for guests to experience their destination, according to their interests and activity level, at no extra charge. Equipment available for guests includes a fleet of military pro zodiacs designed for professional use; a fleet of two-seater Arctic-tested kayaks; and two 12-seater convertible Special Operations Boats. Each ship also features two six-guest submarines with revolving seats and 270-degree spherical windows for an incomparable undersea experience. Everything guests need will be provided – a Viking Expedition Kit contains items like boots, binoculars and waterproof pants. And all guests will receive complimentary use of Viking Excursion Gear, which includes specialty items like trekking poles, snowshoes and skis.
The Aula & Finse Terrace
The Aula is a stunning panoramic auditorium at the stern of the ship. Inspired by the University of Oslo's famed ceremonial hall where the Nobel Peace Prize was historically awarded, The Aula will offer lectures and entertainment and features floor-to-ceiling windows and 270-degree views. Adjacent to The Aula is the Finse Terrace, an outdoor lounge area just above sea level with recessed couches and warming lava rock "firepits" – perfect for panoramic views of the surroundings.
Nordic Balcony
A first for polar expedition vessels, all staterooms on board Viking Octantis and Viking Polaris feature a Nordic Balcony, a sunroom that converts into an al fresco viewing platform. The Nordic Balcony's floor-to-ceiling, distortion-free glass lets guests take in the views while keeping out the elements. Should guests wish to feel even closer to nature, the top of the panoramic glass lowers to transform the stateroom into a sheltered lookout with an observation shelf at elbow level to stabilize binoculars or a camera. Every stateroom also is equipped with a unique floor-to-ceiling drying closet that circulates warm air to dry and store clothing and expedition gear.
"With the arrival of Viking Octantis, Viking is now exploring all seven continents," Hagen said. "And we look forward to welcoming our first guests on board in the coming weeks."
Photo courtesy of Viking
Ed. Note: Please contact us for more information and to book a cruise! Crown Cruise Vacations | Cruise Getaways You Can Afford!