Cruise Trivia: Name the Tomb and Location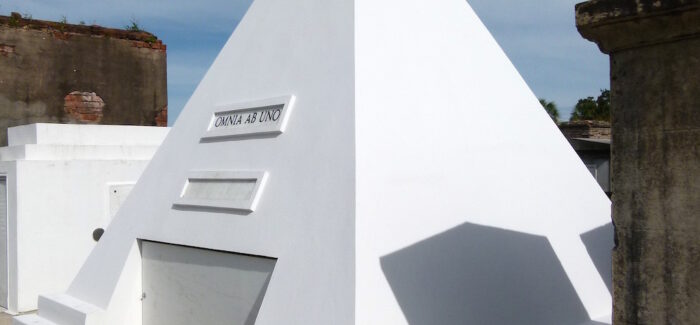 Legend says that scrawling three Xs on this tomb will bring favors to the scrawler. A strange belief but I've seen all the Xs on the tomb and have been told that it is constantly being cleaned of those marks.
This trivia question has two parts. First, whose tomb is this (although it is disputed that she is actually buried in this particular grave). And second, where is the tomb?
This should be a big easy trivia for those who have cruised America's rivers on riverboats.
Don't look at the answer below until you have formulated your response. If you know the answer, congratulations. You must be an avid reader or a cruiser or a movie watcher. This tomb, of course, has been featured on all three of those.
If you don't know the answer, might be time to book a riverboat cruise. Never know what you might learn on one of these fascinating river itineraries.
*
*
*
*
(Answer)
The tomb is said to be the burial spot of legendary Voodoo queen Marie Laveau. Some say she is buried in a different, less conspicuous spot, in this cemetery. However, tour guides do lead visitors to this as the official grave for the much-feared Voodoo queen.
Although she died in 1881, tradition says that Laveau can still grant favors from beyond the grave if believers leave offerings and scrawl three X's on her tomb, causing massive cleanup headaches for local preservationists.
The graveyard, of course, is famous St. Louis Cemetery No. 1 in New Orleans.
More than half a century ago, "Easy Rider" hit theater screens and people still talk about the iconic scene in the New Orleans cemetery where Peter Fonda and Dennis Hopper share drugs with two hookers.
Other New Orleans sites in the popular biker movie include the French Quarter where the crew shot that year's Mardi Gras.
Today, fans of 1969's "Easy Rider" can retrace some of the actors' steps by taking guided tours through St. Louis Cemetery No. 1, plus Bourbon Street, Jackson Square and other landmark spots.
Director Dennis Hopper didn't get official permission to film in the cemetery, but today's visitors must pay a tour guide to take them through the late 1700s cemetery near the French Quarter.
On March 1, 2015, the cemetery was closed to all tourists except tour groups led by licensed tour guides.
A new grave in the crumbling cemetery seems oddly out of place. It is huge and locals think it too grand and ostentatious.
Actor Nicolas Cage had the 9-foot pyramid built for his final resting place as close to Marie Laveau as he could get in the Big Easy's oldest cemetery.
The Latin inscription on his grave means "Everything from One."
Photos by Jackie Sheckler Finch
A tour guide points out the tomb of Marie Laveau.
Visitors now need tour guides to visit the cemetery.
The Big Easy is a popular riverboat stop.
Pyramid built for final resting place of actor Nicolas Cage.
Ed. Note: Please contact us for more information and to book a cruise! Crown Cruise Vacations | Cruise Getaways You Can Afford!