Atlas Ocean Voyages Expands Antarctica Expeditions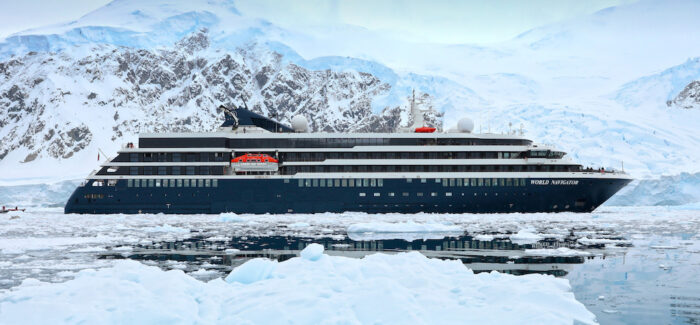 Welcoming travelers to "Come back to something brand new," Atlas Ocean Voyages is expanding its Antarctica luxe-adventure expeditions with two ships for winter 2022-2023.
World Traveller will embark on her inaugural Antarctica season, while World Navigator will return to Antarctica for its second. The two ships will offer travelers a choice of 20 expeditions, ranging from nine to 29 itineraries, sailing from November 2022 through March 2023.
"Atlas Ocean Voyages brings travelers to remote and captivating destinations for once-in-a-lifetime and bucket-list experiences," Alberto Aliberti, president of Atlas Ocean Voyages, said in a news release.
"In our brand's second Antarctica season, we offer travelers a choice of two different Antarctica expeditions by deploying both recently launched World Navigator and newly constructed World Traveller to the region," he said.
The two ships will offer different kinds of expeditions. World Navigator will sail shorter nine – to 11-night expeditions, while World Traveller will offer extended immersive itineraries, ranging from 13 to 20 nights.
Atlas Ocean Voyages is a luxe-adventure expedition cruise brand designed for discerning, fun-seeking travelers to immerse in unique and awe-inspiring moments in remove and captivating destinations.
World Navigator, Atlas' first ship, has begun service and World Traveler will launch in July 2022. Three additional sister ships, World Seeker, World Adventurer and World Discover, will join the fleet by the end of 2023.
"Whichever Atlas expedition ship travelers choose, our expert expedition teams will deliver fascinating context and unforgettable experiences on the Southern Continent," Aliberti said.
Photo courtesy of Atlas Ocean Voyages
Ed. Note: Please contact us for more information and to book a cruise! Crown Cruise Vacations | Cruise Getaways You Can Afford!