Recipe for Popular Royal Caribbean Cookies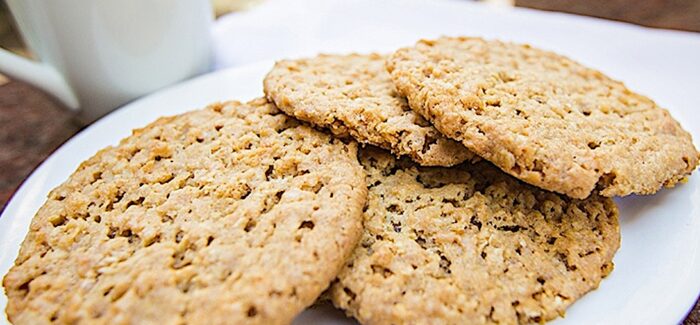 A mid-morning snack on a cruise is part of the pleasure of cruising. I don't have mid-morning snacks at home but it just seems right to relax on a cruise ship and nibble at a cookie or some other fresh-baked sweet between breakfast and lunch.
One of my favorites aboard Royal Caribbean cruises is their popular Coconut Ranger cookies. When Royal Caribbean shared the recipe, I made the cookies at home for my family. We all agreed the cookies were delicious but something was missing – the ocean, of course.
Sitting on my stateroom balcony or watching the changing seascape from a ship lounge window while munching on a Coconut Ranger cookie seems the perfect combo.
Here's the recipe if you'd like to give it a try. The cookies are easy to make and smell delicious.
Royal Caribbean's Coconut Ranger Cookies
Ingredients
4¾ cups all-purpose flour
½ teaspoon baking soda
2¼ cups unsalted butter, softened
2¼ cups brown sugar
¾ cup dried coconut, shredded
1/8 cup coconut milk
6 eggs
1 teaspoon vanilla extract
Directions
Preheat oven to 350 degrees. In a bowl, sift together flour and baking soda. In another bowl, beat butter with brown sugar until smooth. To the butter mixture, beat in eggs one by one until well blended. Mix in coconut milk and vanilla extract.
Fold in dry mixture of flour and baking soda and then dried coconut until evenly distributed throughout batter. Using an ice-cream scoop or ¼ cup measure, scoop cooking dough onto a baking sheet and mold into circular shape. Bake until slightly puffed but barely colored, about 9 to 12 minutes. Servings 24 cookies.
Photo courtesy of Royal Caribbean Cruises
Ed. Note: Please contact us for more information and to book a cruise! Crown Cruise Vacations | Cruise Getaways You Can Afford!