Strataca: Home of Nation's Only Salt Museum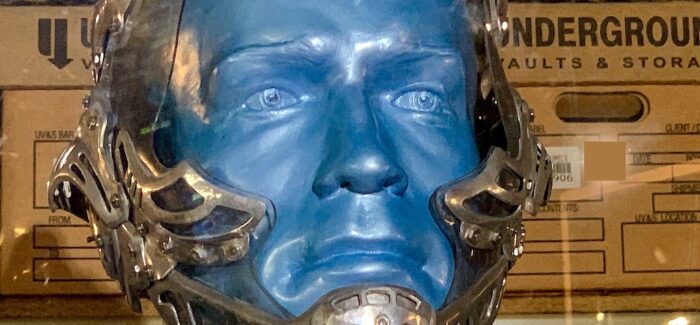 Ben Blanchard was hoping to strike it rich by discovering oil under the Kansas prairie. Instead, in 1887, Ben found white gold – one of the largest salt deposits in the nation.
More than 400 feet thick, the salt deposit stretches from central Kansas into Oklahoma, Texas and New Mexico.
"It didn't take long for people to discover what a treasure was here. It was a very profitable discovery," says Keith Temaat, docent for Strataca underground salt museum in Hutchinson, Kansas. "At one time, there were 26 salt mining companies here. Now there are only three."
Nicknamed Salt City, Hutchinson is also home to the only salt museum in the nation. The only other underground salt museums in the world are in Poland and Austria.
Opened May 1, 2007, Strataca underground salt museum lets visitors feel what it is like to be walking around inside a gigantic solid block of salt. The subterranean world remains a constant 68 degrees year-round with low humidity.
Before heading underground, our group was suited up with hard hats. The only way to get to the underground museum is via a double-decker elevator that drops about 65 stories in about 90 seconds. Each elevator holds about 15 passengers on a creaky rumbling descent.
Stepping out of the elevator, we were greeted by sparkling walls and ceiling. Reflecting artificial light, the salt crystals are beautiful and a bit other-worldly. The site is also pitch black when man-made lights are turned off.
"You are 650 feet under the Kansas prairie," Keith says, flicking off the lights so we could get a sense of the immense darkness.
Next, we climbed aboard trams for a 40-minute ride that weaves among the huge pillars and sprawling caverns that have been carved out by salt miners. The tram stops several times on the tour for various interesting spots. At one place, we were invited to fill a small bag with salt rocks as a souvenir.
"It's similar to coal mining but animals were never used down here," Keith says. "There are no animals living down here. No insects. No water."
Salt deposits formed millions of years ago
The salt deposits formed between 251 and 299 million years ago. Back then, a large ocean known as Panthalassa blanketed much of the world. A shallow area of the Western Interior Sea receded and was cut off from the open ocean.
When that shallow area known as the Permian Sea evaporated, it left behind thick layers of gray shale, salt and other minerals. The deposits were subsequently buried by younger sediments and remained hidden for millions of years until Ben Blanchard accidentally discovered them in 1887.
"We take salt for granted. It's always been here, always will be here," Keith says. "However, if it wasn't for salt, you and I wouldn't be here. Our bodies require a certain amount of salt to survive."
The human body can't produce sodium naturally, yet our nerves and muscles require it. Until the 19th century, when industrialization made it readily available worldwide, salt was a prized commodity.
However, Keith warned us not to lick or eat the salt on our tour. "This is not table salt. It is road salt. It has not been processed for human use and may contain contaminants."
With its 9- to 17-foot ceilings, the maze of caverns looks like huge empty parking garages made of salt. Scattered here and there are decrepit vehicles and machines once used in the mining.
"Anything that came down here had to be brought on the elevator," Keith says. "Big pieces were taken apart and then put back together down here. When they didn't use them anymore, it was just easier to leave them down here."
A large pile of trash contains cigarette boxes, candy wrappers, soup cans and other items used by miners who worked long hours in the mine. "A half-eaten roast beef sandwich is in that trash," Keith points out. "The sandwich is believed to be about 60 years old and perfectly preserved by the salt down here."
Although museum visitors have modern toilets today, a big wooden box with a toilet seat is a reminder of how workers took care of potty business during their time in the mines.
Salt mine offers ideal storage environment
After the tram ride, we were given time to tour several galleries that deal with geology and mining. The gift shop offers salt-related items and other souvenirs. For those who like unusual wedding sites, Strataca offers an event space for marriages, receptions and other gatherings.
The Hutchinson Salt Co. is still a working mine covering about 980 acres just northwest of Strataca and mining about 500,000 tons of salt a year, mostly used for ice and snow removal. The mine has about 16 full-time employees. Strataca takes up about 100,000 square feet of the mine but is separate from the mining area.
With its near perfect temperature and humidity, the mine also serves as a storage facility. It offers high security because of its shaft-only access and numerous security alarms. It also provides freedom from natural disasters such as tornadoes, floods, hurricanes and earthquakes.
The storage facility functions as a long-term time capsule and contains archived items such as old movies, medical records, newspapers and other items. In the museum storage site, we saw movie memorabilia such as the black shirt worn by James Dean in his last movie the 1956 "Giant," costumes for Batman and Superman, Snowman from "Jack Frost," Agent Smith outfit from "The Matrix" and much more.
The display that was most surprising to me? A fascinating petri dish containing a streaking of the oldest known living organism on Earth.
"It is estimated to be about 250 million years old," Keith says. "The living bacteria was found trapped inside a salt crystal."
For more information: Contact Strataca at (620) 662-1425, www.underkansas.org or Hutchinson Tourism at (800) 691-4262, www.visithutch.com
---
Photos by Jackie Sheckler Finch
Strataca is the only salt museum in America.
Visitors ride through salt caverns on a tram.
Vehicles and most equipment taken into the salt caverns is left there.
Movie artifacts are stored for safety in the salt caverns.
Strataca entrance is deceptively small for what is underground.
The oldest known living organism on Earth was discovered inside a salt crystal.
Ed. Note: Please contact us for more information and to book a cruise! Crown Cruise Vacations | Cruise Getaways You Can Afford!