Singing the Blues at B.B. King Hometown Museum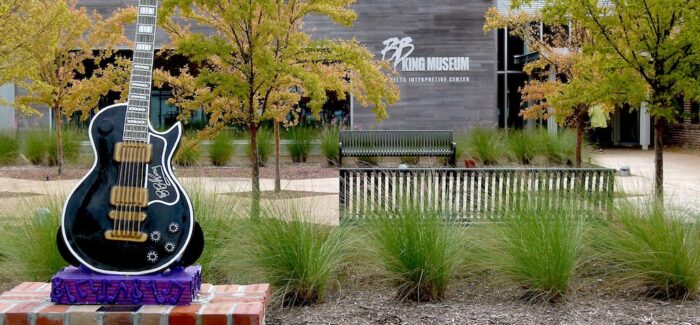 A tractor mishap helped put the career of a renowned bluesman in high gear. If not for the 1946 accident, the world might never have heard of Riley King.
Of course, we got to know him as B.B. King.
"Because of that accident, Riley King left Indianola for Memphis," said Robert Terrell, Director of Operations for the B.B. King Museum and Delta Interpretive Center in Indianola, Mississippi.  "Memphis is where he got his nickname and where he became known as 'The King of the Blues.'"
With a population of about 12,000, Indianola might seem a strange place for such a world-class museum, opened in 2008. But B.B. King would have it no other way. That is where he wanted his museum and where he wanted to be buried after his death on May 14, 2015, at age 89. The legendary bluesman was laid to rest on the grounds of the museum in the hometown where he once picked cotton.
Surprising encounter with the legend
Some years back on a hot summer day, my friends Linda and Lorry and I were cruising the Mississippi countryside in search of juke joints and blues. We stopped in the sleepy Delta town of Indianola and had a totally unexpected encounter that is still a favored memory.
As we were finishing up our museum visit, we saw a bunch of folks congregating behind the museum. Cars were crammed in the parking lot and a big tour bus had just pulled up. When we stepped outside to see what was going on, we saw the man himself.
B.B. King had just arrived in town to celebrate the opening of a learning center. He slowly made him way through a crowd of well-wishers, shaking hands, hugging people and stopping to chat.  No sign of a spoiled "Superstar."
In fact, King always shunned that word. "I had never heard the word 'Superstar' but when I think about it today, I was a superstar tractor driver," he said.
The interesting museum helps explain that comment. Born Sept. 16, 1925, to Nola Ella Farr and Albert King, Riley King learned about heartache early on. His parents separated when he was four and his mother died five years later. Riley then went to live with his grandmother.
"I would give nearly anything today to have a picture of my mother," King is quoted in the museum. His mother likely died of diabetes, which King also had. On her deathbed, King's mother told him to "Be kind. It will always bring you good things."
Becoming a 'Superstar Tractor Driver'
When his grandmother died, King went to live and work on a small farm owned by Johnson Barrett.  King drove a tractor and prided himself on being a good worker. But one day King was hurrying to shut off his tractor in the shed after a day's work and the hot machine lurched, snapping off its exhaust stack.
Afraid of what Barrett would say, King left a note and set off hitchhiking for Memphis where he stayed for nearly a year with his mother's cousin, bluesman Bukka White.  Playing a guitar he had bought with farming wages, King quickly realized that he had a lot to learn. He also knew that he owed a debt back home.
"He came back to Johnson Barrett and worked off the debt he owed him for damaging the tractor," Terrell said. "After the debt was paid off, B.B. King said, 'Now I have to go to Memphis and play music.'"
King soon had his own Memphis radio show where he picked up the nickname "Beale Street Blues Boy," later shortened to B.B.
Birth of the popular museum
King was "taken aback," Terrell said, when local towns folks began suggesting a museum in his honor. King had returned to his hometown for years to do free concerts.
As for an actual museum about himself, King didn't see how anybody would be that interested in him. After persistent persuasion by locals, King finally agreed since they said it would mean a great deal to Indianola to have such a top-notch facility.
A strange thing happened when architects and officials began looking at sites where the museum could be located. Although they were working independently, two architectural groups chose an old Indianola cotton gin as the ideal site.
"It was the last standing brick cotton gin in Mississippi but it was in terrible shape," Terrell said. "It had been built around 1910 and used until the 1960s. Then it was abandoned and the whole thing was a falling down mess."
Deciding to save the derelict building, officials presented the plans to King and watched anxiously as he viewed photos of the ramshackle plans. "He looked at all the pictures and was very thoughtful," Terrell said.
But instead of vetoing the project, King declared it ideal. "He said he used to work at that cotton gin as a young man. We had no idea about that and were so surprised. It just seemed meant to be."
                                       How B.B. King's guitar became named Lucille
As to why King named his guitars "Lucille," visitors can discover that answer at the museum. Seems King was playing an Arkansas bar on a winter night in 1949 when punches began flying between two men.
In the melee, a barrel of kerosene burned for heat tumbled over and everyone fled as flames engulfed the roadhouse. But King plunged back inside the inferno to save his guitar.
He later recalled, "I almost lost my life trying to save my guitar."
To remind himself never to do anything so risky again, he named the instrument after the woman whose charms had set off the fight. Her name was Lucille.
For more information: Contact the B.B. King Museum and Delta Interpretive Center at (662) 887-9539, www.bbkingmuseum.org
Photos by Jackie Sheckler Finch