Girl Who Challenged Taliban's Ban on Girls' Education Honored in Indy Museum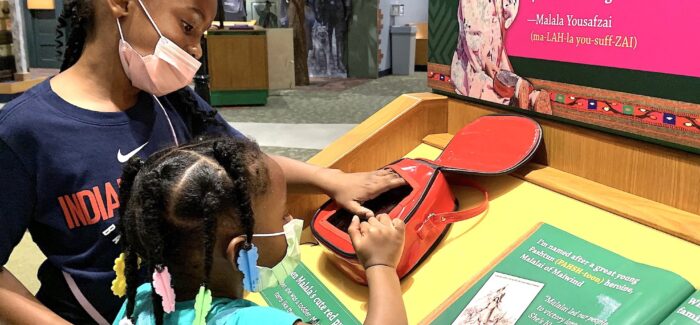 Six-year-old Justice loves school and can't imagine a world in which she would be denied the right to be in a classroom. That's why the Indianapolis girl has come to The Children's Museum of Indianapolis to honor a young Pakistani girl who was almost killed for seeking an education.
"It is so sad what happened to her," Justice says. "Malala was very brave and I want to be here to learn more about her."
On the opening day of the world's only permanent exhibit to feature Malala Yousafzai, children and adults alike came to hear the heroic story of a courageous child who stood up for girls' education and nearly lost her life doing so.
Walking through the exhibit of Malala's home in the lovely Swat Valley of Pakistan, Justice and her 3-year-old sister Jream heard how Malala was 10 when the Taliban came to her valley in 2007. "They appeared in groups, armed with knives and guns," Malala said in a quote.
After the Taliban shut down girls' schools on Jan. 15, 2009, Malala attended school in secret. She used henna to decorate her hands with mathematical equations instead of patterns which was customary in her culture.
A visual invites visitors to put their hands in a handprint to see Malala's henna designs magically appear on their hands. Malala was only 11 years old when she began blogging under a pseudonym for the BBC about living under the Taliban's orders. Speaking out publicly on behalf of girls and their right to learn made Malala a Taliban target.
Shot in the Head by Masked Gunman
On October 9, 2012, 15-year-old Malala was riding a bus with friends when a masked gunman boarded the vehicle and shot Malala in the left side of her head. The bullet traveled down Malala's neck and left her in critical condition.
Malala was flown to a military hospital in Peshawar where a portion of her skull was removed to treat her swelling brain. She was then transferred to England for future medical care. Taken out of a medically induced coma, Malala required multiple surgeries, including repairing a facial nerve to fix the paralyzed left side of her face.
However, Malala suffered no major brain damage and refused to be silenced. In March 2013, she began attending school in England. Eight years after being shot by a terrorist, Mala graduated from the University of Oxford in England. She is now 24 years old.
"Nothing changed in my life except that weakness, fear and hopelessness died," Malala said. "Strength, power and courage were born."
For 5-year-old Daniel, the idea of not being free to have hopes and dreams and ambitions is unheard of in his life. Although it changes with time, Daniel has considered many future goals – firefighter, policeman, astronaut, ninja and paleontologist (which he pronounces correctly and says he learned about at The Children's Museum.)
Creating his own personal sticker to attach to his shirt, Daniel chooses the 'Power of Courage' to make the world a better place. "Because it's important to have courage to do what's right," he notes.
Making WAVE's to Create Change
The new exhibit featuring Malala and the experiences that shaped her is part of "The Power of Children: Making a Difference" experience that opened in 2007 at The Children's Museum. The exhibit shares the brutal realities four amazing children experienced and the power they used to change the world.
WORDS: Hiding in a cramped attic for two years from Nazi soldiers during World War II, Anne Frank kept a diary to describe her ordeal.
ACTION: As a 6-year-old, Ruby Bridges walked through an angry mob to be the first student to integrate her elementary school.
VOICE: Contracting AIDS through a blood transfusion, 13-year-old Ryan White was shunned by those who feared the deadly disease. But the Hoosier continued to speak out about HIV/AIDS until his death in 1990 at age 18.
EDUCATION: Malala Yousafzai uses the power of education to empower girls to change the world. In 2014, Malala at age 17 became the youngest recipient to be awarded the Nobel Peace Prize for her work with the Malala Fund. Established in 2012, the Malala Fund advocates for resources and policy changes needed to give all girls an education and a voice to make the world a better place.
The first letters of each of those words – Words, Action, Voice and Education create the acronym WAVE for the "WAVEs of Change Program" to demonstrate how young people can create positive waves of change that can have a powerful impact on the world.
"We all want to make sure that every kid has a chance to learn and explore," says Monica Humphrey, director of exhibits and interactive media for the Museum. "It is a problem worldwide. There are 160 million girls who are without education right now."
Seeing the exhibit brought a "real sense of joy," says Suzanne Ehlers, CEO of the Malala Fund. "My heart stopped … I thought it was a beautiful space and absolutely curated with such care and attention."
The Museum worked directly with the Yousafzai family and Malala Fund to tell Malala's inspirational story. The exhibit contains a reproduction of the family kitchen; Malala's desk and computer; the Yousafzai family tree where Malala's name was the first female name to be added in three centuries; a room-sized video presentation with photos and Malala's words about her life and struggle projected on the wall; and Malala's First Day Shirt she wore when born on July 12, 1997.
In Pakistan, when a baby is born they wear a First Day Shirt. Malala wore the shirt on her first day of life. It was then handed down to her younger brothers and on to other relatives. The shirt is considered lucky by the family.
Living Under Taliban Rule
Abundant notes and quotes from Malala are posted throughout the exhibit, including one when the Taliban confiscated a heap of computers, TVs and CDs from homes and burned the items in the streets since anything "nonreligious" was forbidden.
When the Taliban banned TV, the Yousafzai family hid their TV in a closet where Malala could watch her favorite show about a boy with a magic pencil and her brothers liked to see "Tom and Jerry" and "Johnny Quest."
"We turned the volume down to a whisper," Malala says in a posted quote. "We adored our shows and didn't understand how wrestlers with funny names and a little boy with a magic pencil were so bad."
Although she couldn't be at the unveiling in person, Malala said she hopes to visit soon and sent a recorded video message that was played at the grand opening.
"I am honored and privileged to be right next to Anne Frank, Ruby Bridges and Ryan White," she said. "I hope it sends a message to children all around the world … That children can make change. You must always believe in yourself, in your voice. Your voice matters. It must be heard."
For more information: Contact The Children's Museum of Indianapolis at 317-334-4000, www.childrensmuseum.org.                       
Photos by Jackie Sheckler Finch
Justice, 6, and her sister Jream, 3, open a purse like one Malala had as a little girl.(Cover photo)
A new exhibit about Malala Yousafzai was unveiled at The Children's Museum of Indianapolis.
Malala Yousafzai joins Anne Frank, Ruby Bridges and Ryan White in 'The Power of Children' exhibit.
Daniel, 5, and his mother Jean create a shirt sticker for his 'power of courage.'
The Taliban confiscated and burned all things considered 'nonreligious.'