Princess Margriet Named Godmother of New Rotterdam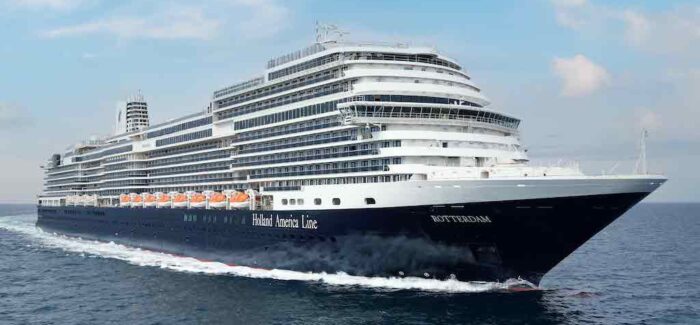 The new Holland American Line's Rotterdam has a godmother befitting the cruise line's long heritage.
In a ceremony rich with Dutch heritage in the Netherlands, Her Royal Highness Princess Margriet served as Rotterdam godmother to officially name the ship.
"Our heritage is rooted here in the Netherlands, and we are deeply honored to have Her Royal Highness Princess Margriet as godmother of her fifth Holland American Line ship," Gus Antorcha, president of Holland America Line, said in a news release.
"When Rotterdam was delivered in 2021, we postponed its naming ceremony so we could hold it in Rotterdam because there's no better place to name a ship than in the city it was named after," he said. "After a challenging couple of years, we are excited to celebrate this memorable moment in our company's history."
After the ceremony, guests were invited to pour champagne over the ship's bell. The blessing of the ship's bell is a Holland America Line tradition when welcoming a new ship to the fleet.
On Oct. 15, 1872, Rotterdam I – the first Holland America Line ship – embarked on its maiden voyage from Rotterdam to New York. Exactly 150 years later on Oct. 15, 2022, Rotterdam VII will depart Rotterdam once again as Holland America Line recreates this historic 150th Anniversary crossing with calls at Plymouth, England; New York and Fort Lauderdale.
The third vessel in the Pinnacle Class series and the seventh ship to bear the name for Holland America Line, Rotterdam carries 2,668 guests.
Holland America Line's connection to The House of Orange goes back nearly a century to Prince Hendrik launching Statendam III in 1929. Since then, members of the Dutch Royal Family have launched 11 more Holland America Line vessels throughout the years, including Her Royal Highness Princess Margriet who named Prinsendam in 1972, Niew Amsterdam II in 1983, Rotterdam VI in 1997 and Oosterdam in 2003.
Additional members of the Dutch Royal Family who are godmothers include Queen Maxima who named Koningsdam in 2016 and Nieuw Amsterdam in 2010.
Then-Queen Beatrix served as Eurodam's godmother in 2008. Rotterdam V was launched in 1958 by Queen Juliana.
Then-Princess Beatrix named Statendam IV in 1957 and Prinses Margriet in 1960. Niew Amsterdam II was launched by Queen Wilhelmina in 1937.
Photos courtesy of Holland Cruise Line
The Rotterdam is celebrating the heritage of Holland Cruise Line.
Princess Margriet of the Netherlands has been named godmother of the new Rotterdam.
---
Ed. Note: Please contact us for more information and to book a cruise! Crown Cruise Vacations | Cruise Getaways You Can Afford!