No Comments
Princess Cruises Offers New Caymus Vineyards Winemaker Dinner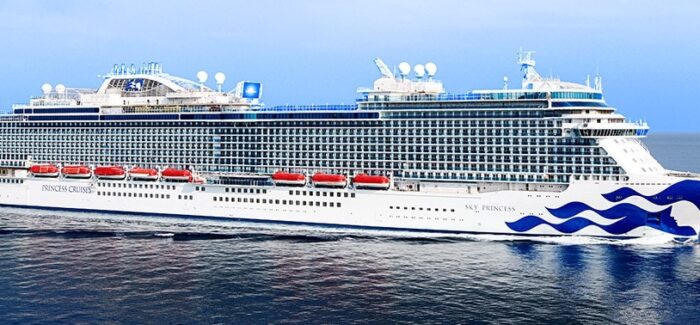 One of the most sought-after wines to pour and share for special celebrations will now be offered on new Caymus Vineyards Winemaker Dinner experiences aboard Princess cruise ships.
The new Winemaker Dinner leverages the expansive expertise of Chuck Wagner, owner and winemaker of the renowned Napa Valley's Caymus Vineyards, to deliver a five-course menu crafted to complement the tasting notes of his wines.
"We have an appreciation for family, friends, delicious food and great wine, along with the many connections between them," Wagner said in a news release.
"We love how Princess also recognizes that cruise travel fosters deeper relationships with its guests and the destinations they visit by sharing experiences around the table, and we're thrilled to pour our wines and share our passion through a specially curated dinner with this beloved cruise line."
Available in the popular Crown Grill specialty restaurant for $140 per person, the dinner will be available for 12 guests per seating. The dinner will be offered two to three times per cruise, based on voyage length. Interested guests can reserve their spot once on board.
"Our new Caymus Vineyards Winemaker Dinner further elevates the Princess culinary experience and wonderfully showcases the elegance of cruising," Sami Kohen, Princess vice president of food and beverage, said in a news release.
"Our passionate culinary team and Chuck have curated what promises to deliver a deliciously memorable and tantalizing experience that will have our guests talking long after the last course and glass of wine are served," Kohen said.
Wagner, along with the Princess culinary team, personally selected the wines paired with the multi-course menu served. In addition to Caymus Napa Valley Cabernet Sauvignon, he has perfectly matched the dinner courses with varietals from the family's other offerings, including Caymus-Suisun 'The Walking Fool' Red Blend, Mer Soleil Reserve Chardonnay, Sea Sun Pinot Noir and Emmolo Sparkling.
In addition to the new dinner, Caymus Vineyards also is working with Princess on a refreshed wine menu. In addition, Caymus Vineyards will be the curator for the cruise line's Crown Grill steakhouse, chops and seafood specialty restaurant with wine pairing recommendations on the menu.
Coming later this year, guests will have the opportunity to visit Caymus Vineyards in Rutherford, Napa Valley and Caymus-Suisun Winery in Suisun Valley, Calif., on exclusive shore excursions offered on various California-based cruises.
Caymus is a hands-on family affair which Wagner founded in 1972, alongside his late parents, when he was just 19 years old. After 50 harvests, he continues to make two renowned Cabernet Sauvignons – Caymus Napa Valley and Caymus Special Selection.
Wagner now works alongside two of his children, Charlie and Jenny. The family also makes diverse wines from Napa Valley, other parts of California and beyond.
Wagner is widely recognized for his winemaking and industry leadership, and all three Wagners continue to experiment with farming and winemaking, continuing the family legacy and commitment to excellence.
Courtesy photos
---
Ed. Note: Please contact us for more information and to book a cruise Crown Cruise Vacations | Cruise Getaways You Can Afford!
Celebrity Cruises recognized the company's top partners with its 2022 Top Travel Agency Advisor Awards. The 2022 travel partner award winners include:
Online Partner of the Year: Crown Cruise Vacations
Since 2008, Crown Cruise Vacations has had a singular focus: Provide excellent value and excellent service on Cruises, Tours and all forms of Vacation Travel. Based in Princeton, New Jersey, and a proud member of Ensemble Travel Group, we have been able to offer the benefits of working with the largest agencies while maintaining a family atmosphere. We've won many different awards including the 2011 World Travel Award for Leading North American Cruise Agent, and 2018 Partner of the Year for Royal Caribbean. We use our agency connections, relationships and influence to provide you and your family the best values and offers in the travel industry led by travel counselors with hundreds of years of combined travel experience.
Contact Us – Open Seven Days a Week: 9 a.m. to 8 p.m. Mon-Fri, 9 a.m. to 5 p.m. Sat-Sun
Call us toll free: 877-283-1114, direct-dial Locally: 609-945-9801
Address: 120 Village Boulevard, Princeton, NJ 08540
Email us: support@crowncruisevacations.com