New 'Love Boat' Sun Princess to begin cruising in 2024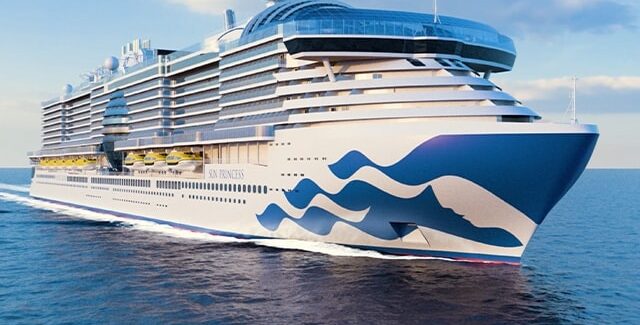 The next generation of "The Love Boat" line will welcome cruise guests in early 2024. The new Sun Princess will be Princess Cruises' largest, most contemporary and state-of-the-art ship in the popular cruise line.
With bright designs inspired by rays of sunlight and next-level expanded spaces, the new Sun Princess will include a show-stopping Arena theatre and stunning three-story dining venue – a first for Princess.
"With the construction of any new ship, we have the incredible opportunity to design standout spaces with our guests' preferences in mind," John Padgett, president of Princess Cruises, said in a news release.
"With the new platform and size of Sun Princess, we're uniquely able to refresh venues we know our guests love and expand upon, redesign and elevate them to the next level," Padgett said. "We know our sun-inspired designs will exceed expectations and elevate the entire Princess experience."
Currently under construction at the Fincantieri shipyard in Italy, the largest Princess ship ever constructed will accommodate 4,000 guests. The Sun will embrace its Italian heritage by featuring a newly designed, brand-iconic Piazza and The Dome, a cutting-edge entertainment space inspired by the terraces of Santorini.
While introducing a completely new class of ships for the cruise line, Sun Princess also remains true to the smooth clean lines and design aesthetics of the cruise line's famous Seawitch icon popularized in the original "Love Boat" TV series.
The Horizons Dining Room with its stunning three stories is open and flexible with dining options to suit every mood. Wake views and natural light highlight a decorative sculpture that stretches from deck 6 to deck 8. The three decks will each have their own personalities and offer different dining experiences and range in levels of formality.
Featuring the most technologically advanced Princess design, the Princess Arena offers a visual above the central stage which can become part of the show. A radical ceiling accentuates the Arena's in-the-round configuration with soft curved walls that allude to the movement of the tide.
With moveable seats and capacity of a little more than 1,000 people, the Arena's three configurations will maximize sight lines with technological capabilities to deliver a truly captivating experience.
Part of Carnival's green cruising focus, Sun Princess will be the first Princess ship and one of 11 new vessels in the corporate fleet powered by Liquefied Natural Gas, the world's cleanest fossil fuel.
Additional signature favorites with new designs and decor scheduled to debut onboard Sun Princess in early 2024 include:
Alfredo's Pizzeria – This charming favorite that has been named "Best Pizza at Sea" will once again have an open kitchen design, allowing guest to watch as chefs create pizza by hand and serve the treat straight out of the oven. New to the kitchen is a professional open-mouth oven that reaches 968 degrees, allowing chefs to create truly authentic contemporary Neapolitan pizza.
Crown Grill – A favorite of Princess guests who enjoy a perfectly grilled steak, Crown Grill on the Sun Princess takes this iconic space and modernizes it with a classic steakhouse feel woven with modern touches. Inviting leather booths, circular seating and modern artwork custom designed for this restaurant will welcome guests for a tasty dinner experience. Plus, guests can enjoy views of their food being prepared in the largest show galley on a Princess ship.
Sabatini's Italian Trattoria – The newly imagined Sabatini's will appeal to families with unique handmade pasta courses prepared daily. The restaurant is designed with intimate bistro-style nooks and a dramatic circular main room. A crisp tailored geometric design also will feature a pasta room for guests to marvel at the pasta-making process.
Photos courtesy of Princess Cruises
The new Sun Princess will debut in early 2024.
The Sun Princess Arena
Alfredo's Pizzeria
Crooners Lounge
Horizons Dining Room
Sabatini's Italian Trattoria
---
Ed. Note: Please contact us for more information and to book a cruise Crown Cruise Vacations | Cruise Getaways You Can Afford!
Celebrity Cruises recognized the company's top partners with its 2022 Top Travel Agency Advisor Awards. The 2022 travel partner award winners include:
Online Partner of the Year: Crown Cruise Vacations
Since 2008, Crown Cruise Vacations has had a singular focus: Provide excellent value and excellent service on Cruises, Tours and all forms of Vacation Travel. Based in Princeton, New Jersey, and a proud member of Ensemble Travel Group, we have been able to offer the benefits of working with the largest agencies while maintaining a family atmosphere. We've won many different awards including the 2011 World Travel Award for Leading North American Cruise Agent, and 2018 Partner of the Year for Royal Caribbean. We use our agency connections, relationships and influence to provide you and your family the best values and offers in the travel industry led by travel counselors with hundreds of years of combined travel experience.
Contact Us – Open Seven Days a Week: 9 a.m. to 8 p.m. Mon-Fri, 9 a.m. to 5 p.m. Sat-Sun
Call us toll free: 877-283-1114, direct-dial Locally: 609-945-9801
Address: 120 Village Boulevard, Princeton, NJ 08540
Email us: support@crowncruisevacations.com