Holland America Line guests donate $450,000 for aid to Ukrainians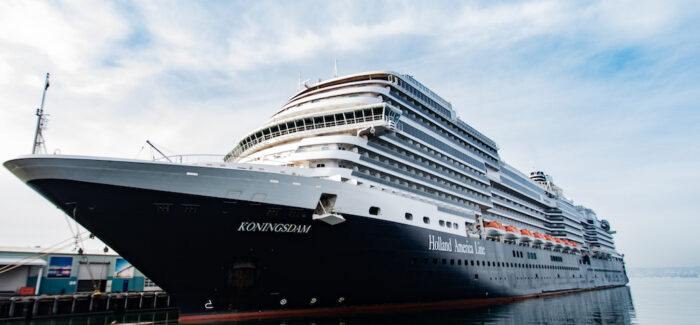 For 10 months, Holland America Line passengers have walked around the world to raise $450,000 to aid Ukrainians through the cruise line's "On Deck for a Cause" campaign.
A check for $450,000 was presented to the global humanitarian aid organization Direct Relief at Koningsdam's winter homeport in San Diego.
"Our guests and team members, who love to explore the world, wanted to do something to make a meaningful difference for families in a part of the world that desperately needs humanitarian aid," Gus Antorcha, president of Holland America Line, said in a news release.
"We knew our guests were generous, but their support has well exceeded our expectations, with donations totaling $450,000," Antorcha said.
For 10 months on every cruise in Holland America's 11-ship fleet, guests could make a $25 donation to participate in a fundraising 5K walk during their sailings, in locales ranging from Alaska to Europe and the Panama Canal to Australia.
"We're grateful to Holland America Line and its guests for this tremendous fundraising effort in which people took time during their vacations to make a difference," Thomas Tighe, president and chief executive officer for Direct Relief, said in a news release.
"Their support will further help us in providing lifesaving medications to Ukraine, ranging from cancer therapies to treatments for chronic health conditions," Tighe said.
Direct Relief is a humanitarian aid organization committed to improving the health and lives of people affected by poverty and emergences. Direct Relief delivers lifesaving medical resources throughout the U.S. and the world to communities in need – without regard to politics, religion or ability to pay.
The fundraising effort began in March 2022 and coincided with a pledge of $3 million to charities helping Ukrainian refugees from the family of parent company Carnival Corporation's chairman Mickey Rison and his wife Madeleine.
"We're proud that so many guests who choose the Port of San Diego were part of this fundraising effort," Chairman Rafael Castellanos, port of San Diego, said in a news release. "Californians alone count for close to 15 percent of Holland America Line's guest population, and the money raised is providing timely relief for the crisis in Ukraine."
From Koningsdam's winter homeport of San Diego, more than 62,000 guest embarked on several Holland America Line ships during the 2022 season.
From April through September 2022, the Dutch government and City of Rotterdam also chartered the Holland America Line ship Volendam as part of their larger effort to accommodate 50,000 Ukrainians who fled the war in their homeland.
Photos courtesy of Holland America Line
---
Ed. Note: Please contact us for more information and to book a cruise Crown Cruise Vacations | Cruise Getaways You Can Afford!
Celebrity Cruises recognized the company's top partners with its 2022 Top Travel Agency Advisor Awards. The 2022 travel partner award winners include:
Online Partner of the Year: Crown Cruise Vacations
Since 2008, Crown Cruise Vacations has had a singular focus: Provide excellent value and excellent service on Cruises, Tours and all forms of Vacation Travel. Based in Princeton, New Jersey, and a proud member of Ensemble Travel Group, we have been able to offer the benefits of working with the largest agencies while maintaining a family atmosphere. We've won many different awards including the 2011 World Travel Award for Leading North American Cruise Agent, and 2018 Partner of the Year for Royal Caribbean. We use our agency connections, relationships and influence to provide you and your family the best values and offers in the travel industry led by travel counselors with hundreds of years of combined travel experience.
Contact Us – Open Seven Days a Week: 9 a.m. to 8 p.m. Mon-Fri, 9 a.m. to 5 p.m. Sat-Sun
Call us toll free: 877-283-1114, direct-dial Locally: 609-945-9801
Address: 120 Village Boulevard, Princeton, NJ 08540
Email us: support@crowncruisevacations.com