New Carnival Celebration to be part of 50th birthday festivities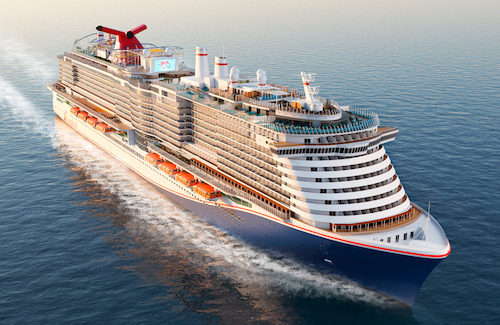 Happy birthday to Carnival Cruise Line. Well, really, that is an early birthday greeting. Carnival will turn 50 years old in March 2022 and the cruise line is planning a big celebration.
In fact, Carnival Cruise Line's new Excel-Class ship set to debut in 2022 is named the Celebration. A sister ship to the Mardi Gras, Carnival Celebration is scheduled to begin sailing from Miami in November 2022.
"Not only will Carnival Celebration feature signature amenities from Mardi Gras but will usher in a new era for Carnival Cruise Line with some special innovations created just for her that we're sure our guests will enjoy," Christine Duffy, Carnival Cruise Line president, said in a news release.
Carnival Celebration will offer year-round service from PortMiami's new Terminal F being constructed specifically for Carnival Cruise Line.
"We're excited about Carnival Celebration's role in our 50th birthday festivities which will serve as an unforgettable way for our fans to mark this exciting milestone in our company's history," Duffy said.
The Celebration will be 1,130 feet long with a 5,382-passenger capacity based on double occupancy. Carnival's 50th birthday festivities include a series of commemorative sailings that will feature special entertainment and itineraries and continue all year long, culminating with Carnival Celebration's arrival in November 2022.
Like Carnival's Mardi Gras, the Celebration will include BOLT, the first roller coaster at sea, along with unique design features created specifically for the vessel and with new signature venues specific to the ship.
Announcement of the new ship's name came via Carnival's social media channels and involved celebrities tied to the line such as Shaquille O'Neal, Vanna White, Alonso Mourning and Kathie Lee Gifford. Each celebrity opened a package with one letter to spell out the ship's name – Celebration.
"The name Carnival Celebration couldn't be more perfect for a ship that will be a key component of our 50th birthday festivities," Duffy said. "Many thanks to our celebrity partners who helped us officially 'unbox the fun' and reveal the name of a ship that promises to be a spectacular addition to our fleet."
Photo courtesy of Carnival Cruise Line