Carnival shares recipe for Fruit Loops French Toast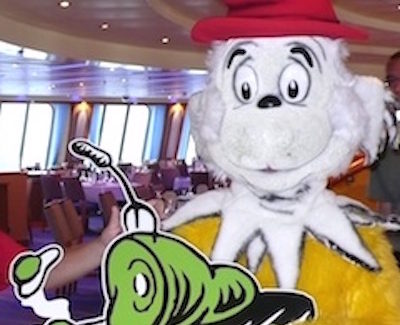 Do you like green eggs and ham? How about moose juice or goose juice? Maybe Fruit Loops French Toast?
Chances are your children like them. And now Carnival Cruise Lines is sharing one of those popular recipes so youngsters can enjoy the treat at home.
It's not nearly as cool as sailing aboard a Carnival "Fun Ship" or enjoying the ship's whimsical "Green Eggs & Ham Breakfast," starring The Cat in the Hat and his friends.
"It is fun to have fun but you have to know how," said Cat in the Hat in the iconic Dr. Seuss book.
The author, whose real name was Theodor "Ted" Seuss Geisel, died in 1991 at the age of 87. It's wonderful to see his work living on and being enjoyed by younger generations whether they are at home or on a Carnival cruise ship.
                                     Carnival's Fruit Loops French Toast
Ingredients:
1 pound loaf brioche bread (or any bread, though brioche is preferred)
3 cups Fruit Loops, slightly crushed
French Toast Batter
6 whole eggs
1 cup sugar
½ teaspoon cinnamon
4 ounces flour
¼ cup milk
Directions:
Preheat oven to 350 degrees.
Slice brioche bread into 1-inch thick slices. In a bowl, whisk together eggs, sugar, flour (reserve 1/4 cup of flour for later used to thicken batter), milk, and cinnamon until thick and smooth.
Dip bread slices into batter, letting them soak for 5 to 10 seconds on each side.  Remove slices from batter with a slotted spatula letting excess batter drain off.
Place battered bread slices in skillet or non-stick pan and cook for about 3 minutes per side or until batter is set and golden brown. Transfer to a lined baking sheet and repeat with remaining bread slices.
Place some of the crushed cereal into a shallow dish. Whisk reserved 1/4 cup of flour into batter to thicken it. Generously brush tops of French toast with thickened batter, then invert on to the shallow dish containing cereal, pressing lightly to help the cereal adhere. Repeat the process on the other side of each bread slice, remove from dish and place on a baking sheet, manually pressing additional cereal into any gaps.
Repeat with remaining bread slices, adding more crushed cereal to the baking dish as needed. Bake for 5 to 7 minutes or until batter is set and bottoms are lightly browned. Garnish with mint leaves and powdered sugar and serve alongside a fruit cup containing honeydew, watermelon, strawberry and pear slices or fruit of choice.
Photos by Jackie Sheckler Finch