New Bradley Hotel Features Décor Touches of Famous Brand Name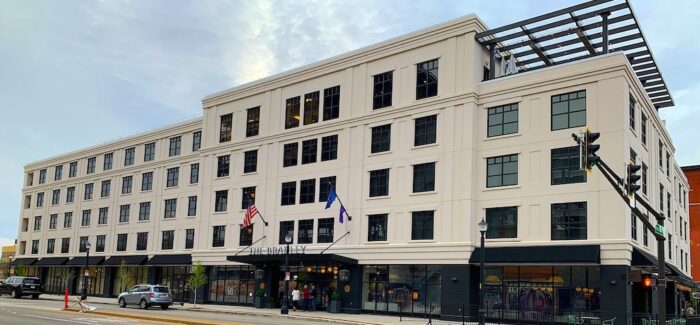 "The Bradley is a personal labor of love for me, a hotel that feels more like a home for my hometown and the travelers passing through." ~Barbara Bradley Baekgaard
When Barbara Bradley Baekgaard's daughters got married in the family's Fort Wayne hometown more than 30 years ago, the brides' mother faced a dilemma. Where should out-of-town guests stay?
Sure, Fort Wayne had some nice chain hotels but Barbara wanted something different, something that would reflect the distinctive beauty of Fort Wayne.
"I couldn't find any place to properly put up my guests. I wanted a place that reflected Fort Wayne so guests would have a wonderful first impression when they arrived," Barbara says.
"Then when they left, I wanted them to have a wonderful memory of Fort Wayne. But I couldn't find a hotel like that here."
What did Barbara do? Well, if you recognize Barbara's name, you might know how the Indiana woman did it – with determination, dedication and talented friends along the way. That's the same recipe Barbara used to co-found a $500-million-dollar company exactly 40 years ago this year. The name of the company? Vera Bradley.
"The secret to our success is really found in others," Barbara says. "Know what you don't know. Find people who can do it better than you and let them do it."
It took more than three decades but Fort Wayne now has a boutique hotel fittingly named The Bradley. Opened July 15, 2021, the five-story limestone Bradley in downtown Fort Wayne offers 124 rooms and nine suites, plus a wealth of Hoosier touches and, of course, Barbara's personal décor talents.
"I wanted it to be like you're a guest in my home. But my home isn't this big," Barbara says with a laugh. In fact, the 83-year-old woman laughs quite a bit. "I like to have fun. I like to laugh. I've had happiness and I've had sadness in my life but I feel very blessed."
How Vera Bradley came to be
Turn back the years to a day in February 1982 when Barbara and friend Patricia Miller were sitting in the Atlanta airport coming home to Fort Wayne from a visit with Barbara's parents in Florida.
"All we saw were black bags," Barbara says. "Men and women both were carrying black bags. We thought it would be nice if women had luggage that was functional but also feminine and attractive."
So the next day, the two women pooled $500 from their husbands and headed to a JoAnn Fabrics store. They loaded up on supplies to create what they envisioned as soft-sided bags in feminine patterns. On a ping-pong table in Barbara's basement, they started cutting.
"We sent the bags to my daughters at Michigan State college and the girls called and said that everyone loves them. So we started making even more bags," Barbara says. "Then we had to have a name. We named the business after my mother, Vera Bradley. Any good taste I have, I owe to growing up with my mother."
The vibrant mixed print quilted bags soon became popular with all ages. "The first year, we did $10,000 in sales. By the third year, we had hit $1 million," Barbara says. Today, the Vera Bradley company has massive headquarters in Fort Wayne offering fashion and home accessories, office supplies, patterned gifts, handbags, totes, backpacks, luggage and more.
Vera Bradley herself served as a Florida sales representative for the company until her death in 1992. "She became a celebrity and was often asked for her autograph," Barbara says.
Custom Vera Bradley designs have come and gone. The newest fabric design issued on May 4th features "Star Wars" with characters, symbols and surprises hidden in the new collection.
"We've seen Vera Bradley bags all over the world. It's like a sisterhood," Barbara says. "To this day, we have a ping-pong table in our Fort Wayne corporate office to remind us where we came from. We're celebrating our 40th anniversary this year. I always say, "Who'd have thunk it."
New Bradley hotel joins revitalized Fort Wayne downtown
As for the new Bradley hotel, it's another important milestone in the revitalization of downtown Fort Wayne and a dream come true for Barbara. "I hate to badmouth any hotel but Fort Wayne has changed so much. It has come into its own and I'm proud that we now have a boutique hotel that honors Fort Wayne."
Originally, Barbara thought a good name for the hotel she was developing on Main Street with Provenance Hotels would be The Fox on Main, again in honor of her mother, Vera Fox Bradley. Foxes in various forms would be seen around the hotel. Although the Fox name wasn't chosen, there is one solitary fox to be found at The Bradley. While other guest rooms have a cute brass rabbit hook inside the door, Room 216 has both a rabbit and a brass fox hook hanging on the wall.
Each guest room has a beautiful fabric-covered headboard with scalloped edges for the bed. A nearby open wallpapered closet has a clothing rod, platform for a suitcase and a Bradley monogrammed white robe. "People don't usually travel with a lot of clothes so this open closet works," Barbara says.
The bathroom has white-stone countertops, antique brass fixtures and glassed-in shower, plus navy and white wallpaper. Large flat-screen TV is on the wall across from the bed. Winding alarm clock sits on the nightstand. Chartreuse yellow barrel chair provides seating and plaid drapes decorate the window.
The Bradley doesn't have ice machines which saves water and energy by not having one on every floor. Instead, guest can get already-filled bags of ice in the hallway's chilled small coolers, with a water filler station in the same spot.
Dine at Arbor or Birdies
The Bradley has two dining spots – Arbor and Birdies. The main restaurant, Arbor, was so named because of Fort Wayne's nickname – "The City of Trees." Arbor serves modern American fare using locally sourced ingredients.
Located on the top fifth floor with rattan bird cages at the entrance and big garage doors in the back to allow diners to enjoy great views of downtown Fort Wayne, Birdie's rooftop bistro serves creative small plates and cocktails. Birdie's also has heaters and a fire pit to enjoy sitting outside.
As for that name, "Birdie is what my grandchildren call me," Barbara says, noting that she has two sons, two daughters, 12 grandchildren and a recently-born great-granddaughter.
Dogs are welcome at The Bradley and receive dog bones, dog bed and water and food bowls at check-in. Complimentary bikes and helmets are at the hotel entrance for guests to enjoy nearby bike paths. A gallery wall rotates work by students, faculty and alumni of Purdue University Fort Wayne.
The men's restroom off the lobby has wallpaper with a fun design of unique walking sticks, some topped with dog and bird heads as well as gloved hands holding keys. "My husband liked to collect canes on trips," Barbara says.
The women's restroom has the hotel's main Vera Bradley design – wallpaper featuring the cardinal state bird, peony state flower and Fort Wayne skyline all in a floral pattern. That print has been made into a Vera Bradley bag which is sold only at The Bradley.
"The Bradley serves as a love letter to my adopted city," Barbara says. "Fort Wayne is a place that is and always will be close to my heart."
For more information: Contact The Bradley at 260-428-4018, www.provenancehotels.com or Visit Fort Wayne at 260-424-3700, www.visitfortwayne.com.
Photos by Jackie Sheckler Finch                               
The Bradley opened July 15, 2021. (cover photo)
Vera Bradley co-founder Barbara Bradley Baekgaard in her office.
The Bradley site was once a parking lot.
Bradley lobby.
The ladies' room has a unique Vera Bradley patterned wallpaper.
Vera Bradley bags sold only at The Bradley.
---
Crown Cruise Vacations | See Cruise Getaways You Can Afford!
Since 2008, Crown Cruise Vacations has had a singular focus: Provide excellent value and excellent service on Cruises, Tours and all forms of Vacation Travel. Based in Princeton, New Jersey, and a proud member of Ensemble Travel Group, we have been able to offer the benefits of working with the largest agencies while maintaining a family atmosphere. We've won a number of different awards including the 2011 World Travel Award for Leading North American Cruise Agent, and 2018 Partner of the Year for Royal Caribbean . We use our agency connections, relationships and influence to provide you and your family the best values and offers in the travel industry led by travel counselors with hundreds of years of combined travel experience. 
Contact Us – Open Seven Days A Week: 9a-8p Mon-Fri, 9a-5p Sat-Sun
Call us toll free: 877-283-1114, direct-dial Locally: 609-945-9801
Address: 120 Village Boulevard, Princeton, NJ 08540
Email us: support@crowncruisevacations.com