Costa Toscana Chef Ángel León Honored for 'World's Most Sustainable Restaurant'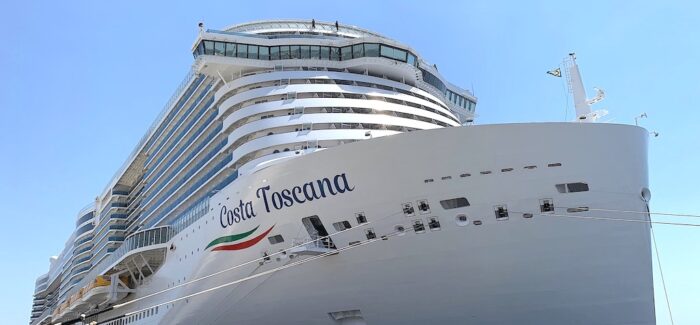 The new Costa Toscana cruise ship now boasts a world award-winning chef. Along with being a Costa Toscana chef, Ángel León also has an on-land restaurant, Aponiente, which has been named the "World's Most Sustainable Restaurant" in the World's 50 Best Restaurants 2022.
In his line of work, Ángel León is considered "a revolutionary genius whose commitment to nature has led him to discover, use and reinvent the contents of the seafood larder," as noted in  the award announcement.
León's restaurant, Aponiente, is located in an old 19th century tidal mill in the heart of the Bahia de Cadiz nature park in El Puerto de Santa Maria, Spain. Born in 1977 in southern Spain, León opened his restaurant Aponiente in 2007. León's fascination with the sea began with childhood fishing trips with his father into the nearby Bay of Cadiz.
Known as the "Chef of the Sea," León also is one of three chefs featured in the new Archipelago restaurant aboard the Costa Toscana. Each five-course menu in the restaurant is designed by the three world-renowned chefs –  León, Bruno Barbieri and Hélène Darroze to reflect regions in which the ship sails.
Officially christened June 16, 2022, in Barcelona, Spain, Costa Toscana can carry 5,224 passengers. The Costa Cruises Foundation also is working with León to research a native species of marine plant, Zostera marina, that could be a "superfood" to help combat world hunger.
"The sea is the greatest resource we have in nature," León said. "It is an idea that Costa and Costa Cruises Foundation share with us, and that led us to collaborate together on this project."
Zostera marina is a plant that helps generate greater marine biodiversity, thus enriching the ecosystem. It contributes to mitigating climate change by absorbing and storing large amounts of carbon. The plant can be grown without fresh water or fertilizers. Above all, it can produce from its seeds a "superfood" with great nutritional properties.
A great innovator in signature cuisine – "I'm a man who loves to dream," León says – his Aponiente is equipped with a research and development center focused on including new food and other products from the sea for the human diet.
The goal, León said, is that people will be able to feed themselves with marine products that are not mainly fish which are often affected by over-fishing. The marine products will be healthy, sustainable, inexpensive and relatively easy to produce.
The elegant and intimate atmosphere of Archipelago aboard Costa Toscana is enriched using driftwood washed ashore and shaped by the waves of the sea. The natural works of art were recovered during beach cleanups by "Guardians of the Coast," an environmental education program for the protection of Italy's coastline managed by the Costa Cruises Foundation.
In fact, for every dinner ordered in Archipelago, Costa donates a portion of the proceeds to the Costa Cruises Foundation to support ecological and social projects. Along with its delicious cuisine, that is another reason for passengers to savor a special dinner at Archipelago on a Costa Toscana cruise.
Photos by Jackie Sheckler Finch
Marine grain dish
Angel León presents his special marine grain dish.
Aboard Costa Toscana, Archipelago restaurant is adorned with driftwood.
Costa Toscana (cover photo)
---
---
Crown Cruise Vacations | See Cruise Getaways You Can Afford!
Since 2008, Crown Cruise Vacations has had a singular focus: Provide excellent value and excellent service on Cruises, Tours and all forms of Vacation Travel. Based in Princeton, New Jersey, and a proud member of Ensemble Travel Group, we have been able to offer the benefits of working with the largest agencies while maintaining a family atmosphere. We've won a number of different awards including the 2011 World Travel Award for Leading North American Cruise Agent, and 2018 Partner of the Year for Royal Caribbean . We use our agency connections, relationships and influence to provide you and your family the best values and offers in the travel industry led by travel counselors with hundreds of years of combined travel experience. 
Contact Us – Open Seven Days A Week: 9a-8p Mon-Fri, 9a-5p Sat-Sun
Call us toll free: 877-283-1114, direct-dial Locally: 609-945-9801
Address: 120 Village Boulevard, Princeton, NJ 08540
Email us: support@crowncruisevacations.com