Holland America Introduces New Menu With Wild Sustainable Alaska Seafood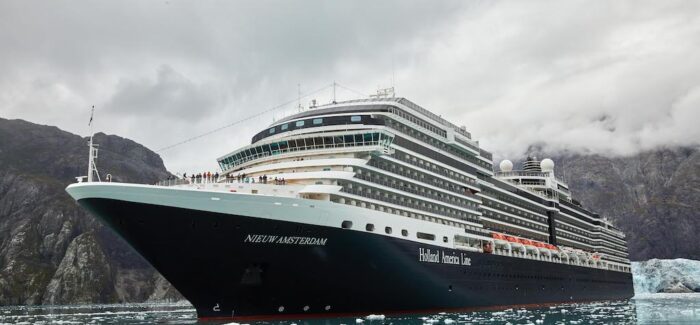 Holland America Line cruise guests will now be enjoying three new dishes on a menu showcasing wild sustainable Alaska seafood. The cuisine was created by Chef Ethan Stowell.
"We've been sharing the thrill of Alaska with guests for 75 years, longer than any other cruise line," Dan Rough, Holland America Line vice president of revenue management, said in a news release. "Protecting and enhancing that heritage is a matter of commitment and pride."
The partnership between Holland America Line and Alaska Seafood Marketing Institute (ASMI) shares a commitment to serve sustainably sourced Alaska seafood on all six of Holland America Line's ships that sail to Alaska.
This is the first formal relationship of its kind between Alaska Seafood Marketing Institute and a major cruise line. Holland America Line has debuted three new dishes from Culinary Council member Stowell developed in alliance with the Alaska Seafood Marketing Institute.
ASMI is a public-private partnership between the State of Alaska and the Alaska seafood industry established to foster economic development of the state's renewable natural resource.
"The Alaska seafood industry's longstanding commitment to wild seafood is very much in line with our own sustainability efforts, as well as our responsibility to the planet and its people," Rough said.
Chef Stowell's new creations will be featured in the dining room on all six Holland America Line ships cruising in Alaska this season. Guests can indulge in a fried Alaska cod sandwich with malt vinegar aioli and Savoy cabbage slaw; Alaskan salmon chop with cucumber, tomato, avocado, bacon and green beans; and roasted fennel crusted Alaska halibut with artichokes and Taggiasca olives.
The new dishes are in addition to several Alaska seafood dishes already on menus throughout the ship. This is all part of the line's "Alaska Up Close" initiative to offer guests a 360-degree experience. In addition to Stowell's new dishes, future programming will include other new recipes, destination and cooking demonstration videos and on-board Alaska seafood trivia.
"As we continue to increase the awareness of wild and sustainable Alaska seafood, we are excited to work with an Alaska-focused brand like Holland America Line and will be working closely to grow the collaboration," AMSI executive director Jeremy Woodrow said in a news release.
Contributing to the impact across its six Alaska ships, Holland America Line purchases and serves locally sourced Alaska seafood, including more than 5,000 pounds of wild Alaskan seafood per cruise, comprising:
– More than 2,000 pounds of Alaska salmon consumed on each cruise with a different dish offered each evening in restaurants and a salmon bake buffet taking place once during the sailing.
– More than 1,000 pounds of Alaska cod served on each sailing with variety dishes served throughout the ship.
– More than 800 pounds of Alaska halibut provisioned for each cruise. Halibut is featured each evening in the Pinnacle Grill specialty restaurant along with other dishes served during the cruise in other restaurants,
– More than 500 pounds of Alaska rockfish, 400 pounds of Alaska flounder and 200 pounds of Alaska black cod (also known as sablefish) are consumed during a cruise with multiple dishes on the dinner and lunch menus in various restaurants.
– More than 400 pounds of Alaska pollock purchased for each cruise.
"We're committed to partnering with local businesses and we're proud to be working with Alaska's fishing families," Rough said.
Photos courtesy of Holland America Line
Three new Ethan Stowell Alaska seafood dishes.
Chef Ethan Stowell selects salmon from a catch.
Chef Ethan Stowell with Alaskan salmon chop.
Chef Ethan Stowell preparing new dishes for Holland America Line.
Holland America Line's Nieuw Amsterdam. (cover photo)
---
Ed. Note: Please contact us for more information and to book a cruise Crown Cruise Vacations | Cruise Getaways You Can Afford!
Since 2008, Crown Cruise Vacations has had a singular focus: Provide excellent value and excellent service on Cruises, Tours and all forms of Vacation Travel. Based in Princeton, New Jersey, and a proud member of Ensemble Travel Group, we have been able to offer the benefits of working with the largest agencies while maintaining a family atmosphere. We've won a number of different awards including the 2011 World Travel Award for Leading North American Cruise Agent,
and 2018 Partner of the Year for Royal Caribbean . We use our agency connections, relationships and influence
to provide you and your family the best values and offers in the travel industry
led by travel counselors with hundreds of years of combined travel experience. 
Contact Us – Open Seven Days A Week: 9a-8p Mon-Fri, 9a-5p Sat-Sun
Call us toll free: 877-283-1114, direct-dial Locally: 609-945-9801
Address: 120 Village Boulevard, Princeton, NJ 08540
Email us: support@crowncruisevacations.com