Holland America 'Arctic Circle Crossing' Inspired by 10th Century Explorers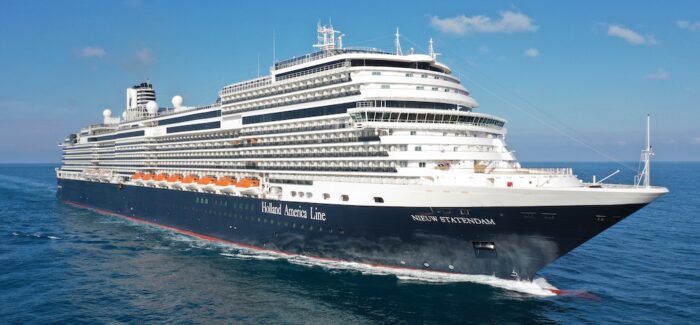 Holland America Line's new 28-day "Arctic Circle Crossing: Greenland & Iceland" is a Legendary Voyage inspired by the routes of Norse explorer Erik the Red who founded the first European settlement in Greenland.
Departing June 29, 2025, aboard Nieuw Statendam, the journey includes four maiden calls in Greenland, a trip to the North Cape and extensive scenic cruising.
"Legendary Voyages give us the opportunity to create longer cruises that delve deeper into a region and include ports we don't normally visit, like the four maiden calls in Greenland on the new Arctic Circle Crossing," Beth Bodensteiner, chief commercial officer for Holland America Line, said in a news release.
"We're taking the itinerary up to Norway's North Cape, then heading farther north in Greenland on both coasts and adding amazing opportunities in Iceland," she said. "At 28 days, it's the perfect length to showcase this area and give our guests an experience that goes beyond brief introduction to the countries."
Sailing roundtrip from Rotterdam, the Netherlands, the cruise features 15 ports across five countries, passage through the Arctic Circle, an overnight in Reykjavik, Iceland, scenic cruising through Iceland and Greenland's spellbinding fjords and four maiden calls in Greenland.
Cruisers on the "Arctic Circle Crossing" will set sail on one of Holland America Line's most intensive explorations of this region ever offered.
Norse explorer Erik Thorvaldsson, known as Erik the Red, was exiled from Iceland and set out to explore the land to the west, which he named Greenland. After establishing the first European settlement on an island near Qaqortoq, he returned to Iceland to bring more settlers back to Greenland. He is the father of Leif Erikson, one of the first Europeans to reach North America.
Legendary Voyages are lengthier cruises, which range from 25 to 59 days and combine the ceremony of Holland America Line's Grand Voyages while focusing on a singular region.
They visit some of the most unique ports while offering guests an in-depth exploration. Shipboard programming is specially curated to share insights into the history and culture of the destinations visited.
Legendary Voyages are offered on a variety of the line's perfectly sized ships where guests enjoy the best of Grand Voyages on-board programming such as iconic theme parties, memorable sailaways and classic cruise activities to further enhance the experience.
Photos courtesy of Holland America Line
---
Ed. Note: Please contact us for more information and to book a cruise Crown Cruise Vacations | Cruise Getaways You Can Afford!
Celebrity Cruises recognized the company's top partners with its 2022 Top Travel Agency Advisor Awards. The 2022 travel partner award winners include:
Online Partner of the Year: Crown Cruise Vacations
Since 2008, Crown Cruise Vacations has had a singular focus: Provide excellent value and excellent service on Cruises, Tours and all forms of Vacation Travel. Based in Princeton, New Jersey, and a proud member of Ensemble Travel Group, we have been able to offer the benefits of working with the largest agencies while maintaining a family atmosphere. We've won many different awards including the 2011 World Travel Award for Leading North American Cruise Agent, and 2018 Partner of the Year for Royal Caribbean. We use our agency connections, relationships and influence to provide you and your family the best values and offers in the travel industry led by travel counselors with hundreds of years of combined travel experience.
Contact Us – Open Seven Days a Week: 9 a.m. to 8 p.m. Mon-Fri, 9 a.m. to 5 p.m. Sat-Sun
Call us toll free: 877-283-1114, direct-dial Locally: 609-945-9801
Address: 120 Village Boulevard, Princeton, NJ 08540
Email us: support@crowncruisevacations.com