AmaWaterways Features Cruises Perfect for Remote Workers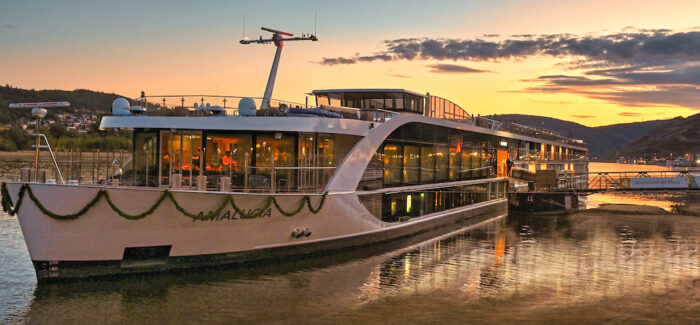 Embracing the rising trend of digital nomadism, AmaWaterways offers 2024 early season cruises perfect for remote workers and travel enthusiasts.
These special cruises will offer the unique opportunity to experience the beauty of Europe during the less crowded time, all while staying connected and productive aboard AmaWaterways' fleet of floating boutique hotels.
"Remote work has fundamentally changed the way many people are able to travel by opening up more time to experience the world without having to rely on set vacation time," Kristin Karst, co-founder and executive vice president of AmaWaterways, said in a news release.
"Remote workers have the flexibility to travel at a different pace to take advantage of lower airfares and avoid crowds," she said. "Our early season European river cruises provide the perfect setting for them to stay connected, inspired and motivated while immersing themselves in the culture and beauty of various destinations along the European waterways."
Boasting comfortable staterooms with built-in workspaces, complimentary WiFi throughout, as well as thoughtfully designed spaces such as large Main Lounges and plenty of comfortable outdoor seating on the Sun Deck, AmaWaterways' river cruises present exceptional opportunities for digital nomads to embrace new horizons while remaining connected to their professional pursuits.
With included excursions offered most mornings and afternoons, there is plenty of flexibility to work and still enjoy the local sites.
"We hope to inspire adventurous professionals to embrace the world as their office and embark on transformative journeys that not only facilitate remote work opportunities but create lasting memories," Karst said.
Highlights of two early season itineraries include:
Magna on the Danube – AmaWaterways flagship AmaMagna will set sail along the Danube River, cruising from Budapest, Hungary, to Vilshfen, Germany, on Feb. 11, 2024. This itinerary takes travelers through grand European cities like Vienna, Bratislava and Budapest to indulge in seven nights of splendor.
Guests can take part in various planned excursions or enjoy the cruise at their own pace, trying Budapest's thermal spas or Vienna's ice-skating rinks in their own free time. Onboard the ship, guests can relax in the heated Sun Deck pool and whirlpool, work from the library or one of AmaMagna's inviting public spaces, play pickleball at the ship's new onboard court or enjoy a soothing onboard massage to stay relaxed and productive.
Enchanting Rhine – Professionals dreaming of exploring the mesmerizing Rhine River can enjoy a seven-night escape aboard AmaWaterways' award-winning ship, AmaLucia, in February. The Enchanting Rhine itinerary will sail between Amsterdam and Basel starting Feb. 11, 2024.
Throughout the picturesque voyage from Amsterdam's colorful canals to the spectacular Swiss Alps, guests will be inspired by the view of hilltop castles, charming fabled towns and local flavors such as Rudesheimer coffee and Kolsch beer.
With a variety of amenities tailored to the modern-day professional, AmaWaterways provides unforgettable journeys for guests looking to stay productive while exploring new destinations.
Photos courtesy of AmaWaterways
---
Ed. Note: Please contact us for more information and to book a cruise Crown Cruise Vacations | Cruise Getaways You Can Afford!
Celebrity Cruises recognized the company's top partners with its 2022 Top Travel Agency Advisor Awards. The 2022 travel partner award winners include:
Online Partner of the Year: Crown Cruise Vacations
Since 2008, Crown Cruise Vacations has had a singular focus: Provide excellent value and excellent service on Cruises, Tours and all forms of Vacation Travel. Based in Princeton, New Jersey, and a proud member of Ensemble Travel Group, we have been able to offer the benefits of working with the largest agencies while maintaining a family atmosphere. We've won many different awards including the 2011 World Travel Award for Leading North American Cruise Agent, and 2018 Partner of the Year for Royal Caribbean. We use our agency connections, relationships and influence to provide you and your family the best values and offers in the travel industry led by travel counselors with hundreds of years of combined travel experience.
Contact Us – Open Seven Days a Week: 9 a.m. to 8 p.m. Mon-Fri, 9 a.m. to 5 p.m. Sat-Sun
Call us toll free: 877-283-1114, direct-dial Locally: 609-945-9801
Address: 120 Village Boulevard, Princeton, NJ 08540
Email us: support@crowncruisevacations.com