Grand Bahama Island Celebrates 50 Years of Independence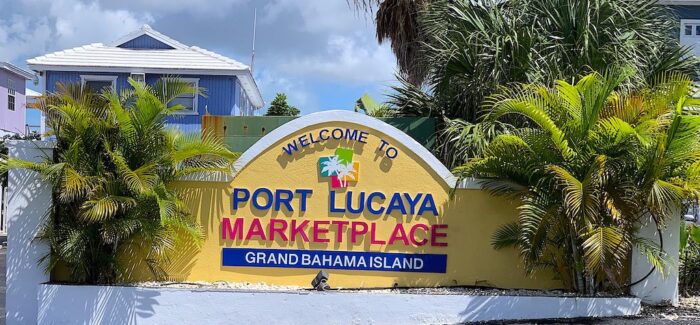 Taking a shuttle ride from the Grand Bahama Island dock where our cruise ship had stopped, our driver pointed out the many tri-colored flags and ribbons decorating buildings, trees and homes.
"They are to celebrate our independence," shuttle driver Barbara said. "We are celebrating 50 years of independence from Britain. We gained our independence on July 10, 1973, and many people are leaving up the flags and ribbons to celebrate this whole year."
The three colors have significant meanings, Barbara added. "The black symbolizes the Bahamian people's strength through unity. The gold is for the shining sun. The aquamarine symbolizes the water of the Caribbean Sea that surrounds our country."
The Commonwealth of the Bahamas was originally settled in the ninth century by the Lucayan people who came north from the Caribbean. It was officially dubbed San Salvador by Christopher Columbus in 1492 and changed hands for centuries among the British and the Spanish.
Britain got the upper hand in 1783. Although a woman on our cruise thought the Bahamas are part of the United States, they never have been. The official language of the Bahamas is English.
Grand Bahama Island is 530 square miles, 96 miles long from east to west and 17 miles across at its widest point. "And we drive on the left side of the road. Don't forget that," Barbara said.
On our shuttle ride, Barbara noted all the construction, damaged buildings and closed facilities, mostly the result of Hurricane Dorian on Sept. 1, 2019. The Category 5 storm pummeled Grand Bahama Islands for 48 long hours with sustained winds of 185 miles an hour before finally moving away. About 70 percent of the island was flooded.
"It hit us hard," Barbara said. "They said it is the strongest storm to ever hit the Bahamas.  Many homes and businesses were destroyed or heavily damaged."
Tourism is the backbone of the Bahamian economy and it is still trying to rebound after the double whammy of Hurricane Dorian and the COVID pandemic. Known for its smooth white sand beaches and beautiful waters, Grand Bahama Island was the destination on our Caribbean cruise aboard the Margaritaville at Sea Paradise.
One of the newest ventures of Jimmy Buffett, Margaritaville at Sea Paradise offers two night cruises from West Palm Beach in Florida to Grand Bahama Island. Passengers get to spend a day on the island after docking at the island industrial port.
My grandson Logan and I took the two-night cruise and opted to stay an extra two days on the island at Pelican Bay Hotel through the Margaritaville at Sea Cruise & Stay Program. Several other passengers on our cruise had made the same decision.
Strolling through Grand Lucaya Marketplace near our hotel, we decided to have an early dinner at Cappuccino's Fine Italian Restaurant. Our pasta dishes were delicious and service was excellent.
Co-owner Toni Donato said her family was so excited to reopen in August 2022 after Hurricane Dorian and the COVID shutdown. It's good to see the island recovering and welcoming visitors.
Photos by Jackie Sheckler Finch
Tri-colored flags and ribbons celebrate 50 years of independence.
Cappuccino's Italian Restaurant is a popular dining spot on Grand Bahama Island.
Cappuccino's reopened in August 2022.
The beautiful ocean and beach is a major draw on Grand Bahama Island.
Margaritas are a featured drink on Grand Bahama Island.
Grand Lucaya Marketplace features shops, bars and restaurants. (cover photo)
---
Ed. Note: Please contact us for more information and to book a cruise Crown Cruise Vacations | Cruise Getaways You Can Afford!
Celebrity Cruises recognized the company's top partners with its 2022 Top Travel Agency Advisor Awards. The 2022 travel partner award winners include:
Online Partner of the Year: Crown Cruise Vacations
Since 2008, Crown Cruise Vacations has had a singular focus: Provide excellent value and excellent service on Cruises, Tours and all forms of Vacation Travel. Based in Princeton, New Jersey, and a proud member of Ensemble Travel Group, we have been able to offer the benefits of working with the largest agencies while maintaining a family atmosphere. We've won many different awards including the 2011 World Travel Award for Leading North American Cruise Agent, and 2018 Partner of the Year for Royal Caribbean. We use our agency connections, relationships and influence to provide you and your family the best values and offers in the travel industry led by travel counselors with hundreds of years of combined travel experience.
Contact Us – Open Seven Days a Week: 9 a.m. to 8 p.m. Mon-Fri, 9 a.m. to 5 p.m. Sat-Sun
Call us toll free: 877-283-1114, direct-dial Locally: 609-945-9801
Address: 120 Village Boulevard, Princeton, NJ 08540
Email us: support@crowncruisevacations.com