No Comments
Galataport Istanbul's New Cruise Port Welcomes Cruise Ships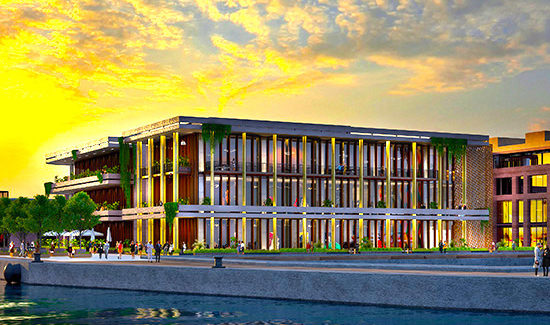 The $1.7 billion state-of-the-art Galataport Istanbul cruise port is ready for cruise passengers and cruise activities. The new project is a wonderful blend of the present and the past, a haven of modern amenities alongside carefully restored monuments of yesterday.
Located on almost a mile of coastline on the Bosporus in Istanbul's Karakoy district, Galataport Istanbul scheduled September welcomes for Eurodam, Costa Crociere, Norwegian Cruise Line, Viking Cruises, Regent Seven Seas Cruises and more.
"Galataport Istanbul is an inspiration for ports of the future," Figen Ayan, Galataport Istanbul CPO, said in a news release. "This heritage project saw multiple feats of engineering achieved by the close cooperation of Turkish engineers and international consultants to create the project's most significant and unique aspects."
Among those aspects, Ayan said, is "the world's first underground terminal building with a unique hatch system creating a temporary customs area and security area."
The Galataport Istanbul Cruise Ship Terminal with its unique hatch system, creates a temporary customs area while a ship is in port, which converts Istanbul's historic port into a unique promenade in an area that has been closed to public access for 200 years and leaves the coastline free after the ship departs.
In addition to a world-class cruise port, Galataport Istanbul will serve as an exciting lifestyle destination offering arts and culture, gastronomy and shopping, plus visitor and resident attractions and amenities. Included is a Renzo Piano-designed new museum building of Istanbul Modern, the first contemporary and modern arts museum of Turkey founded in 2004.
Additional cultural amenities include the Tophane Square with a specially restored Tophane Clock Tower dating back to 1848 as its centerpiece. Tophane Square will become the first museum square in Turkey.
In 2022, the 177-room Peninsula Istanbul Hotel will welcome guests. Positioned as a main port that will revitalize cruise tourism from the Mediterranean basin to the Black Sea, Galataport Istanbul can accommodate three ships and 15,000 passengers a day.
The project is set to revive and redefine Istanbul's historic port as an exciting lifestyle destination and is projected to welcome 25 million visitors, including seven million tourists and 1.5 million cruise passengers and crew per year.
Photos courtesy of Galataport Istanbul