Cruise Trivia Quiz: December '63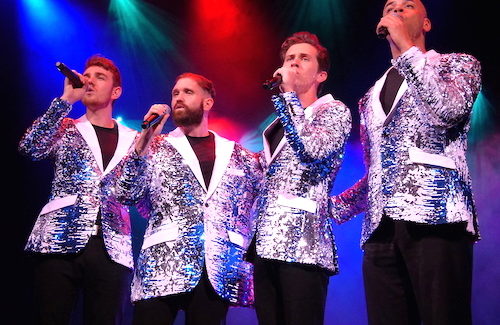 This bit of trivia may be a toughie because many of you probably weren't even born when this song was popular.
The quiz is to identify what quartet sang the powerhouse song. Released in 1975, the song quickly soared up the hit charts.
Although I was around when the song originally came out, I also got to enjoy it one evening aboard the Celebrity Summit. Using no stage set or props and with only powerful voices and excellent lighting, the ship's performers soon had passengers singing along with them.
A hint: The four guys from New Jersey had their story and their music made into both a hit Broadway show and a film.
Don't look at the answer below until you've formulated your own response. Congratulations if you are correct. If not, might want to schedule a Celebrity Summit cruise and experience the magical show yourself. Even if you got the answer correct, you might want to book that cruise and reminisce.
*
*
*
(ANSWER)
Definitely, Frankie Valli & the Four Seasons with their hit song, "December 1963 (Oh, what a night)."
The Celebrity Summit show titled "December '63" had four guys presenting a tribute to the legendary Frankie Valli & the Four Seasons. Closing your eyes, you could almost think you were at a long ago concert of the Jersey boys.
Some of the hits the ship entertainers performed included "Sherry," "Walk Like a Man," "Big Girls Don't Cry" and a lovely a capella "Silence is Golden."
Frankie Valli's falsetto, of course, must be difficult to reach but the ship performers hit it every time.
When the original Newark guys first got together back in the late 1950s, they probably had no idea their music would still be pleasing crowds more than 60 years later. Frankie Valli & the Four Seasons were one of the most prolific groups of the 1960s, dominating rock & roll charts with hit after hit.
Photo and story by Jackie Sheckler Finch