Cruise Trivia: Name this Famous Building and the Architect Who Designed it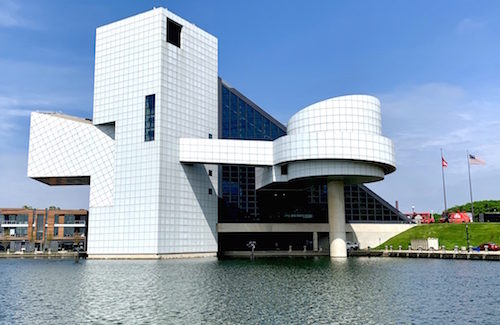 For all you architecture buffs or for folks who just like neat-looking buildings, here is a two-prong quiz.
This photo shows the back side of a famous facility. The structure is famous not only for its beauty and its architecture, it is also renowned for what it contains.
A hint- it is located in Cleveland, Ohio, of all places.
Some people were surprised when this Buckeye site was chosen for such an important structure. Why not Los Angeles or New York, they mused.
But the city on the shores of Lake Erie won over naysayers with massive support, historical reasons and enthusiastic financial backing.
Today, thousands of visitors make their way each year to this popular site.
Don't look at the answer below until you've formulated your own response. Blast some good old rock & roll if you know the name of the building. Treat yourself to a second song if you know the architect.
If not, you might want to book a Victory I cruise to learn more about this place. Heck, you might want to book a Great Lakes cruise just for the pure pleasure.
*
*
*
(Answer)
Drum roll, please – it certainly is The Rock & Roll Hall of Fame and Museum in Cleveland, Ohio.
Architect was I.M. Pei who died May 16, 2019, at the age of 102.
As a Buckeye myself, I never particularly thought of Cleveland as a hot bed of rock & roll. But the museum does a good job of explaining why Cleveland is a natural choice for the world's definitive collection of the history of rock & roll.
Alan Freed was a Cleveland DJ who coined the term "rock & roll" and hosted the first rock & roll concert here in 1952. Cleveland also was the first place north of the Mason-Dixon Line where Elvis played.
Of course, Cleveland also was mighty supportive of hosting such an attraction. It was financially, emotionally and spiritually supported by Cleveland people.
When the idea for a Rock & Roll Hall of Fame and Museum initially came about, Cleveland leaders were among the first and most enthusiastic in lobbying Hall of Fame officials to bring the museum to their fair city. Cleveland overwhelmingly beat all rivals in a USA Today poll, earning more than 100,000 votes over its nearest rival.
In addition, 660,000 people signed petitions to bring the museum to Cleveland. The city's civic and business leaders worked together to provide the necessary financial support to make the $92 million museum not only a reality but also a stunning showcase for rock & roll's history.
On May 5, 1986, Cleveland was selected as the site for the Rock & Roll Hall of Fame and Museum. Groundbreaking for the building took place on June 7, 1993, and the building was opened to the public on Sept. 2, 1995.
Photo and story by Jackie Sheckler Finch