Cruise Trivia: Can you name the American Queen godmother? Hint: This godmother once lived in a graceful Memphis mansion.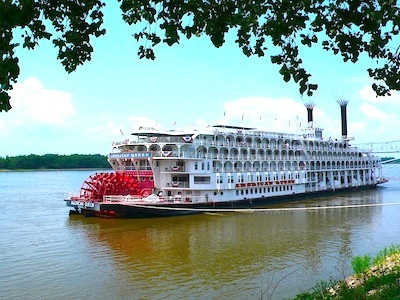 Choosing a godmother for a vessel is a great responsibility. When the boat is christened, that is the official start of the vessel's life.
For the christening of the American Queen, the event in April 2012 was celebrating not only the new launch of the vessel but also the rebirth of the legendary riverboat. Built in 1995, the American Queen was once part of a trio of  beautiful sisters. Originally owned by the Delta Queen Company, the American Queen – along with the Delta Queen and the Mississippi Queen – ruled the rivers. Devoted travelers eagerly awaited each year's itineraries.
Then hard times hit. In 2008, the Majestic American Line, which then owned the American Queen, went belly up. The historic Delta Queen was permanently docked in Chattanooga as a floating hotel. The Mississippi Queen was torn apart for scrap. And the American Queen was put in the custody of the United States Maritime Administration. The luxury steamboat sat in mothballs for years. Her future seemed dark.
Then a newly formed company, the Great American Steamboat Company, bought the American Queen for $30 million and put another $6.5 million in refurbishment.
Listed at a whopping 418 feet long with a passenger capacity of about 435, the American Queen is said to be the biggest steamboat ever built. With her elaborate gingerbread trim and six decks, the American Queen looks like a fancy floating wedding cake.
The new company chose Memphis as the homeport for the American Queen. That brings us to the trivia question –what famed lady with Memphis connections was chosen to the godmother of the American Queen and to preside at the new christening?
Don't look a the answer below until you have formulated your own. A hint – this godmother once lived in a graceful Memphis mansion.
*
*
(Answer:) Does the name Presley ring a bell?
Priscilla Presley, the one-time wife of Elvis, is the godmother for the American Queen. Priscilla used to reside just a few miles from downtown Memphis at Graceland. The place where Elvis lived, died and is buried, Graceland is the No. 1 tourist attraction in Tennessee.
In 1979, Priscilla Presley became co-executor of the Presley Estate. Under her direction the estate grew into a phenomenally successful organization. In announcing Priscilla Presley as the American Queen godmother, the company noted that her efforts in leading Elvis Presley Enterprises exemplify grace and dignity, two adjectives that also befit the American Queen.