Celebrity Apex: Stunning Ship Lives up to Its Superb Name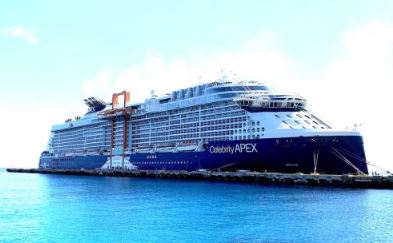 Celebrity's newest spectacular ship has the perfect name. Apex. Meaning the highest point, the peak, the summit, the Celebrity Apex is all this and more.
Because of COVID-19, it took 581 days longer than anticipated for the Apex to arrive in U.S. ports. The vessel's launch was originally planned for late March 2020.
Instead, Apex kicked off its inaugural Caribbean cruise in November, setting sail from Fort Lauderdale for the ship's official naming ceremony by godmother Reshma Saujani who has led the charge to provide opportunities for women in the tech field. She is also author of the bestseller, "Brave, Not Perfect."
On my round-trip cruise, we left Fort Lauderdale for a week in the Caribbean with stops in Costa Maya, Mexico; Belize and Cozumel. With 16 guest decks, the Celebrity Apex has a capacity of 2,910 passengers plus 1,319 crew members.
On my cruise, there are 1,491passengers and 1,200 crew members. Ninety percent of the passengers are American with the next two largest passenger nationalities being 101 from Canada and 37 from Great Britain. Our cruise has 17 children under the age of 16. The youngest child on the cruise is two years old.
"A very unusual statistic is that we have 864 men and 627 women," says Alexandre Alves Da Costa, guest relations officer. "Usually we have more women than men."
To be the captain of such a grand ship is an honor and a responsibility, says Captain Dimitrios Kafetzis. Born and raised in the port of Piraeus, Greece, where his father worked in the shipping industry, the young boy watched ships entering the port and dreamed that one day he would be traveling the world as captain of some magnificent cruise ship. That is what he has done most of his adult life, joining Celebrity in 1989.
"It is truly an honor to captain the newest Celebrity flagship and to welcome our guests onboard," he says. "I will be your designated driver for this cruise."
Looking like a young Sean Connery, the Captain adds that he is "49 years and 24 months old."Although he likes to joke – "Everything is Greek to me" – and signs off his ship-wide intercom messages with "This is your captain. Out," the Captain says he takes his job very seriously, "Your health and your safety are my top priority."
State-of-the-Art Technology
Featuring innovative outward-facing design and state-of-the-art technology, Celebrity Apex has public places filled with beautiful art and such special attractions as Eden, the Rooftop Garden (where movies are shown on a big screen), the three-deck Grand Plaza (where much of the ship action takes place), a wonderful large swimming pool, hot tubs and great solarium pool.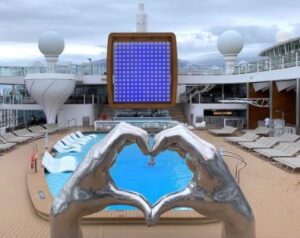 Technology touches I have been enjoying include the Celebrity easy-to-use app that I downloaded onto my iPhone. WiFi for the app is complimentary onboard the ship. Even before the cruise started, I used the app for speedier boarding by getting a mobile boarding pass, answering health questions and watching the mandatory safety muster video on my cellphone.
Aboard the ship, all I had to do was report to my safety muster station and have my name checked off as having completed the necessary muster procedure. Certainly is much better than the large cattle call of the past – having to stand on deck with lifejackets while our cabin numbers were slowly recorded by a crew member, then having to wait for tardy passengers to show up.
Once onboard, the Celebrity app became a valuable helper in the palm of my hand. It offers keyless entry to my stateroom with a digital key. It allows complimentary in-app chats with fellow cruisers. With the app, I can make restaurant and shore excursion reservations. I can check out the menu in ship restaurants. I can control elements in my stateroom such as the TV, lights, temperature and window shades.
What I like most about the app is the daily calendars and my personal calendar. In the past, I would carry the daily paper bulletin around with me so I would know what was going on aboard the ship. Now all that information and much more is on the app. The app even sends me a friendly reminder prior to an event I've reserved. Plus, I can track my onboard spending by looking at my account on the app.
Another handy tech device on Celebrity Apex is the touchless public restroom door openers. Just wave your hand over the symbol outside the restroom door and it magically opens. To leave the restroom, follow the same procedure.
I've been places where paper towels are thrown inside and outside public restroom doors because people don't want to touch a door handle with freshly-washed hands. And there was no receptacle for people to put those used paper towels. Hope these hands-free door openers become more commonplace on ships and off.
For a colorful bit of tech, Celebrity Apex elevators glow green when going up and red when down. Menus in the restaurants also can be viewed on a cellphone, although paper menus are available for those who request them.
Fantastic Facilities
The ship's shopping area features 7,000 square feet of shops offering such renowned luxury stand-alone boutiques as Cartier, Bvlgari and the first-ever Montblanc lifestyle boutique. The Oceanview Café on deck 14 is the ship's buffet with a huge selection of food for breakfast, lunch, dinner and late night snacks. And the Oceanview really does offer plenty of ocean views. I love the huge floor-to-ceiling windows that always seem to be spotlessly clean.
Then there are the specialty restaurants, unusual theatre, spa with beautiful ocean views, awesome staterooms, delightful entertainment, Le Petit Chef dinner show, the amazing "Magic Carpet" and so much more. I'll write about them in future posts.
But now it's time to explore more of the ship. I could write a book about what has been called "the most anticipated new ship of the year" so hope you will come along on the cruise to see what has made the Celebrity Apex such a standout new vessel for cruise lovers.
Photos by Jackie Sheckler Finch