Cruise Trivia: Name this dog and home port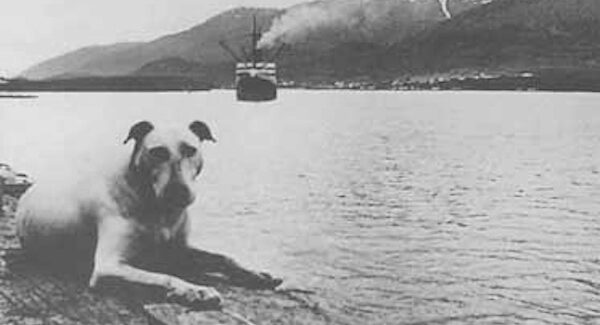 She patiently stares out at sea waiting for a ship to dock. The small white dog was born deaf but somehow sensed when an incoming ship was about a half-mile away. She also had the uncanny ability to determine the dock where the ship would moor.
So, the trivia question has two parts. First, what is the name of this English bull terrier? And second, where is this statue located?
Don't look at the answer below until you have formulated your reply. Avid cruisers may know the answers to these two questions.
If not, it might be time to book a cruise to this part of the world and stroke the popular statue in honor of the beloved dog who once trotted along this dock.
*
*
*
(Answer)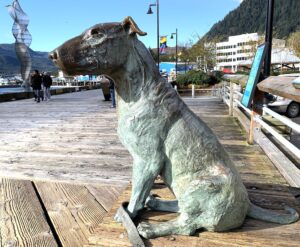 Ships arriving in Juneau, Alaska, in the 1930s could count on being met at the dock by a pup named Patsy Ann. Brought to Juneau by local dentist Dr. E. H. Kaser from Portland in 1929, Patsy Ann became a popular dog-about-town. Although she was loved and treated kindly by the Kaser family, Patsy Ann was not cut out to be a homebody.
Instead, the footloose dog would make the rounds of shops and offices where she would be welcomed and given treats.
Steamships of that era did not arrive like clockwork as they do today. However, Juneau knew a ship was coming when Patsy Ann dropped whatever she was doing and trotted briskly to the waterfront.
And Patsy Ann seemed to know exactly where that ship would moor. On one occasion, a crowd had gathered to meet an arriving ship. Patsy Ann, however, studied the group for a long moment, then turned and trotted to another dock. The ship tied up next to Patsy Ann.
Patsy Ann eventually chose to live at the Longshoremen's Hall. Some said she felt at home there because the longshoremen shared her keen interest in the arrival of ships.
In 1934, when a city ordinance was passed requiring the licensing of all dogs, several people chipped in to buy the first license and a bright red collar for Patsy Ann. She wore them politely for a short time, after which they mysteriously disappeared.
From then on, Patsy Ann went about happily unencumbered and the city donated her annual license fee.
Patsy Ann died in the Longshoremen's Hall in 1942. The following day, people gathered to pay tribute as Patsy Ann's coffin was lowered into Gastineau Channel near where her sign now stands.
Fifty years after Patsy Ann met her last ship, admirers raised funds for a statue so Patsy Ann could once again greet visitors on the dock. The statue was sculpted by Anna Burke Harris of Albuquerque. Bits of their own hair and pets' fur were sent from all over the globe by those who fondly remembered Patsy Ann.
Those tokens were pressed into the wax before the final brass casting, making the statue a "spirit piece." In the tradition of the sculptor's Lakota and Cherokee heritage, a spirit piece is believed to give the contributors' spirits a bit of immortality.
When the bronze sculpture arrived in Juneau in 1992, Patsy Ann once again became the Official Greeter of Juneau, Alaska.
Photos by Jackie Sheckler Finch